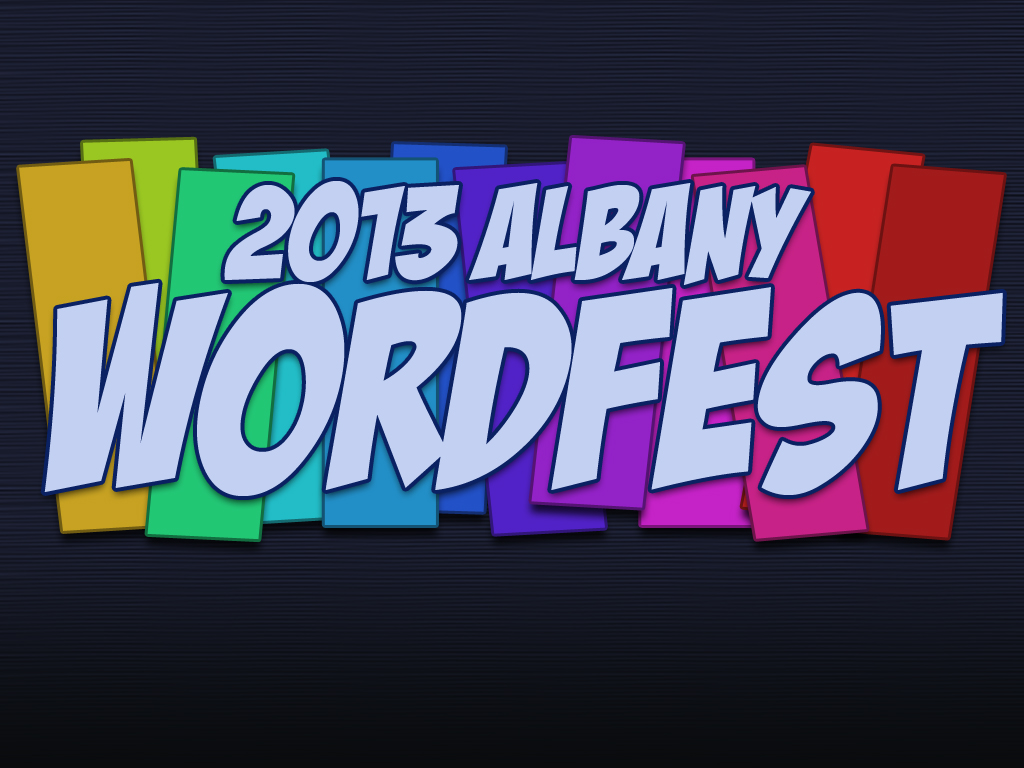 This is it. We made it to the 2013 Albany Word Fest! The upcoming week is a very busy one with over 100 poets scheduled to perform at the Word Fest events starting on Sunday at McGeary's with the launch of Up The River. We certainly celebrate National Poetry Month big here in Albany.
Here is your guide to the week ahead in the upstate New York poetry and spoken word community.
Sunday, April 14
2:00pm – Poetry + Prose
The Arts Center of The Capital Region, 265 River Street, Troy, NY
A monthly open mic for writers of poetry and prose on the 2nd Sunday of each month with your hosts Nancy Klepsch and Dan Wilcox.
6:00pm – Word Fest Kickoff & Up The River Launch Party
McGeary's, 4 Clinton Square, Albany, NY
Join Albany Poets as we kickoff Word Fest week with a cocktail party and a special reading with contributors of Up The River, Albany Poets new literary journal hosted by editors Jill Crammond and Keith Spencer at McGeary's, home of Poets Speak Loud
Monday, April 15
6:00pm – Word Fest Youth Open Mic
Bethlehem Children's School, 12 Fisher Blvd., Slingerlands, NY
Jill Crammond hosts a very special open mic for young poets, writers, and spoken word artists in 5th – 12th grade to share their work.
8:00pm – Poets Against Fracking
UAG Gallery,247 Lark Street, Albany, NY
Poets Against Fracking featuring Band of Bards, a community of Binghamton area writers, artists, and activists who have turned their talents toward helping to preserve their community against the threat of hydraulic fracture gas drilling in New York State and beyond. Some of the poets scheduled to perform are J. Barrett Wolf, Michael Foldes, Roger Hecht, Mario Moroni, Emily Vogel, and John Weil. There will also be an open mic for anyone who wants to participate in this event
8:00pm – Club Harmony
Wok 'N Roll Cafe, 52 Mill Hill Road, Woodstock, NY
Weekly poetry open mic with a featured reader hosted by Michael Platsky.
Tuesday, April 16
7:00pm – Emack and Bolio's Open Mic Night
Emack & Bolio's, Delaware Ave., Albany, NY
A weekly open mic for music and poetry.
7:00pm – Colonie Tuesday Night Live Poets' Corner
Colonie Town Library, Maxwell Rd, Colonie, NY
Local poets and writers of all ages are invited to present six to ten minutes of their original work at this open reading forum. The public is encouraged to stop in and listen. Hosted by William Robert Foltin.
7:30pm – Nitty Gritty Slam #42 – Word Fest Haiku Battle
Valentines, 17 New Scotland Ave., Albany, NY
Albany's poetry slam continues with host Mojavi handling the open mic and Slam Master Thom Francis. This edition of NGS will be the long-awaited Haiku Battle! Admission to NGS is $5.00 / $3.00 with student ID. (18 + / 21 to drink).
Wednesday, April 17
7:00pm – Louder Than A Bomb
The Linda, 339 Central Ave., Albany, NY
A screening of the critically-acclaimed documentary Louder Than A Bomb followed by a panel discussion and performance at The Linda
7:00pm – Poetry, Beacon
Beacon Yoga, 464 Main Street, Beacon, NY
Monthly open mic hosted by Adrianna Delgado and Glenn Werner with a featured poet.
8:00pm – Pauly's Hotel Open Mic Night
Pauly's Hotel, 337 Central Ave., Albany, NY
Poetry, Music, Comedy and more take center stage at Pauly's weekly Open Mic Night hosted by Brian LaPoint and Joshua Gruft.
Thursday, April 18
7:00pm – Rockhill Bakehouse Open Mic
Rockhill Bakehouse Cafe, 19 Exchange Street, Glens Falls, NY
Weekly open mic for musicians and writers.
7:30pm – Third Thursday Poetry Night
Social Justice Center, 33 Central Ave, Albany, NY
Dan Wilcox hosts this open mic for poetry and spoken word featuring "Gettin' Fierce", students in Professor Daniel Nester's class, Oral Presentation of Literature, at the College of St. Rose.
8:00pm – Starving Artist Thursdays
Hudson River Coffee House, 227 Quail Street, Albany, NY 12203
A weekly open Mic for music, poetry, and spoken word at one of Albany's best new coffee shops.
8:00pm – The Safe Haven
The Book Club, 153 S. Pearl Street., Albany, NY
Poetyc Visionz hosts his weekly poetry and spoken word open mic with a special Word Fest theme.
Friday, April 19
7:00pm – 2013 Word Fest Open Mic
UAG Gallery,247 Lark Street, Albany, NY
The annual Word Fest Open Mic, hosted by Albany Poets' very own Mary Panza, returns home to the UAG Gallery on Lark St. This event will take place from 7pm – 12:00am with poets from Woodstock to Saratoga and everywhere in between including Cecele Kraus, A. C. Everson, Brian Dorn, Carole Rossi Kenyon,Tess Lecuyer, Alyssa Niman, Alan Catlin, Don Levy, Jill Crammond, Chad Lowther, Bob Sharkey, Jacqueline Ahl, Julie Lomoe, Jacky K., Joe Hesch,Ken Salzman, L-Majesty, Tedi Toca, Glenn Werner, Adrianna Delgado, Dan Wilcox, R.M. Engelhardt, Mike Jurkovic, Cheryl A. Rice, Edward Rinaldi,Joe Krausman, Avery, Carolee Sherwood, Anthony Bernini, and many more. Poets who are interested in participating can still sign up here until Sunday, April 14.
9:00pm – Urban Guerilla Theatre
The Linda, 339 Central Ave., Albany, NY
This month Urban Guerrilla Theatre is at it again with another installment of the annual Skit Happens event with skits, comedy, performance and of course incredible poetry featuring UGT's Carlos Garcia, Q-Diamond, Leslie Michelle, Tenesha Smith, Ms. Bliss, Jess Listen To My Wordz, and Mojavi, Mind Evolution, Floetik and the first official appearance of super producer John C. Majic.
Saturday, April 20
6:00pm – 2013 Albany Word Fest Invitational Slam
Valentines, 17 New Scotland Ave., Albany, NY
For the first time ever, Nitty Gritty Slam will be joined by Verbal Slap (CT),Underground Poetry Spot (Syracuse, NY), Suffern Slam (NY), Jersey City Slam (NJ), and Buffalo Slam (NY) to close out the Word Fest and compete for prizes and bragging rights as we get closer to the National Poetry Slam in August. Admission is $10.00 in advance / $12.00 at door. (18 + / 21 to drink). Advance tickets available now!
If we are missing anything on this list, check out the full events calendar. If you would like to have your poetry event listed on AlbanyPoets.com, send an email to albanypoets+events@gmail.com with the details.
For a full listing of all of the poetry and spoken word events in upstate New York, head over to the events calendar page. And if you live in the Western Massachusetts / Connecticut area, be sure to check out Lori Desrosiers' Poetry News Calendar.