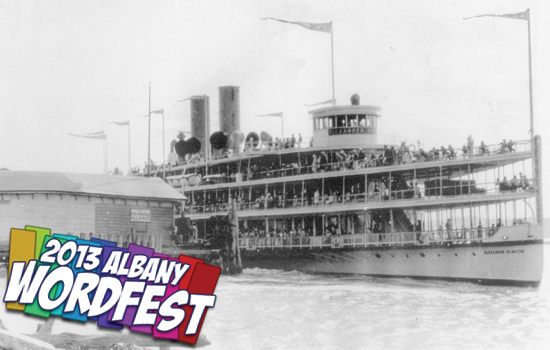 We are very proud to be kicking off the 2013 Albany Word Fest at McGeary's (4 Clinton Square, Albany), the home of our monthly open mic, Poets Speak Loud, on Sunday, April 14 at 6:00pm. This event will be the official kick off party for the annual Word Fest plus the launch of Albany Poets' brand new literary journal Up The River.
Editors Jill Crammond and Keith Spencer have been going through all of the submissions from poets far and wide since January and are ready to unveil the first edition of Up The River. Some of the poets included in the first issue will also be performing at this very special event. Already confirmed for the first night of Word Fest are A.C. Everson, Avery, Carol Graser, Carolee Sherwood, Caroll Jewel, Cecele Kraus, Dan Wilcox, Ken Denberg, Roberta Gould, Sally Rhodes, Victoria Sullivan, Matt Galletta, Micky Shorr, Mark O'Brien, Darcy Smith, Glenn Werner, and Howard Kogan.
This is just one of many events that will be taking place in Albany during the 2013 Albany Word Fest week. For more information on all of the readings, open mics, slams, and how you can get involved, go to the Albany Poets website.