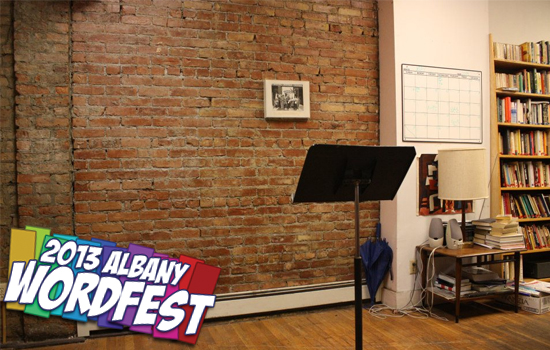 One week from tonight we will be deep into Word Fest week and for day five there are two opportunities for poets and spoken word artists to get on the stage.
The first reading takes place at the Social Justice Center for Dan Wilcox's Third Thursday Poetry Night with a very special group of featured poets from the College of Saint Rose. Professor Daniel Nester will be bringing his Oral Presentation of Literature class to the mic for a performance.
Poets going by the handle "Gettin' Fierce" will read from their work at the Social Justice Center, 33 Central Ave., Albany on Thursday, April 18, 2013 at 7:30PM.  "Gettin' Fierce" are students in Professor Daniel Nester's class, Oral Presentation of Literature, at the College of St. Rose.  They will be reading as part of the week-long celebration of poetry & the spoken word, Albany Word Fest 2013.  For more information visit the website albanywordfest.com.

A reading by a local or regional poet is held each Third Thursday at the Social Justice Center.  The event includes an open mic for audience members to read.  Sign-up starts at 7:00PM, with the reading beginning at 7:30.  The host of the readings is Albany poet and photographer Dan Wilcox.  The suggested donation is $3.00, which helps support this and other poetry programs of the Poetry Motel Foundation, and the work of the Social Justice Center.  For more information about this event contact Dan Wilcox, 518-482-0262; e-mail: dwlcx@earthlink.net.

The Social Justice Center, founded in 1981, is a non-profit organization working for progressive social change through education, community building and collective action.  The center advances the struggles against racism and for peace and justice.  For further information about the SJC call 518-434-4037.
Then at 8:30pm Poetyc Visionz will be hosting The Safe Haven open mic down at The Book Club (153 South Pearl Street, Albany). This is one of the hottest poetry and spoken word gatherings in the area showcasing the great talent in downtown Albany. PV keeps this mic as a positive  nurturing environment for both the performers and the audience.
These are just two of many events that will be taking place in Albany during the 2013 Albany Word Fest week. For more information on all of the readings, open mics, slams, and how you can get involved, go to the Albany Poets website.