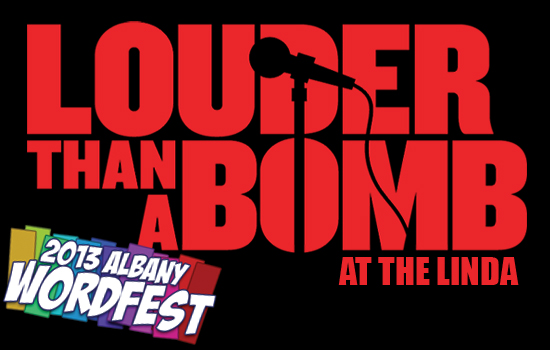 On Wednesday, April 17, for day four of the 2013 Albany Word Fest, we are heading to The Linda for a screening of Louder Than A Bomb, a documentary chronicling the lives of the kids who are getting ready to compete at the "Louder Than A Bomb" youth poetry slam in Chicago.
Louder Than A Bomb is a film about passion, competition, teamwork, and trust. It's about the joy of being young, and the pain of growing up. It's about speaking out, making noise, and finding your voice.

It also just happens to be about poetry.

Every year, more than six hundred teenagers from over sixty Chicago area schools gather for the world's largest youth poetry slam, a competition known as "Louder Than a Bomb". Founded in 2001, Louder Than a Bomb is the only event of its kind in the country—a youth poetry slam built from the beginning around teams. Rather than emphasize individual poets and performances, the structure of Louder Than a Bomb demands that kids work collaboratively with their peers, presenting, critiquing, and rewriting their pieces. To succeed, teams have to create an environment of mutual trust and support. For many kids, being a part of such an environment—in an academic context—is life-changing.

Louder Than A Bomb chronicles the stereotype-confounding stories of four teams as they prepare for and compete in the 2008 event. By turns hopeful and heartbreaking, the film captures the tempestuous lives of these unforgettable kids, exploring the ways writing shapes their world, and vice versa. This is not "high school poetry" as we often think of it. This is language as a joyful release, irrepressibly talented teenagers obsessed with making words dance. How and why they do it—and the community they create along the way—is the story at the heart of this inspiring film.
We will have a discussion about slam poetry, spoken word, and the getting the youth involved in the art following the film.
This event is free and open to the public. Doors at The Linda (339 Central Ave., Albany) open at 6:00 for this screening.
This is just one of many events that will be taking place in Albany during the 2013 Albany Word Fest week. For more information on all of the readings, open mics, slams, and how you can get involved, go to the Albany Poets website.