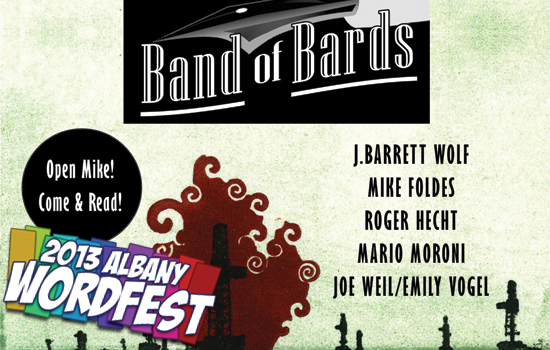 On Monday, April 15 we are at the UAG Gallery for day two of the 2013 Albany Word Fest featuring a special evening with Band of Bards, a poetry / spoken word group from Binghamton, NY. Their performance program, Poets Against Fracking, will feature six poets spreading the word and educating about the threat of hydraulic fracturing in New York State, which is a huge issue right now at the capital here in Albany.
Poets Against Fracking will take place at the UAG Gallery (247 Lark Street, Albany) starting at 8:00pm. The evening will also feature an open mic for anyone who wants to participate in this event.
Here is a little more about the group and the poets and artists scheduled to perform:
Poets Against Fracking featuring Band of Bards is a growing community of local writers, artists, and activists who have turned their talents toward helping to preserve their community against the threat of hydraulic fracture gas drilling in New York State and beyond. Our goal is to use the power of poetry to celebrate our communities and environment, to bear witness to the destructive impacts of resource extraction, and to inspire individuals to defend our planet.

Poets Against Fracking will produce a series of readings and performances across the state, starting in Binghamton and including Ithaca, Oneonta, Albany, Corning and elsewhere. The readings will feature eight to ten poets who will read for 5-10 minutes each followed by an open microphone in which community members can share their words and art.

J. Barrett Wolf has been writing poetry for over forty years. His first book, "Stark Raving Calm," was published in 2011 by Boone's Dock Press. That year he was also commissioned to create the tenth anniversary poem for the Broome Public Library, he received a First Place award from the Performance Poetry Association of Long Island and he was given a Broome County Arts Council grant to produce the poetry series "Here & There: Poets from Near and Far". He has hosted the monthly poetry open mike at RiverRead Books in Binghamton for three and a half years. He lives in Binghamton.

Michael Foldes is founder and managing editor of Ragazine.CC, an online magazine of art, information and entertainment with eclectic content for a global audience. He is one of several We Are You Project poets, and is on the advisory board of the Campaign for an Informed Citizenry. He is author of "Sleeping Dogs: A true story of the Lindbergh baby kidnapping and the trial of Bruno Richard Hauptmann." He has a degree in anthropology from The Ohio State University. Foldes lives in Endwell with his wife, Margot, and travels frequently in connection with his primary occupation as a sales engineer of electronic components and video imaging solutions for medical applications.

Roger Hecht hails originally from Maryland, and has lived in upstate New York for twenty years.  He is an Assistant Professor of English at SUNY, Oneonta, where he teaches American literature and creative writing, and will be leading a new graduate program in Literature and the Environment.  His poems have been published widely in journals and on-line.  He has two collections of poetry, "Lunch at the Table of Opposites" and "Talking Pictures." Roger lives in Ithaca with his wife and two daughters.

Mario Moroni was born in Italy. He moved to the United States in 1989. He has taught at Yale University, the University of Memphis, Colby College, he currently teaches Italian at SUNY Binghamton. Mario Moroni has published seven volumes of poetry and one of poetic prose. In 1989 he was awarded the Lorenzo Montano prize for poetry in Italy. His poems have been published in numerous journals and anthologies. As a critic, Mario Moroni has published three volumes and co-edited three collections of essays on modern and contemporary Italian and European literature. In 2006 he released Reflections on Icaru's Lands, a DVD of poetry recitation, music, and images in collaboration with composer Jon Hallstrom. He is currently working on a CD of poetry recitation and piano.

Emily Vogel's poetry has been published widely, most recently in Lyrelyre, Maggy, The Comstock Review, The Paterson Literary Review, and The Journal of New Jersey Poets. She has published five chapbooks: Footnotes for a Love Letter (Foothills, 2008), An Intimate Acquaintance (Pudding House, 2009), and Elucidation Through Darkness (Split Oak Press, 2010), Still Life With Man, (Finishing Line Press, 2012), and Digressions on God (Main Street Rag, author's choice series, 2012). The Philosopher's Wife, a full-length collection, was published in 2011 (Chester River Press). She is the poetry editor of the online journal Ragazine, and teaches expository and creative writing at SUNY Oneonta and Hartwick College. She finds solace at home with her husband, the poet and essayist, Joe Weil, and their daughter, Clare.

Joe Weil was born in Elizabeth, a mid sized industrial city in North East New jersey, and his poetics were formed by the spirit of Elizabeth's neigborhoods and peoples. He conveys in poetry and music a spiritual Elizabeth which is diverse, hard working, and pained at the political correctness that iimperils so many attempts at honesty in the contemporary world. He is the author of three chapbooks and three full length books of poetry, the most recent of which is The Plumber's Apprentice (New York Quarterly). His forthcoming book will be a collection of essays. Weil lives and sings with his wife, the poet Emily Vogel, and his daughter Clare. He currently teaches poetry at Binghamton University.
This is just one of many events that will be taking place in Albany during the 2013 Albany Word Fest week. For more information on all of the readings, open mics, slams, and how you can get involved, go to the Albany Poets website.