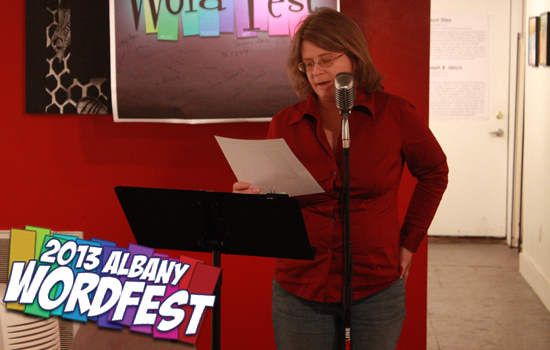 Friday night features two poetry events with the annual Word Fest Open Mic taking place at the UAG Gallery on Lark Street while UGT will be happening at The Linda on Central Ave.
The annual Word Fest Open Mic, hosted by Albany Poets' very own and Metroland Reader's Poll 2013 Best Poet Mary Panza, returns home to the UAG Gallery on Lark St. This event will take place from 7pm – 12:00am with poets from Woodstock to Saratoga and everywhere in between including Jessica Semon, Cecele Kraus, A.C. Everson, Brian Dorn, Carole Rossi Kenyon, Tess Lecuyer, Alyssa Niman, Reuben Bruchez, Alan Catlin, Don Levy, Jill Crammond, Chad Lowther, Bob Sharkey, Jacqueline Ahl, Gary Murrow, Julie Lomoe, Jacky K., Joe Hesch, Ana Montes, Ken Salzman, L-Majesty, Kevin Peterson, Tedi Toca, Steven Minchin, Ian Mahoney, Darby Penney, David Wolcott, Glenn Werner, Adrianna Delgado, Mike Jurkovic, Cheryl A. Rice, Tim Dwyer, R.M. Engelhardt, Edward Rinaldi, Joe Krausman, Mizana, Sarah Sherman, Charles Straney, Samson Dikeman, Avery, Carolee Sherwood, Sean Heather McGraw, Anthony Bernini, Robin Mendoza, Robbie Held, Lee Pursewarden, Lu Highsmith, Poetry n' Love, Afi Beard, Aceyon Owens, Shauntice Shepard, Eric Fountain aka The Seraphimpoet, Gianni White, Lucian Moriyama, and many more.
The UAG Gallery is no stranger to hosting the Word Fest Open Mic. The event has taken place at the gallery for five years (2006 – 2010).
Poets who are interested in participating in the annual open mic can still sign up here until Sunday, April 14. There will also be limited opportunity to sign up at the event to fill spots the open up throughout the night.
This is just one of many events that will be taking place in Albany during the 2013 Albany Word Fest week (Sunday, April 14 – Saturday, April 20). For more information on all of the readings, open mics, slams, and how you can get involved, go to the Albany Poets website.