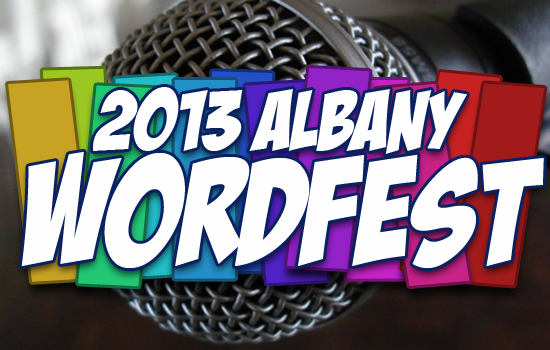 With only a couple of days until the start of the 2013 Albany Word Fest there are already over 100 poets and spoken word artists scheduled to perform throughout the week. Poets from Albany, Woodstock, Saratoga, Binghamton, Buffalo, Syracuse, and Suffern will be taking part in the annual celebration of the poetry and spoken word of upstate New York from Sunday, April 14 – Saturday, April 20. And there are still opportunities for more poets to get involved in the National Poetry Month festivities with at least four open mics throughout the week.
Albany Poets president Thom Francis says, "This year's lineup is absolutely incredible. I am overwhelmed with how many poets and writers will be sharing their work at the events that are taking place during Word Fest week. We have one of the best poetry communities in the country right here in Albany and it is because of that we will be welcoming over 100 poets, slammers, and spoken word artists from all over New York and the northeast region to perform on our stages for seven solid days during the 2013 Albany Word Fest."
Word Fest week begins on Sunday, April 14 at McGeary's with the launch of Albany Poets' brand new literary journal, Up The River. Editors Jill Crammond and Keith Spencer, who have been culling through hundreds of submissions since January, will host this special event featuring local poets who are published in the the first issue including Mary Cuffe Perez, Julie Lomoe, Tess Lecuyer, Darcy Smith, Alan Catlin, Judith Prest, Avery Stempel, Roberta Gould, Mark O'Brien, Carol Graser, Sally Rhodes, Caroll Jewel, Victoria Sullivan, Cecele Kraus, Ken Denberg, Micky Shorr, Cheryl Rice, Darcy Smith, Dan Wilcox, Carolee Sherwood, Matt Galletta, Glenn Werner, Annine Everson, Howard Kogan, Luis Pabon, Lloyd Barnhart, Leslie Gerber, and Richard Whitlock.
On Monday, April 15 the poetry and spoken word continues as we head to the UAG Gallery (247 Lark Street, Albany) for an evening with Poets Against Fracking featuring Band of Bards, a community of Binghamton area writers, artists, and activists who have turned their talents toward helping to preserve their community against the threat of hydraulic fracture gas drilling in New York State and beyond. Some of the poets scheduled to perform are J. Barrett Wolf, Michael Foldes, Roger Hecht, Mario Moroni, Emily Vogel, and John Weil. There will be a short open mic for anyone who wants to participate in this event.
Also on Monday night, poet, artist, and teacher Jill Crammond will be hosting an open mic for students in grades 5 – 12 at the Bethlehem Children's School (12 Fisher Blvd., Slingerlands). This will be a great opportunity for young poets and writers to share their work with others.
On Tuesday, April 16 the festival continues with the Nitty Gritty Slam at Valentine's (17 New Scotland Ave., Albany). For the 42nd Word Fest edition of NGS, Mojavi and Thom Francis will present the first ever Nitty Gritty Haiku Battle. This long awaited event will finally make its Albany debut on the Nitty Gritty stage pitting 16 poets in a head-to-head single-elimination tournament. Poets who wish to sign up early and secure a spot in the tournament are encouraged to send an email to albanypoets@gmail.com. The first eight poets who pre-register are in, the remaining eight spots will be filled at the event. Admission to NGS is $5.00 / $3.00 with student ID. (18 + / 21 to drink).
For Wednesday night, April 17, the Word Fest heads over to The Linda – WAMC's Performing Arts Studio (339 Central Ave., Albany) for a special free screening of the film Louder Than A Bomb, "a film about passion, competition, teamwork, and trust. It's about the joy of being young, and the pain of growing up. It's about speaking out, making noise, and finding your voice. It also just happens to be about poetry." The film will be followed by a discussion on poetry slams, spoken word, and getting youth involved in the art. This event is free and open to the public. Doors open at 6:00pm at The Linda, the film will start at 7:00pm.
On Thursday night we will have two poetry open mics for the community to get involved in. First up is the Third Thursday Poetry Night at the Social Justice Center (33 Central Ave., Albany). Dan Wilcox hosts this open mic for poetry and spoken word featuring "Gettin' Fierce", students in Professor Daniel Nester's class, Oral Presentation of Literature, at the College of St. Rose. Then, starting at 8:00pm Poetyc Visionz hosts his weekly poetry and spoken word open mic with a special Word Fest theme at the Book Club (153 South Pearl Street, Albany).
Friday night features two poetry events with the annual Word Fest Open Mic taking place at the UAG Gallery on Lark Street while UGT will be happening at The Linda on Central Ave.
The annual Word Fest Open Mic, hosted by Albany Poets' very own and Metroland Reader's Poll 2013 Best Poet Mary Panza, returns home to the UAG Gallery on Lark St. This event will take place from 7pm – 12:00am with poets from Woodstock to Saratoga and everywhere in between including Jessica Semon, Cecele Kraus, A.C. Everson, Brian Dorn, Carole Rossi Kenyon, Tess Lecuyer, Alyssa Niman, Reuben Bruchez, Alan Catlin, Don Levy, Jill Crammond, Chad Lowther, Bob Sharkey, Jacqueline Ahl, Gary Murrow, Julie Lomoe, Jacky K., Joe Hesch, Ana Montes, Ken Salzman, L-Majesty, Kevin Peterson, Tedi Toca, Steven Minchin, Ian Mahoney, Darby Penney, David Wolcott, Glenn Werner, Adrianna Delgado, Mike Jurkovic, Cheryl A. Rice, Tim Dwyer, R.M. Engelhardt, Edward Rinaldi, Joe Krausman, Mizana, Sarah Sherman, Charles Straney, Samson Dikeman, Avery, Carolee Sherwood, Sean Heather McGraw, Anthony Bernini, Robin Mendoza, Robbie Held, Lee Pursewarden, Lu Highsmith, Poetry n' Love, Afi Beard, Aceyon Owens, Shauntice Shepard, Eric Fountain aka The Seraphimpoet, Gianni White, Lucian Moriyama, and many more. Poets who are interested in participating can still sign up here. There will also be limited opportunity to sign up at the event.
Meanwhile, right up Central Avenue, at The Linda (339 Central Ave., Albany), Urban Guerilla Theatre will be presenting the second annual Skit Happens event with skits, comedy, performance and of course incredible poetry. "Skit Happens, Too" will be featuring local poets and performers Carlos Garcia, Q-Diamond, Leslie Michelle, Tenesha Smith, Ms. Bliss, Jess Listen To My Wordz, Mojavi, Mind Evolution,Floetik and John C. Majic.
Finally on Saturday, April 20, the Word Fest comes to an end with the inaugural Word Fest Invitational Slam at Valentine's (17 New Scotland Ave., Albany) starting at 6:00pm. For the first time ever, poets from Albany's very own Nitty Gritty Slam will be joined by Verbal Slap (Bridgeport, CT), Underground Poetry Spot (Syracuse, NY), Suffern Slam (Suffern, NY), Jersey City Slam (Jersey City, NJ), and Pure Ink Slam (Buffalo, NY) on one stage to close out the Word Fest and compete for prizes and bragging rights as we get closer to the National Poetry Slam in August.  Admission for this event at Valentine's is $10.00 in advance / $12.00 at the door. This event is 18+ (21+ to drink) with a picture ID required. Advance tickets are now available through the Albany Poets website.
Additionally, all throughout the week, Albany Poets will be publishing local poetry on their website as part of the Word Fest Online Open Mic. Poets who wish to participate are encouraged to send their poems to albanypoets@gmail.com with "Online Open Mic" in the subject line.
The 2013 Albany Word Fest is sponsored by AlbanyPoets, Hudson Valley Writers Guild, Frequency North, Urban Guerrilla Theatre, Valentines, McGeary's, Upstate Artists Guild and the very generous donations of supporters of the arts in upstate New York.
For more information on the history of the Word Fest, directions to venues, a complete schedule of events, and information on community involvement, go to www.albanywordfest.com.