We have an exciting night of poetry and spoken word planned for Nitty Gritty Slam #28 as our open slam on October 16 will also feature the sets from poets Meg Waldron and Robyn Bateman!
It's a homecoming for Meg Waldron, who lives in Portland, OR, but is also a product of Albany County. Born and raised East Berne, Waldron is a 2005 grad of Berne Knox Westerlo High School, and is touring the country with her Robyn Bateman, Meg and Robyn are currently touring the country, according to their press materials, "for the sole intention of making you remember your freedom of laughter."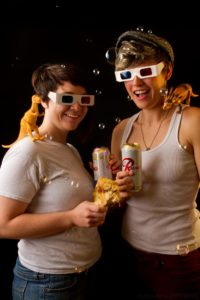 With poems like "My Ex Girlfriend Is Baking Cookies In My Uterus" (Waldron) and "Porn Star Apocalypse" (Bateman), we think it's safe to assume the stage of Valentine's is going to witness some epic rocking.
Waldron is especially excited to perform at a slam where she grew up.
"I have felt the need for a venue such as Nitty Gritty all my time there," Meg says. "I am so proud to hear that a slam is finally getting on its feet there. Hearing that poets in Albany finally have a space to grow and thrive as well as hear new work really warms mah heart place."
Both writers' bios appear below. The poets' books and merch will be available for sale. For more information about Meg and Robyn, visit them online at megandrobyn.wordpress.com. For more information about Nitty Gritty, go to nittygrittyslam.com or follow us on the Twitters at @nittygrittyslam.
Meg Waldron is a writer, traveler, and YouTube enthusiast. She was a member of the 2011 Portland Poetry Slam team and competitor at the National Poetry Slam in Boston, Massachusetts. Meg's poetry is sharp and honest, making crowds keel in laughter at how ridiculous our very serious lives can be. She is the author of a chapbook, Sex, Drugs, Tuck n' Roll (2011), and has had her writing featured in many poetry collections across the country. Meg's spirit animal is a baby deer with wings.
http://www.youtube.com/watch?v=XWHoMwaSX2A
Robyn Bateman is a performance poet based out of Portland, Oregon. She is best described as a perverted, crass old man disguised in the body of a charming, young woman. Robyn is the reigning City Champion of Portland, and was a finalist at the 2011 Individual World Poetry Slam and a 2012 competitor at the Women of the World Poetry Slam. Robyn rallies audiences with her high energy, quirk-with-bravado performance style and her imaginative narratives on the simple beauty of what it is to be human. Robyn has two chapbooks and has been published in a number of poetry and fiction journals.
Albany Poets, Urban Guerilla Theatre, and The Frequency North Reading Series are bringing slam back to Albany with the NITTY GRITTY SLAM.

NGS takes place at Valentine's (17 New Scotland Ave.) on the 1st and 3rd Tuesday's of each month.

If you're not into slam, but want to get on stage and share your work, we have an open mic before the slam.

Sign up begins at 7PM, open mic starts at 7:30, and the slam starts at 8PM.

Admission is $5.00 ($3.00 with student ID). This is an 18+ show.

For information on the rules and format of the Nitty Gritty Slam and to meet the team, go tohttp://nittygrittyslam.com/