The Nitty Gritty Slam Team is going to the National Poetry Slam next month in Chicago and they are working very hard to raise awareness and funds to make the trip.
Nitty Gritty Slam started in 2011 by Dain Brammage, Daniel Nester, and Mojavi as a way to bring slam poetry to Albany with a regular series at Valentines. In 2012, the first team of poets from Albany – Algorhythm, D. Colin, ILLiptical, and Elizag – went to the National Poetry Slam in Charlotte and competed against the best teams in the country. Since then NGS has gone on to other competitions both regionally (Amherst, Lenox, Pittsfield, Toronto, Buffalo, Nyack, and in Troy at the Word Fest Invitational Slam) and nationally (National Poetry Slam, the Individual World Poetry Slam, and the Women of the World Poetry Slam) – racking up victories at many of these events.
This year Nitty Gritty is sending a team of four dynamic poets – D. Colin, Laura Evelyn, Liv McKee, and Amani  – who have been coached by the great Elizabeth Gordon.
They have set up a GoFundMe campaign to help with the costs and expenses involved with this trip to the mid-west. If you would like to help support the team, go to https://www.gofundme.com/albany2nps.
"It's that time of year again! Albany's own Nitty Gritty Slam is gearing up to send four incredibly talented poets to the National Poetry Slam! And for the FIRST TIME IN NITTY GRITTY HISTORY, we are an all womxn team!
[…] As your representatives for poetry in the Capital Region, we aim to bring our most refined and radical rebelutionary performances to the national scale time and time again. At Nationals we network, we learn, we grow, we shine. We return with even more tools to enrich our community and amplify poetry as a tool of justice and social change."
Another way to get involved and help the team is happening Friday, July 27 in downtown Troy with a special Poetry Cypher as part of Troy Night Out. NGS is partnering with The Arts Center of the Capital Region to put on a truly unique event.
Here are the details from the Facebook events page: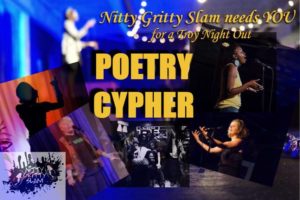 HOW IT WORKS: Any spoken word artists in the Capital Region are encouraged to sign up to participate in our FIRST EVER Nitty Gritty Poetry Cypher. We'll begin promptly at 7PM. Picture an unplugged open mic, a poet encircled in a crowd of supportive art lovers, a professional cameraperson in close to get the shots for an amazing personalized video of your performance that will end up shareable and on Youtube. DON'T MISS OUT!
REGISTER: FB message Nitty Gritty Slam OR email livspokenpoet@gmail.com. A donation of $10-20 to participate will be deeply appreciated.
ATTEND: Show up at 7 or a little before, and bring a $5-20 donation (we accept cash & PayPal)!
**Artists are encouraged to bring merch to sell**
Finally, be sure to tune in to NewsChannel 13 on Thursday, August 2 as Elaine Houston interviews D., Laura, and Liv.