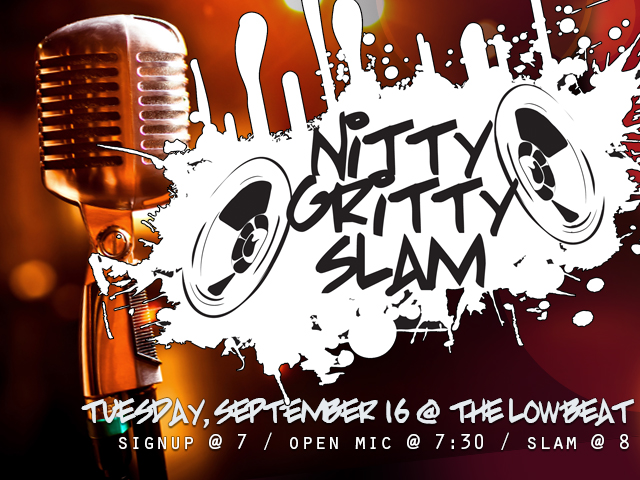 We are back at The Low Beat on Tuesday, September 16 to for Nitty Gritty Slam #78 as the new season rolls on.
We will be back with our traditional "8-4-2″ slam format right after our open mic for poetry and spoken word. We have cleared the points board from last season and have started fresh, ready for a new crop of poets to step up to the stage. This year we have some new rules (the no-repeat rule is in effect) and some exciting featured poets lined up that you are not going to want to miss.
At NGS 77 we kicked off Season Four of Albany's poetry slam series with a great night of poetry and spoken. Our featured poet, Sean Patrick Mulroy from Boston, was fantastic and the slam itself was a battle of Nitty Gritty veterans. Victorio and Mojavi battled it in a close contest with Victorio ultimately coming out on top.
Now that we have points on the board, who will come out and try to knock the leaders off their perch? Who is setting their sights on making the trip down to Newark, NJ next summer to represent Albany and NGS at the National Poetry Slam? We will find out on September 16 at NGS #78.
If you're not into competing in the slam, but want to get on stage and share your work, we have an open mic before the slam. Sign up begins at 7:00pm, open mic starts at 7:30, and then Thom Francis starts the slam at 8:00pm. Admission is $5.00 ($3.00 with student ID). This is an 18+ show.
If you can't make it out to the show that night, be sure to follow along on Twitter! We will be live tweeting pictures and results all night at @NittyGrittySlam and #NGS78.
Albany Poets, Urban Guerilla Theatre, and The Frequency North Reading Series have brought slam back to Albany with the Nitty Gritty Slam at The Low Beat (335 Central Ave.) on the 1st and 3rd Tuesday's of each month.
For information on the rules and format of the Nitty Gritty Slam and to meet the team, go to http://nittygrittyslam.com