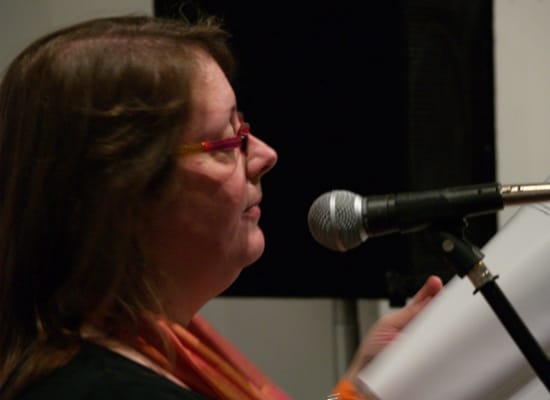 This coming Saturday, July 13 has a good deal of poetry to choose from. First, kicking things off at 2:00pm is the monthly meeting of the Woodstock Poetry Society, this time at the Golden Notebook. Guest host Tim Dwyer is welcoming two fantastic writers, Belinda McKeon and Cheryl Rice to the reading. 
Woodstock Poetry Society & Festival as part of the Woodstock Arts Consortium is sponsoring the following poetry event as part of the Woodstock "Second Saturdays" Art Events.

Irish Novelist Belinda McKeon & poet Cheryl Rice will be the featured readers, along with an open mike when the Woodstock Poetry Society & Festival meets at the Golden Notebook Upstairs, 29 Tinker Street, on Saturday, July 13th at 2pm.

Note the venue – we will be Upstairs at the Golden Notebook this month. After that, for the remainder of 2013 we will be at the Woodstock Community Center.

The readings are usually hosted by Woodstock area poet Phillip X Levine. Phillip will be in Los Angeles. Tim Dwyer, wonderful local poet, will sub-host instead. All meetings are free, open to the public, and include an open mike.

Belinda McKeon, an award-winning playwright and journalist, and worked as an arts writer for the Irish Times. McKeon has an MFA in creative writing from Columbia and lives in Brooklyn. She is currently with the Creative Writing faculty of Barnard College. Her beautiful debut novel Solace, published by Scribner, won the Bord Gáis (Irish Board) Energy Irish Book of the Year for 2011, winner of the Geoffrey Faber Memorial Prize and has been lauded by authors and critics alike. Solace follows the relationship of Mark Casey and Joanne Lynch, and the family feud that threatens to end their affair. She is presently completing her second novel.

Cheryl Rice – A Long Islander by birth, I have made the Hudson Valley my home for over thirty years. I have participated in poetry events from Albany to Middletown, NY, and made live appearances on WDST-FM (Woodstock, NY) and WKZE-FM (Sharon, CT). I am the founder and host of the semi-annual Sylvia Plath Bake-Off, allegedly the world's only combination open mic/baked goods contest. I was accepted into two poetry workshops at The Omega Institute in Rhinebeck, NY with former NYS Poet Laureate Sharon Olds. My poetry has appeared inThe Baltimore Review, Bitterroot, Chronogram, The Country and Abroad, Exit 13, The Florida Review, Home Planet News, Mangrove, Metroland, The Pelican Review, Other: —–, The Temple/El Templo, and The Woodstock Times, and online at albanypoets.com, poetrypoetry.com, and thehiddencity.com.
And after this great reading and open mic, head up to Washington Park for the first installment of the 2013 Poets in the Park series.