We here at Albany Poets are always thinking about how much things have changed over the years in our local poetry community. Recently, when I was the featured poet at the Between The Lines open mic in Troy, I was asked about the difference between the number of events and open mics today compared to when I started coming out to poetry readings almost 20 years ago. It was interesting to talk to the crowd about the old open mics and how back then there was only a couple monthly events to go to. Now we have something going on almost every single night of the week In the Capital Region, Hudson Valley, and Western Massachusetts.
After that open mic, I really started thinking more and more about the old open mics in the area, especially the ones that I used to go to when I first came into the scene like the original School of Night, Cafe Web, and the Borders open mic. I then asked a few local poets R.M. Engelhardt, Don Levy, Tess Lecuyer, Cheryl Rice, Alan Catlin, Mary Panza, Dan Wilcox, Mojavi, and even Charlie Rossiter, who have been, or were, around the scene for a while for their input on some of the mics of the past and what their impact was.
With all of that information, we came up with a list of the Top 10 Local Poetry Open Mics and Events of the Past. This is a wonderful trip down memory lane and we invite you to add your thoughts and comments below.
Honorable Mentions
Poets Action Against AIDS , Albany
Tess Lecuyer: not an Open Mic per se but I have vivid memories of a band of poets making an enormous amount of noise (thanks to Tom's noisemakers) and I remember maching in a jangly line down Lark St, stopping at shops and bars to read poems. I remember being loud. I remember being in tears as I watched poets break down as they read. I remember laughing hard. This was when there was no treatment, just death. This was when AIDS was fenced with Fear and Hate. We made noise and we carved out Hope.
Lionheart, Albany
Mojavi: Lionheart Blues Cafe was hosted by R.M. Engelhardt who in any weather wore goth clothing. I commonly referred to him as a Poet-Rockstar, but he was very supportive of having different poets in the venue which is now Bombers on Lark Street. It amazed me how the reading could change each and every time and whenever I went there was never less than 15 readers. It was the perfect switch up between my reading, the QE2, and the random ones.
Mother Earth's Cafe, Albany
Mojavi: Mother Earth's Cafe was important for a few reasons. It was the communal place for art and gatherings. Soul Kitchen's first foray in to the community was at Mother Earth's. We started there and moved many times until we settled at our final resting place at Clayton's. Mother Earth's was the place of recogning as a poet and so many open mics and performances were formed out of that small place. So many people cut their teeth there, said their first poems, began their career. I built my early reputation as a poet in that cafe. Friendships with Victorio Reyes and the rebel army poets, Taina Asili, Oddy Gato, and so many more. Good memories of that place and the easy going owner Richard.
Mary Panza reading "I Saw The Blessed Virgin At The Lancome Counter at Macy's" at  Mother Earth Cafe – April 1, 1995
[audio:https://hvwg.org/audio/sounds/Volume/16 Track 16.mp3|animation=yes]
Jonathan's, Albany
Mojavi: I am chosing Jonathan's over Casablanca's for two reasons, time and comfort. Jonathan's, which is now known as Simply Fish and Jazz, was our erstwhile home of Soul Kitchen for three dates before they shut him down. We had a diverse following and the atmosphere of the venue helped to create the incredible following that Soul Kitchen enjoyed. Johnathan was from Atlanta and he was familiar with the spoken word and he wanted us there. It was a beautiful time and good to have POETRY as a great form of entertainment.
Half-Moon Cafe, Albany
Tess Lecuyer: This was late 80s/early 90s. Tom Nattell! The first Readings Against the End of the world! That one was the heart of it all, this tiny cafe. This was the first I remember gathering the core of poets in the center of the Albany Open Mic culture.
Tinker Street Cafe', Woodstock
Cheryl A. Rice: Tinker Street Cafe' in Woodstock, hosted for years by Dean Shambach. What a scene!! Poets on the makeshift stage pontificating before a "velvet Elvis" towel thumb-tacked to the wall, non-poets yelling expletive-heavy reviews from the bar…. It was an amazing experience, and I always give myself credit for having read there despite my youth and shyness (at the time!)…
Woodstock Poetry Society, Woodstock
Cheryl A. Rice: Number Three is Bob Wright's version of the Woodstock Poetry Society, a monthly open mic then held in the community center. Bob ruled with an iron fist, but the room was always packed, everyone got their five minutes of Woodstock fame, and no one commandeered the mic for their own selfish purposes!
The Muse in the Museum, Albany
Alan Catlin: The Muse in the Museum first group reading I know of in the area (put together by Paul Weinman and you got paid!) Poets got to read among the exhibits. You haven't lived until you've read on Sesame Street.
Aurthur's Market, Schenectady
Mary Panza: Debbie Bump ran this series and it was in a cafe in a supermarket. Great poetry and produce!
Soul Kitchen, Albany
Mojavi: One of the most creative open mics, created at a time where there were no African American specific open mics. So many have passed through there and honed their craft. Local notables include Gemineye, Bless, Nickey Black, Poetyc Visionz, and Prolifik Wisdom.
Yours Jazz Club, Schenectady
Alan Catlin: Jazz Club readings in Schenectady hosted by Debbie Bump, wasn't the first or the last reading in Schenectady, but it was the best. Gracious host, coffee house atmosphere, Joe and his wife and free finger food for the poets.
10. Poets Speak Loud (Tess' Lark Tavern), Albany
Mary Panza: I know, I know, the series is alive and well! We love McGeary's but anyone who knows me knows how loyal I am to my beginnings. I worked at the Lark Tavern from 1990-2003. I always say I got my PhD. in life and human behavior there. I remember everything and remember Tess bugging me for years to do something with poetry. Thom and I began a huge legacy of spoken word there. It is part of who we are as an organization, as friends and (individually) as people.
Thom Francis: Poets Speak Loud, much like Dan Wilcox's Third Thursday Poetry Night (see below), is an open mic series that is still active and also on this list of past events. Poets Speak Loud may still be happening at McGeary's on the last Monday of the month, but it is not the same series as the original at Tess' Lark Tavern. PSL began as a way to bring the last Monday of the month tradition back to the local poetry community. We even had Tom Nattell's blessing and he was scheduled to be our first featured poet. From our first night, January 31, 2005, Poets Speak Loud became the home of some best poetry and community in the area. Unfortunately our clubhouse burned down on the morning of May 6, 2010. And with that fire our 5 year run of filling Tess' dining room, scaring off the folks who came to just eat supper, and bringing poetry and spoken word to Lark Street and Center Square ended. McGeary's is a great place and we are very happy to be able to continue Poets Speak Loud downtown, but nothing will replace the sense of family and community that was the cornerstone of the series at the Lark.
9. Sylvia Plath Bake-Off, Kingston
Cheryl A. Rice: Unaccustomed as I am to blowing my own horn, I have to admit to sometimes missing my own annual open mic in Kingston, the Sylvia Plath Bake-Off. Held at various locations throughout the city, including the Unitarian church and the defunct Flying Saucer uptown, I liked it best when fifty-plus poets, singers, dancers and performers crammed into the AIR Studio in midtown. Jim Marzano was our gracious host. During the AIR years, the Bake-Off expanded to included an actual baked goods competition as well as an open mic! I will forever have raisin bread nooses and marzipan embryos dancing dancing in my brain.
8. The Palais Royale, Albany
Tess Lecuyer: Most egalitarian gin joint in the area. Cheap beer, coctails in tiny strange little juice glasses, Jiffy-Pop Machine, display of small Campbell's Soup cans. The open mic competed with the Elvira pinball machine, and the jukebox playing "There's a Tear in my Beer." I'm spacing on who hosted. Dan? Exceptional ambiance!
Dan Wilcox: They were funky, fueled by underage drinking, lots of young honies.
7. Colony Cafe Open Mic, Woodstock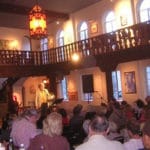 Cheryl A. Rice: Uneven but always an adventure, Philip Levine's Monday night series at the Colony Cafe' was for years a dependable place to hobnob with fellow Ulster County poets and other sordid types. Philip is indulgent to a fault, and anyone with $3 to hand his wonderful mother Betty at the door could get up and do their thing– truly the spirit of Woodstock incarnate!
Thom Francis: I didn't have the opportunity to attend this open mic too many times, but when I did it was always a great time and worth the trip. Phillip Levine's weekly open mic series was one of the great, long-running events in the Hudson Valley that always had some wonderful poets lined up as features. One memory that will always stick with me is the fact that at this open mic, when Rob, Bone Leonard, and myself were the featured poets, I was booed for the first time. I was reading my anti-war poem "American" and some folks in the back of the room booed when I was done with the piece. It was definitely an experience and some something that I will always carry with me.
6. Readings Against The End of the World, Albany
Alan Catlin: Tom Natell's epic reader's Against the End of the World-the grand daddy of all readings. Was on the program for all ten though I missed a couple. Everything poetic that happens in the area owes something to this reading (and to Tom, of course). And he organized it all without e-mails!
Dan Wilcox: The Readings Against the End of the World, the annual fund-raiser for the Albany Peace & Energy Council, ran from 1984 to 1993. No one since has had the energy or the stamina to pull off a 24-hour event. Performers (not just poets) of all levels of expertise (or not) helped fill up the time.
Charlie Rossiter: Don't forget "Readings Against the End of the World" was essentially open mic, you just signed up ahead of time. It created a great gathering place for Albany and regional poets to come together once a year.
5. Albany Art Gallery, Albany
Don Levy: For personal reasons I would add the series I hosted at The Albany Art Gallery on Jefferson St.
Mary Panza: The Albany Art Gallery. I think that was what it was called. It was a few doors down from the old G&G around the corner from what used to be The Griffin. Bill and John Lemely ran the gallery and Don ran the series of open mics and featured readings. Excellent mic in a quirky dank space.
Dan Wilcox: The Albany Art Gallery series run by Don Levy (I helped by doing the flyers & the publicity) began November 1989 & went to circa April 1993. It wasn't an open mic series, but did have an open mic occasionally. The usual format was 2 poets, sometimes a group such as SUNY students. Don is to be credited to be one of the earliest poetry series inspired by his experience at the QE2. I learned from this that if you want an audience for your featured poet, you have to have an open mic.
4. Third Thursday Poetry Night (Changing Spaces Gallery, Cafe Web, Lark Street Bookshop), Albany
R.M. Engelhardt: Third Thursdays at Changing Spaces, because it was goddamn fun. Poetry, inspiration and friends. Featured poets and an invocation of the muse. More coffee and a well run poetry open mic with a conscience for the area and the world, causes by Dan Wilcox. Still three dollars with a featured poet and great!
Don Levy: Changing Spaces because it was a great space
A.C. Everson: Changing Spaces. Great gallery space and great folks. Loved the back yard too 😉
Third Thursday Poetry Night at Changing Spaces photos
Mary Panza: Any location of Dan's Third Thursday open mics. The series lives on today but it is kind of the scene's "gypsy". Loved it at Cafe Web, Changing Spaces Art Gallery but the place I miss the most was the book store on Lark Street. Mainly because it was the last time I saw Tom Nattell perform. Dan carries on his series without ever missing a third Thursday. That is how us old folks roll!!! Sorta.
Mojavi: Cafe Web, which was run by Dan Wilcox, was essentially my first feature. Dan was very magnanimous in having me as a feature and he was very fair in getting so many different poets from so many backgrounds to come out and perform. I kind of owe my involvement in the poetry scene to him. He came to SUNY and had an open mic in the UA Theatre where he told me that my poem was "ok" and that it could be better, this compounded insult to injury because I could not read at the open mic and the poem I wrote had netted me an A . So I resolved to go to the QE2 where they were reading and announce myself as a poet. I have never looked back. Cafe Web was great for the old school poets, professors, or street poets. it had all that and everything in between… besides being the first Internet cafe.
3. The School Of Night (Valentine's), Albany
R.M. Engelhardt: Why? It's public, it's personal, it was fun, it was great. Because in the mid to late 90's poetry in the Albany,NY area was moving in all kinds of directions. It needed something new, perhaps a different kind of approach than in the past. A creation of the imagination to gather around and inspire people, writers. The gothic and dark wave scene was at it's peak and poetry was going in an awful sort of " pop culture" narrow direction nationally and into some mainstream money-funk contest based conception. At The School Of Night new themes and ideas were created. Everything from "Beat Generation Night" to "The Annual Edgar Alan Poe Halloween Benefit & Tribute" and more. Still a three dollar donation for one helluva fun and interesting (not to mention crowded) evening of poetry, where it was the words, and not a contest that mattered. It was an honor to host it and give many new poets and writers their start. The booze and decadence always made things interesting as well.
School of Night at Valentine's – April 27, 2004 photos
Thom Francis: The School of Night. What can I say about this mic? It has gone through many incarnations and been housed at many local venues over the years including Valentine's, Ballingers, the Fuze Box, and now the Pearl Street Pub. Like most things, the original is the best and SON is no different. The first run at Valentine's was one of the best poetry open mics in the area of all time. The room was consistently packed on the last Tuesday of every month. It was a cool vibe with live music from Dr. Sax (Bruce Richardson and Jim Washburn) and burning candles on the speakers. It was a fun room to read your poetry to and it was also the first place that I got a chance to guest host when Rob was out of town or in the bathroom. The theme nights like the Poe tribute and Beat nights brought a lot of people inside and outside the poetry scene together to support the art. Unfortunately, lighting didn't strike twice and once the event moved from Valentine's it was never the same. School of Night at Valentine's had a special something that could not be duplicated any place else. The perfect balance of dirty rock bar, a dedicated host, and late-90s/early-2000s angst.
2. Borders Open Mic, Albany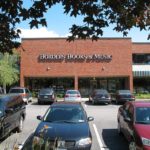 R.M. Engelhardt: Because it was still all about the featured poet and the art of the open mic (which Mary, being Mary rocked quite a bit). Local regulars and new, younger poets… And coffee!
R.M. Engelhardt reading "DeGeneration" at Borders – January 25, 1995
[audio:https://hvwg.org/audio/sounds/Volume/26 Track 26.mp3|animation=yes]
Tess Lecuyer: Ah! The Wolf Road Borders Bookstore Open Mic in the mid-1990s! The cafe was set on the upper corner of the 2 story building, with lots of windows so when poets (thank you Paul Weinman for something I will never be able to un-see) strip naked it made quite an impact. The audience was a mix of students, poets, bewildered customers and a determined fringe of domestic types browsing the cookbooks next to the cafe. Mary Panza hosted. Bad Language Happened. Nakedness Happened. Complaints Happened. Instead of censoring or shutting us down, Borders put up a "Listen at your own risk" sign. Lots of Poetry Happened. I heard most of it from behind the cafe counter as I worked the espresso machine.
Deborah Bump reading "An Apology To Lenny Bruce" at Borders – March 25, 1995
[audio:https://hvwg.org/audio/sounds/Volume/27 Track 27.mp3|animation=yes]
Thom Francis: This was my introduction to the local poetry community here in Albany. When I was in high school my mother found the listing in the newspaper for a poetry open mic and thought that I would enjoy it. Who would have thought that I would have stuck around so long? Mary Panza was the original host of this great open mic series that went on for quite a while. What was great about it was the fact that it was in a bookstore, a corporate "big box" bookstore at that, and we could swear and be ourselves without fear of being "censored". The poets who stepped up to the mic each month represented the very diverse group of artists that we had (and still have) in the area. Different styles and many different voices are what made this such a great open mic and helped me realize how much I loved the art and what this area had to offer.
1. QE2 Poetry Open Mic, Albany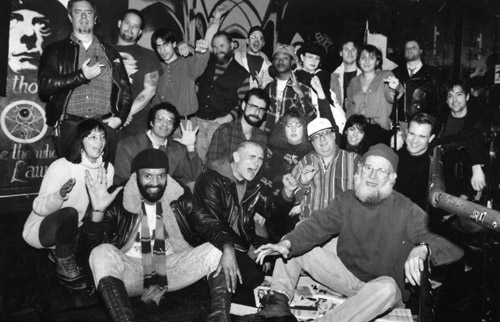 Of course, the one that started it all would be in the top spot on this list of great local poetry events of the past. The QE2 Open Mic was the one event that everyone still talks about in the area when they talk about the great mics of the past. Tom Nattell paved the way for all of us to be here reading at and hosting poetry open mics and events. If it was not for the QE2 Open Mic, Tom Nattell, and all of the poets who came out to the mic each and every month, I am not certain that the current landscape would look like here in Albany.
Tom Nattell reading "On Constitution Avenue" at the QE2 – February 24, 1995
[audio:https://hvwg.org/audio/sounds/Volume/11 Track 11.mp3|animation=yes]
R.M. Engelhardt: Because of all the open mics for poetry & poets it was the 1st incarnation of it's kind in an amazing venue & post apocalyptic punk rock club place that (like this open mic) will never exist again. Tom Nattell was the master of ceremonies and this reading was all about the time period, the late 1980s. New poets and writers of all styles were welcome and not one kind of style took precedence over another. The reading was about the poet on stage and the actual poetry itself. the way it should be. The father-mother of all readings here in the Albany NY area (even if the new and younger poets don't realize it!) A three dollar donation, a featured poet and a night of real poets from all walks of life.
Dan Wilcox: Of course, the QE2 open mic on the last Monday of the month: the grand-daddy of them all. In many ways, like Tom Nattell himself, this open mic is still going on, in all the other open mics that are occurring on a regular basis. My Third Thurs. open mic would have never happened if I hadn't learned what I know from attending the readings at the QE2. I have a longer piece on the QE2 series that I wrote soon after Tom's death and was submitted to the Times Union for its The Story of Albany project. You can read that here.
Don Levy: The QE2, because before that my poetry was something I kept in notebooks.
Anthony Bernini (pictured above) reading "You Have Four Minutes at the QE2 – February 24, 1995
[audio:https://hvwg.org/audio/sounds/Volume/01 Track 01.mp3|animation=yes]
Tess Lecuyer: The QE2 – When you stepped onto that stage you could neither hear nor see anyone in the audience. Very hard stage. And if you sucked, they might throw stuff. But Tom Nattel was always there in the wings, with a nod and a little smile, a perky "thank you" – and a helping hand at the end of a long skinny arm as your dazzled eyes refused to help you navigate the stairs back down to the bar.
Cheryl A. Rice: Number One has to be the QE2, and the late, great Tom Natell, darting back and forth between the mic and the list, cramming in announcements about other events between readers. He kept everything going at a breakneck pace, yet the readers were honored and supported. I dare say it's almost the perfect format for a reading. I caught it at the tail end of its long run, and often joke that the $7K I spent on grad school would have been better spent on Rolling Rocks at the Q on open mic nights…
Charlie Rossiter: QE2 – long running, funky, associated with outstanding visiting poets who performed at the club–e.g. Ginsberg, Quincy Troupe…
Charlie Rossiter reading "Sweet Home Chicago" at the QE2 – March 27, 1995
[audio:https://hvwg.org/audio/sounds/Volume/05 Track 05.mp3|animation=yes]
Alan Catlin: QE2 only made it to a couple what I can say the Q , Tom, MS Shortsleeves, poets didn't have to be stoned to be there but why wouldn't you be?
Mary Panza: I was too young to be there but I got in. My first time on stage in front of strangers in a black dress (duh) talking about fucking on first dates. The Alpha and Omega of any and all spoken word in the area. I was there. Drunk mostly. In it for the art boys and the glory. I had lots of both. My first feature was there as I opened for Hubert Hunke and got to spend several hours with him just listening to his advice and wisdom. Char Shortsleeve was and is a woman ahead of her time letting the poets have a stage in her club. Tom Nattell may or may not have known what was to come from this dirty, drunken scene, but everyone owes him a thank you!
A.C. Everson: So glad I didn't miss out on these. Loved how Tom would tell everyone not to talk during people reading then come over and talk to me (on my deaf side) during people reading.