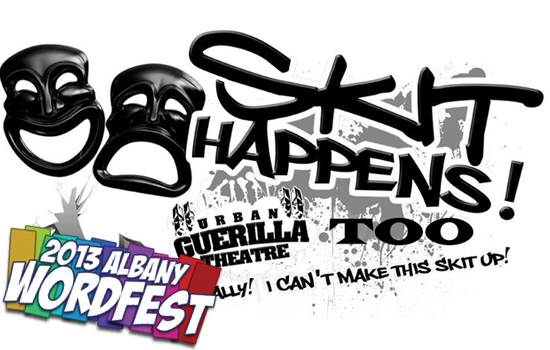 Word Fest week just keeps on going with two events on Friday night, April 19. Kicking off first is the annual Word Fest Open Mic at the UAG Gallery on Lark Street. Then at 9:00pm, just up Central Ave. at The Linda, Urban Guerilla Theatre is presenting "Skit Happens, Too."
Urban Guerilla Theatre is a Poetry / Spoken Word / Performance group based in Albany,NY. The artists of UGT are dedicated to reviving, redefining, and revolutionizing spoken word. The group employs various styles of poetry, music, spoken word, and theatre to address life, love, relationships, and social issues. UGT hosts open mic readings and events in order to create an artistic space to house and develop artists and upcoming poets.
Here is a sneak peak of what to expect at this event from the Facebook event page:
This month Urban Guerrilla Theatre is at it again with another installment of the annual Skit Happens event with skits, comedy, performance and of course incredible poetry.

What happens when you mix Poetry + Comedy + Performances + Skits? You get "Skit Happens, Too."

Featuring UGT's Carlos Garcia, Q-Diamond, Leslie Michelle, Tenesha Smith, Ms. Bliss, Jess Listen To My Wordz, and Mojavi, Mind Evolution, Floetik and the first official appearance of super producer John C. Majic.
Tickets for this event are $10 in advance, $15 at the door. You can get tickets online at TheLinda.org.
This is just one of many events that will be taking place in Albany during the 2013 Albany Word Fest week (Sunday, April 14 – Saturday, April 20). For more information on all of the readings, open mics, slams, and how you can get involved, go to the Albany Poets website.