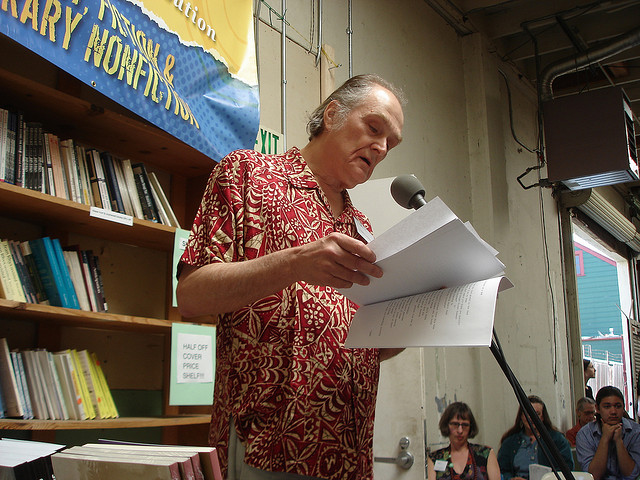 On Saturday, March 30, the Yes! and Fence are combining forces to bring you a great night of music, poetry, and more with Clark Coolidge and Michael Bisio all to commemorate the release of A Book Beginning What and Ending Away.
Come celebrate the release of Clark Coolidge's much anticipated A Book Beginning What and Ending Away (Fence Books 2013). This work, 600 pages, composed in the 70s and accompanied by a run of legendary performances, has remained unpublished until now.

Coolidge will be joined by musician Michael Bisio.

Born and raised in Providence, Rhode Island, experimental poet and jazz musician Clark Coolidge has been connected to both the Language movement and the New York School. His poetry utilizes syntactical and sonic patterns to engage, and generate, meaning. In a 1968 poetics statement, he noted, "Words have a universe of qualities other than those of descriptive relation: Hardness, Density, Sound-Shape, Vector-Force, & Degrees of Transparency/Opacity." Coolidge's numerous collections of poetry include This Time We Are Both (2010); Sound as Thought (1990), which was chosen for the New American Poetry Series; Own Face (1978); and Flag Flutter & U.S. Electric (1966). His work is included in An Anthology of New York Poets (1970) and The Young American Poets (1968).

Michael Bisio has been the bassist for the Matthew Shipp Trio since 2009. As a recording artist, Bisio appears on 75 cds, is leader on 11 cds, and co-leads a dozen. In 2011, he released his first solo effort, Travel Music (MJB), as well as the highly lauded Matthew Shipp Trio recording Art of the Improviser (Thirsty Ear). 2012 saw the release of Elastic Aspects (Thirsty Ear) and Floating Ice (Relative Pitch), two other recordings with Matthew Shipp. He invariably astounds audiences with the beauty of his tone and the intensity of his very personal musical language. His music has garnered 4 1/2 stars from DownBeat. Jazz Times states that his music "resonates with intelligence, emotional depth and probing virtuosity."
This great event will take place at Albany Center Gallery, 39 Columbia Street, Albany, New York 12207 starting at 8:00pm.
For more information be sure to check the Facebook event page.