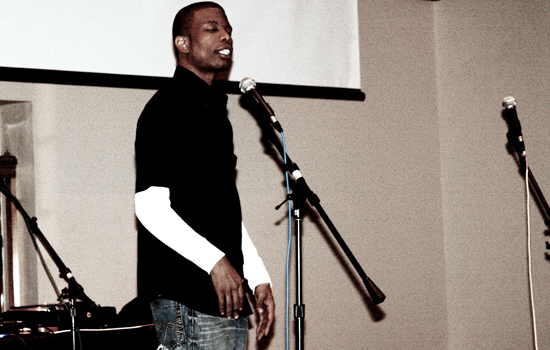 Next Friday poetry returns to downtown Troy, as part of Troy Night Out, as D. Colin hosts the monthly "Between the Lines" open mic series. This month the featured poet is none other than Rain Maker (Peter Seaton), an incredibly talented spoken word artist who has performed on stages and wowed audiences all over the country.
Born Peter-Charles Saint Martin Seaton, poet/mentor 'Rain Maker' knows how important words are especially since he used to stutter uncontrollably as a child. Despite his challenges, he discovered a unique ability to put common words together, construct new meaning and connect with a wide range of audiences. His super power is in using poetry to transform everyday challenges into sources of great inspiration and reflection… And when we say everyday, we mean EVERY DAY! Rain Maker writes and posts at least three poems a day, and his content has covered just about every topic under the clouds!
If the names sounds familiar, it is because Rain Maker has been no stranger to this area, performing at UGT, Nitty Gritty Slam (the first featured poet at NGS), Poets Speak Loud, and other spoken word events in Albany.
"Between the Lines" is quickly becoming one of the best new open mics in the area. As D. Colin describes it, "The soul of Between the Lines is the conversation the audience gets to have with the featured poet… Come out to get on the mic or hear some great poetry, drink some tea, engage in awesome conversation and have an overall worthwhile time."
This series takes place on the last Friday of each month at Enchante Tea Room, 169 River Street, Troy, NY starting at 7:00pm. Admission is $5.00. For more information contact D. Colin at poet.d.colin@gmail.com.
 Facebook Event Page