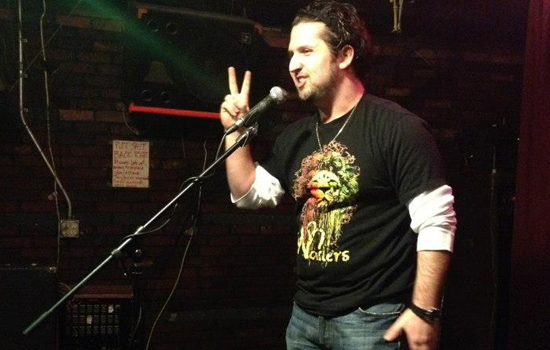 What started out as a very slow night at Valentine's ended up being a great evening of poetry and spoken word at NGS #36.
It was an unusual 5th Tuesday event for us and we are all still getting used to the new Season Two schedule, but everyone who showed up had a great time and we were blessed with a dynamic group of poets taking the stage.
The open mic, hosted by Mojavi, featured a great list of writers and performers including Alex Sherman-Cross, Hat Guy, Kat SoPoetic, and Algorhythm trying out a new piece.
We then moved on to the slam with six poets competing. Out of the gate Christopher The Poet set the bar followed by the returning ILLiptical reminding everyone why he was on the first team to go to Nationals and also the Season One NGS Champion of Champions. Poetyc Visionz walked us through the process of being a bullet. Mojavi and Algorhythm bringing some new words to the Nitty Gritty stage. The last poet of the first round was Alyssa, once again wowing the judges and the crowd with her amazing work.
But in the end it was PV and Chris taking it to the final round with Christopher The Poet picking up his first Nitty Gritty Slam win since moving up to Albany a few months ago by one point.
Round One:
Christopher The Poet – 28.4
ILLiptical – 28.1
Poetyc Visionz – 27.5
Mojavi – 25.3
Algorhythm – 24.5
Alyssa – 26.6
Round Two:
Alyssa – 25.5 (Combined 52.1)
Poetyc Visionz – 27.0 (Combined 54.5)
ILLiptical – 25.8 (Combined 53.9)
Christopher The Poet – 25.6 (Combined 54.0)
Round Three:
Poetyc Visionz – 27.4
Christopher The Poet – 28.4
We are back at Valentine's tonight for Nitty Gritty Slam #37. The slams are getting more serious as we move closer to the next semi-final to determine who will be representing Albany and NGS at the National Poetry Slam in August in Boston.