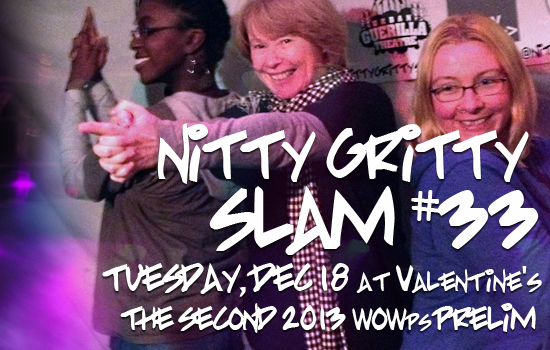 On Tuesday, December 18, the women of the poetry world in upstate New York will again take over the stage at Valentine's for Nitty Gritty Slam #33. This will be the second preliminary bout to determine who will be representing NGS at WOWps (Women of the World Poetry Slam) in March 2013.
At the first WOWps prelim D. Colin barely squeezed by WOWps veteran Elizag by 1/10 of a point to win. Both D. and Elizag will now move on to the final slam on February 19 with the top two poets of the this and the third preliminary slams.
Any female poet who competed in the last WOWps, but did not come in either first or second is invited (and encouraged) to come back and slam again for a spot in the finals. The rounds will again be a little different for NGS #33 as they were for NGS #31. We will have the poets compete in four rounds with four different lime limits (1, 2, 3, and 4). So poets will have to be prepared with four of their own, unique poems.
The Women of the World Poetry Slam was introduced in 2008, in which only female and female-identified poets are allowed to compete.[2] The first WOWPS was held in Detroit, Michigan and the first WOWPS champion was Andrea Gibson. The 2013 Women of the World Poetry Slam will bring up to 80 female poets from all over the country to the city of Minneapolis, March 6-9 for 4 days of competitive poetry performance. Only poets who live their lives as women are eligible to compete in this slam.
* NOTE – This slam will not be an open slam. Only women poets will be able to slam. The open mic will be for all poets and spoken word artists who want to step up to the mic with a special two poem limit.
Albany Poets, Urban Guerilla Theatre, and The Frequency North Reading Series are bringing slam back to Albany with the NITTY GRITTY SLAM.

NGS takes place at Valentine's (17 New Scotland Ave.) on the 1st and 3rd Tuesday's of each month.

If you're not into slam, but want to get on stage and share your work, we have an open mic before the slam.

Sign up begins at 7PM, open mic starts at 7:30, and the slam starts at 8PM.

Admission is $5.00 ($3.00 with student ID). This is an 18+ show.

For information on the rules and format of the Nitty Gritty Slam and to meet the team, go to nittygrittyslam.com.