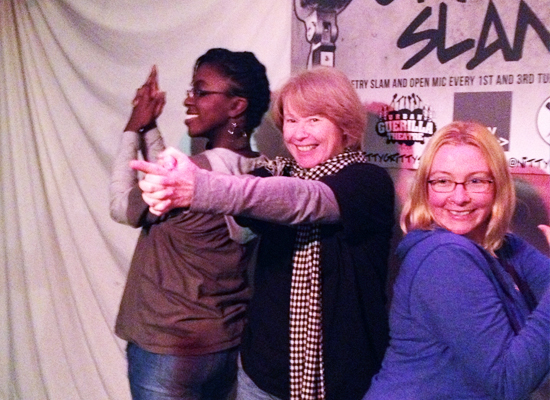 We had 16 poets get on stage and share their work throughout the evening at Nitty Gritty Slam #31 on Tuesday, November 20 at Valentines between the open mic and the slam. This was a special night though, because this was our very first Women of the World Poetry Slam prelim bout. The top two poets from this slam will go on to the WOWps Grand Slam to determine who will be representing Albany and NGS at the WOWps in Minneapolis, MN in the spring.
But first, since the slam was only open to women (or folks who live their lives as women), we had our open mic, which was open to men and women. Host / Slam Coach Mojavi did a great job moving through the list of the poets (with the musical assistance of DJ Daniel Nester) who signed up (Alyssa Nieman, Tasha, Jess ListenToMyWordz, Dan Wilcox, Emily Gonzalez, Kevin Peterson, Eugene O'Neill ("Truth"), Poetyc Visionz, Avery, and Christopher the Poet) and even slipped in a poem of his own along the way. Dan Wilcox has a great post on what went down during the event.
After the open mic we moved on to the slam. This was a new format for the poets and the organizers. For this edition of the slam we had a specific time limits for each of the four rounds (4, 1, 2, and 3). The six poets who took part in this slam (Sarah, Shannon Shoemaker, D. Colin, Elizag, Jacky K., and Alyssa Nieman) gave the judges a very hard time when it was time to put a point value on their performances. As you can see from the scores, it was a pretty close competition all night.
Round One
Sarah – 23.2
Shannon Shoemaker – 25.0
D. Colin – 25.1
Elizag – 26.8
Jacky K. – 25.4
Alyssa – 25.0
Round Two
Sarah – 23.4
Shannon Shoemaker – 26.9
D. Colin – 26.8
Elizag – 26.4
Jacky K. – 26.9
Alyssa – 24
Round Three
Sarah – 0.0*
Shannon Shoemaker – 27
D. Colin – 27.8
Elizag – 27
Jacky K. – 26.3
Alyssa 9.3 – 25.4
Round Four
Sarah – 0.0
Shannon Shoemaker – 27.3
D. Colin – 28.8
Elizag – 28.2
Jacky K. – 28.6
Alyssa – 26.9
In the end it was D. Colin (108.5) just barely squeaking by Elizag (108.4) for the win. Jacky K. (107.2) came in a close third followed by Shannon Shoemaker (106.2), Alyssa (101.3), and Sarah (46.6).
D. Colin and Elizag will now move on to the WOWps Grand Slam Finals and we invite more area women poets (especially Jacky, Shannon, Sarah, and Alyssa) to the next WOWps prelim bout will be on Tuesday, December 18 as part of Nitty Gritty Slam #33. In between now and then though, we have NGS #32 this coming Tuesday, December 4 with featured poet Influence.
* Sarah dropped out of the competition after the second round.