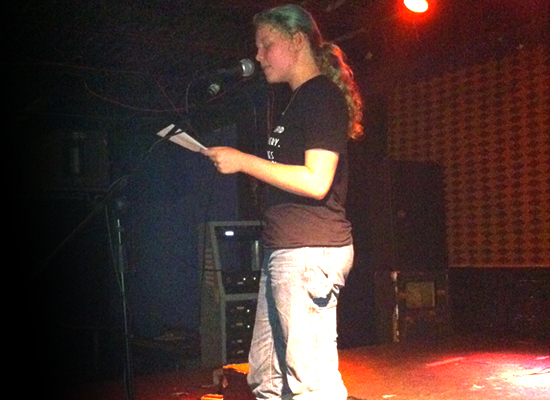 With tornado warnings hitting the news, rain pouring down, and bluegrass playing downstairs, the poets still came out to Valentine's for Nitty Gritty Slam #26 last Tuesday. We were joined by some familiar voices as well as new poets hitting the Nitty Gritty stage for the first time.
We kicked the night off with the open mic, this time with Thom Francis taking over the hosting duties for the night leaving Mojavi no choice but to perform again and defend his NGS #25 win. The open mic featured poetry from Daniel Nester, host Thom Francis, new poet Arjay, Kevin Peterson, Coach Mojavi, and the surprising return to the stage of Keith Spencer.
We then moved on to the 26th edition of the Nitty Gritty Slam with five poets battling hard for the coveted win. In a surprising turn of events, defending champ Mojavi was knocked out after the first round due to a soul-crushing time penalty. When the dust all cleared the returning Alex Sherman-Cross (last seen at NGS #6 last November) came out on top with Kevin Peterson close behind in second place. Arjay came in third at NGS #26 and we hope to see him come out again soon.
Here is how it all went down score-wise:
Round One:
Mojavi – 23.4
Jess Layton – 24.6
Kevin Peterson – 26.0
Arjay – 24.2
Alex Sherman-Cross – 26.8
Round Two:
Alex Sherman-Cross – 25.6 (Combined 52.4)
Arjay – 24.2 (Combined 48.4)
Kevin Peterson – 26.0     (Combined 52.0)
Jess Layton – 23.5 (Combined 48.1)
Round Three:
Alex Sherman-Cross – 26.4
Kevin Peterson – 25.1
So far we are off to an exciting start to Season Two of the slam. The points are getting tight as we get closer to our first semi-final leading up to the Grand Slam that will be taking place in the next spring. We will be posting the points leader board on the NGS website this week.
Join us on Tuesday, October 2 when we welcome featured poet John S. Blake to Albany for Nitty Gritty Slam #27. You will not want to miss this dynamic and powerful poet who wowed us at the National Poetry Slam in Charlotte last month.