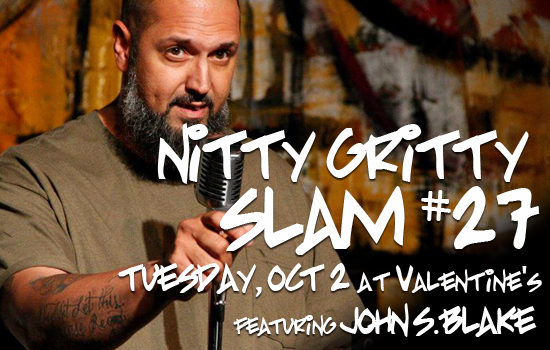 We are back with the 27th edition of Nitty Gritty Slam and this time around we are welcoming a special featured reading by John S. Blake.
John is an incredible poet who wowed us at the National Poetry Slam in August in Charlotte and it is an honor to have him in Albany with us for NGS #27 as a stop on his tour.
John S. Blake has been performing all over the country for the past seven years. In that time as a poet and teacher he uses his own experiences and knowledge to help others understand themselves and develop a love of live and creating.
 This is the story of a life that should not be, ashes that refused to be taken up by the wind. This is about a boy's life that began plagued by addiction and poverty, violence and death, only to gather strength from it all and stand as a paragon of triumph and inspiration, a beautifully flawed tale that will take you by the hand through caves where living and dying depended on the hour. This story will show no signs of hope until a blast of light at its darkest moment.
After the Baruch Housing Projects of NYC, after the violence and loss of his entire family, after the heroin and tequila, the crack and jail time, the rehabs, suicide attempts and asylums, after recovery and an incredible comeback, John S. Blake wrote about it all in his debut collection of poetry, Beautifully Flawed (Urban Publishing, NYC)! His is the story from park bench to Park Avenue. John currently chooses to spend a great deal of time instructing creative writing at youth detention centers and jails, though he has performed at many universities and countless poetry venues across the nation. A 2007 NPS finalist with Louder Arts, 4-time semi finalist at the Nuyorican Poets' Café, Finalist at Urbana Slam, John S. Blake has shared the stage and pages with some of the most beautiful minds in poetry: Saul Williams, Marty McConnell, Tara Betts, Amiri Baraka, Carlos Andres Gomez, Suheir Hamad, Patricia Smith, and many others. His work has been published in Two Bridges Review, Naugatuck River Review, The Sparrow Ghost Collective, In The Biblical Sense, Adobe Walls Literary Journal, Malpais Journal, PenIt Magazine, BeyondRaceMag, InTheFray, Red Fez, Urban Views Weekly, and more. He curates Slam Richmond Reading Series in Richmond VA and has coached both adult and youth slam teams (Richmond VA recently acquired a 3rd place finish at Brave New Voices).
Recently nominated for his first Pushcart, John has been pushing himself out of the comfort zone. His memoirs Wildflower – A Son Remembers a Remarkable Woman, and his traveling essays Sharing Breaths With Gods are on the way mid-2013. He can only hope to make proud all of the poets that have helped him to where he is thus far. It is not where we were that counts, but where we are going!
Albany Poets, Urban Guerilla Theatre, and The Frequency North Reading Series are bringing slam back to Albany with the NITTY GRITTY SLAM.

NGS takes place at Valentine's (17 New Scotland Ave.) on the 1st and 3rd Tuesday's of each month.

If you're not into slam, but want to get on stage and share your work, we have an open mic before the slam.

Sign up begins at 7PM, open mic starts at 7:30, and the slam starts at 8PM.

Admission is $5.00 ($3.00 with student ID). This is an 18+ show.

For information on the rules and format of the Nitty Gritty Slam and to meet the team, go tohttp://nittygrittyslam.com/