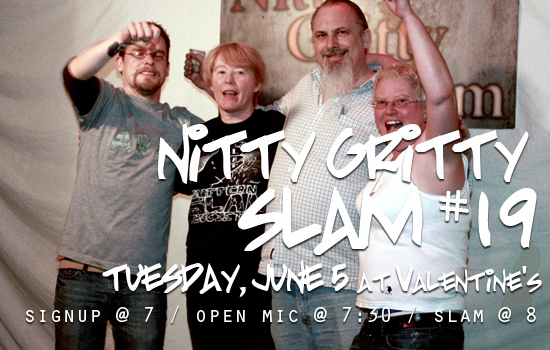 The Nitty Gritty Slam has had some exciting things happening in the past couple of weeks and we want to share the great news with everyone!
First on the list is that NGS is now a certified poetry slam, recognized by Poetry Slam, Inc.
Second, we were able to raise the funds and register for the National Poetry Slam in Charlotte thanks to the very generous donations from our community of poets and friends.
The next major announcement will take place on Tuesday when we introduce the world to Team Nitty Gritty. This is a very special time to be a part of this great poetry and spoken word scene. So, tell your friends, call your neighbors, "pack up the babies and grab the old ladies" and head down to Valentine's to be a part of this historic night.
Here is a little more information on the event from our Facebook page:
On Tuesday, June 5, we will be gathering once again at Valentine's for the 19th installment of the Nitty Gritty Slam.

And we are very proud to say that we are now a CERTIFIED poetry slam!

At NGS #18 Elizag came out on top with Shannon Shoemaker and Thom Francis tying for second place.

Who will return to defend their title? Who is waiting in the wings to take it? Come on down to Valentine's on the 5th for NGS #19 to find out!

Albany Poets, Urban Guerilla Theatre, and The Frequency North Reading Series are bringing slam back to Albany with the NITTY GRITTY SLAM.

NGS takes place at Valentine's (17 New Scotland Ave.) on the 1st and 3rd Tuesday's of each month.

If you're not into slam, but want to get on stage and share your work, we have an open mic before the slam. Sign up begins at 7PM, open mic starts at 7:30, and the slam starts at 8PM.

Admission is $5.00 ($3.00 with student ID)