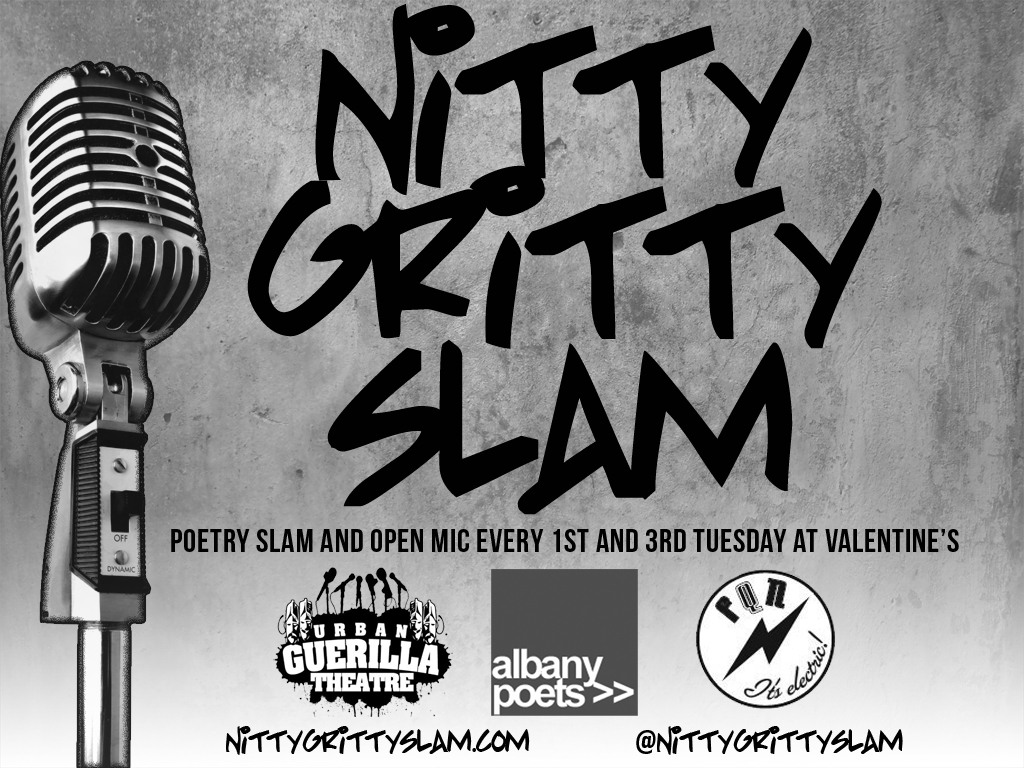 We have some exciting news! The Nitty Gritty Slam is now a certified slam, recognized by Poetry Slam, Inc., the governing body of poetry slams around the country. With that we are now eligiable to send the Nitty Gritty Slam Team to the National Poetry Slam in Charlotte, NC this summer.
This is very big for us here in the Albany poetry community, because, as slammer Kevin Peterson explains, "Albany has never been represented at the NPS, and there are so many wonderfully talented poets capable of competing on the national level. It would be a shame if they didn't have the chance for their voices, Albany's voice, to be heard". We could not agree more.
College of Saint Rose professor and NGS organizer Daniel Nester, who was introduced to slam poetry at New York City's legendary Nuyorican Poets Cafe, says, "We're the little scene that could–and did–start up a new slam scene, pretty much from scratch. Upstate New York in general and Albany in particular is home to a lot of diverse poetic voices from all different walks of life. What's great about Nitty Gritty is that so many of the scenes come here/there and share their words."
Albany Poets Vice President Mary Panza adds that, "This is a great for the Albany poetry community.  It will show the rest of the country that we have finally arrived."
And this is where you come in. In order to go to the NPS in August, the first step is to do the paperwork and pay the registration fee for the event. Time is running out, though. We only have until next Thursday, May 31 to raise $400. Anything that you can do will help us take the next step in letting the rest of the world know about the great poetry and spoken word talent that we have right here in our backyard.
If you can help "Team Nitty Gritty" begin the journey to Charlotte, you can donate by clicking here or the link at the top of the page. We use PayPal for our donations, so all of your information is safe and secure.
Thank you for all of your continuing support of the poetry and spoken word in upstate New York.