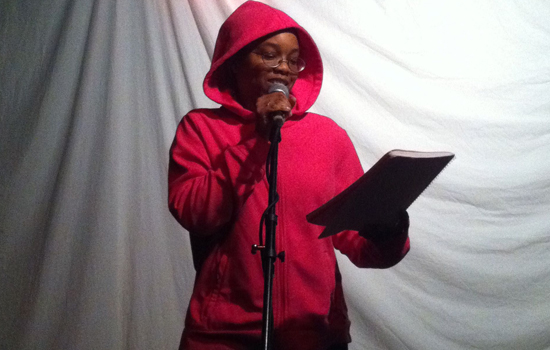 The next edition of Poets Speak Loud, Albany Poets' monthly open mic for poetry and spoken word will be taking place on Monday, March 26 with a featured poet who is not known for speaking loud. Leslie Michelle, who just recently got her voice back from a bout with laryngitis, will be stepping up the mic and sharing her work when we gather at McGeary's.
Leslie Michelle has been writing poetry before her preteen years but never recited poetry until April 2010. A Local poet and performer named Prince Royale Elite introduced her to Mojavi. And she's been with Urban Guerrilla Theatre ever since, and has worn many hats from Social Networker, Personal Secretary, and Event Coordinator.

She's currently a Supporter of UGT, Albany Poets, Nitty Gritty Slam, and The Collective and has attended 25 out of 40 events in 2011 to support these groups, fellow poets and performers.

Leslie has a versatile style of writing. She can write using various mediums like realism, imagism, romanticiam, and eroticism. And not only uses everyday
people as her inspiration but her own experiences. Her target is to empower women and raise awareness about Homelessness and life in general all through poetry.

Leslie is now currently working on new projects with UGT and is also expanding her audience one day at a time.

Why Can't You?

To you, it's okay to throw stones…criticize and directly curse.
Point fingers
Snicker
bash, and even ostrisize.

Sling petty jealousys with rolled eyes and sarcastic sighs.

Avoid.
Walk at a fast pace or stride, so you can't be around what you see.

Ignore.
Bite the hand that tries to please…
And make the wounds or gashes bigger with words of
arrogance, bitterness, rumors, and even lies.

Tell your child not to touch, look, or even acknowledge him or her cause
he or she looks poor, dirty, or unclean.

But let me ask you something.
Didn't you use to go to the same school as him or her when you were once
in his or her shoes?

This is what I see on a daily basis as I walk by or sit back and observve.

I see the tears in a Woman's or Girl's eyes when her spiriit or heart is broken
and has had enough.
As well as the clenched fists, stren faces, and bowed heads of Men who are
treated unfairly cause they're carrying the world on their shoulders.

I shake my head feeling sorry for you, not them.

Cause your living in a fantasy world…where real things have no place.
To you, these people are broken, useless clutter, and taking up space.

But wait.
For those who say "That will never be me." because "I have this this and that."
One day you will BE him or her. You know why?
Cause I have seen it before, this is a fact!

No. This is not Karma taking place.
No. This is reality.
Cause what goes up always comes down…your not immune.

Through my mind's eye, reality is always front and center. And I
have chosen to live with that fact.

So, tell me…why can't you?
Poets Speak Loud is a monthly open mic for poetry and spoken word with a featured poet. This mic is hosted by Mary Panza.
Previous featured poets include: Emily Gonzalez, The Poet Essence, Cheryl A. Rice, Michael Eck, Mother Judge, Rich Tomasulo, Alan Catlin, A.C. Everson, Jil Hanifan, Nicole Peyrafitte, R.M. Engelhardt, Dain Brammage, Amanda Rose, Josh McIntyre, Philip Levine, Rachael Zitomer, Pierre Joris, Will Nixon, Robert Milby, John Weiler, and Carol Graser. Every year in January Poets Speak Loud hold our annual Tom Nattell Tribute / Anniversary Open Mic / Beret Toss with special guest host Dan Wilcox.
POETS SPEAK LOUD is held on the last Monday of each month at McGeary's (4 Clinton Square, Albany) in downtown Albany. Sign-up for the open mic is 7:00pm, start time is 7:30pm.