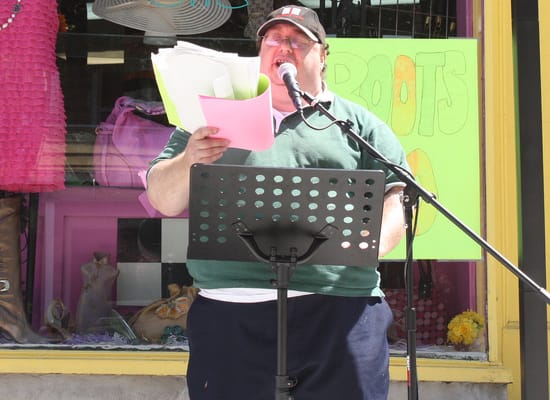 On Monday, September 26, we return to McGeary's (4 Clinton Square, Albany) for another edition of Poets Speak Loud, but this month we have a very special treat…The Celebrity Roast of Don Levy!
Roastmaster Mary Panza just sent out the following:
POETS SPEAK LOUD
HERE'S WHAT IS COMING AT YOU!!!!!!

Monday, Sept 26th
BRING THE BACON!!!! IT IS OUR 2ND ANNUAL CELEBRITY ROAST!!!!  ON THE SPIT THIS TIME AROUND IS OUR BELOVED DON LEVY

You read it right!  Don Levy has been a member of the Albany poetry scene for the last 22 years.  He is fearless and funny in his work ranging from gay fantasy, social commentary, TV and his own shortcomings.  He is a monument to truth, justice and a love of fried foods.  The Roasters will include, the Albany Poets staff, local luminaries, and your Roast Master Mary Panza!!!!  We are all on the chopping block so leave your sensitive teenage girl feelings at home!

Sign-up for the open mic/roast is @ 7pm and we begin at 8.
And while we are talking about Poets Speak Loud, here is information on the October edition with featured poet Anthony Bernini:
DATE CHANGE AND SPECIAL EVENT FOR OCTOBER'S EDITION OF POETS SPEAK LOUD!!!!

Due to the Halloween holiday we will be having POETS SPEAK LOUD on Monday, October 24th.  In addition to our regular open mic, Anthony Bernini will be our feature and selling and signing copies of his new book IMMEDIATE WORLDS.   It will be a special night and one you won't want to miss.

Sign-up is at 7pm and we begin at 8.
POETS SPEAK LOUD a monthly open mic held at McGeary's, 4 Clinton Square in Albany NY.  It is held on the Last Monday of each month unless otherwise indicated.  Your host for POETS SPEAK LOUD is Vice President of Albany Poets, Mary Panza.