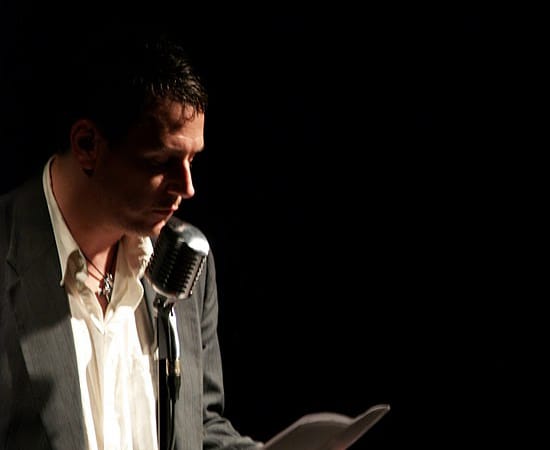 As part of rolling out the new AlbanyPoets.com website, we are inviting the poets on the site to send us some new work that we can post. One of the first poets to take us up on the offer happens to be one of the first poets on the site when Albany Poets began in 2000.
Albany, NY based poet, writer R.M. Engelhardt has published several books over the last decade including Nod~Logos~Alchemy~The Last Cigarette: The Collected Poems of R.M. Engelhardt & others. His current experimental book of poetry & prose is called "Versus-Lexikon" A poet & writer, Engelhardt through his ideas & visions has helped to create a large amount of the Upstate, Albany, NY spoken word~poetry scene and is the host of "SAINT POEM READING SERIES" an Open Forum-Mic For All Poets held every 3rd Monday of each month at The Upstate Artists Guild (UAG).His work has also been published by many journals on the net & in print including Retort, Verve, Industrial Nation, Sure! The Charles Bukowski Newsletter, Thunder Sandwich, Fashion For Collapse, 2nd Avenue, The Angry Poet, Danse Macabre, Full of Crow & many others.
Rob's new work on the site is A World On Fire, Ahhhhhhh…Poetic, Instructions & Invocations in Preparation for the Trip Across the Great River Styx, and 2012.