I was sitting in the Chelsea Royal Diner just outside of Brattleboro, Vermont when my conversation with the waitress took a turn toward what brought me to the area and we started down a path I have grown all too familiar with. Over the course of the last few years, I've found that people who ask about this bookshop hunting endeavor of mine eventually end up getting down to brass tacks: What's the best bookshop in the area?
This can be difficult to answer, because it depends on so many personal and subjective factors, including your preference for new or used books, your favorite subjects and genres, and whether or not you have a strict adherence to buying books at the deepest discounts or if you are willing to pay for the right book at the right time, other things people ask about when it comes to bookshop hunting. Each shop has a different combination of these traits, and the southern stretch of Vermont has more than enough shops that hit all the aspects of that elusive "best bookstore" question.
Let's start where many of my Vermont journeys begin, my old college stomping grounds of Bennington.
Bennington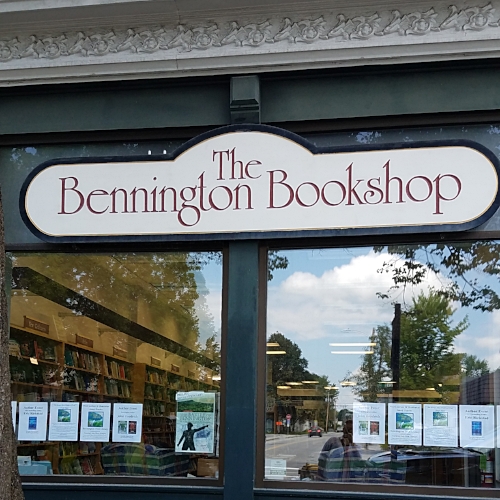 A college town tucked into the southwestern corner of the state, the most well-known bookshop here is Bennington Bookshop, which is almost like a miniature indie version of a Barnes & Noble in that it features all new books in a bright, clean environment and has a dash of all the major categories and styles. But it has just enough local flavor to make it unique to this particular town and region, too. Toward the front are the newest bestsellers, a table with notable titles and coffee table books, a selection of regional authors, trail guides and maps, and nonfiction titles pertaining to the town, region, and state of Vermont. In the past I purchased one of those "spooky" books exploring local legends and haunted houses of the area, and while they sometimes have those in stock, I saw mostly history, outdoors activities, biographies, and local novelists.
Along the left wall and in nearby aisles are the fiction titles, with fantasy, sci-fi, and mystery/crime sections, the latter including titles by local crime author Archer Mayor. The right wall focuses more on nonfiction, like politics, history, religion, social topics, cookbooks, etc. Toward the rear they had a large and diverse children's section, with everything from picture books, first readers, chapter books, middle grade, and YA, with educational books as well as entertaining titles and bestselling novels for kids. There are a few gifts and postcards scattered about as well. It's not a huge shop, but there's enough there for an enjoyable browsing experience.
Trying to explain the other shops in Bennington may leave you with more questions than answers. There's a secondhand joint just a few doors down from Bennington Bookshop, inside a multi-business building and up a set of stairs, but the last two times I stopped in they were closed. I went a few times over the years and they were always packed with used books up there, a bit dated and many were mass markets, but it was a fun way to get a few cheap copies for beach reading. It no longer shows up in Google, though. Neither does a little one on Union Street called Old Bennington Books, which felt like the front parlor of someone's home, because that's basically what it was. They had some interesting vintage, antique, and one-of-a-kind items there worth browsing and they had an online shop at one point. But I couldn't find it the last time I passed through, nor the website. The fate of many a small, family-run shop, I suppose.
However, Google does bring up a little shop I don't remember called New Englandia. The photos online don't seem promising, but you never know! I'll be sure to hunt it down the next time I pass through and let you know what I find.
Manchester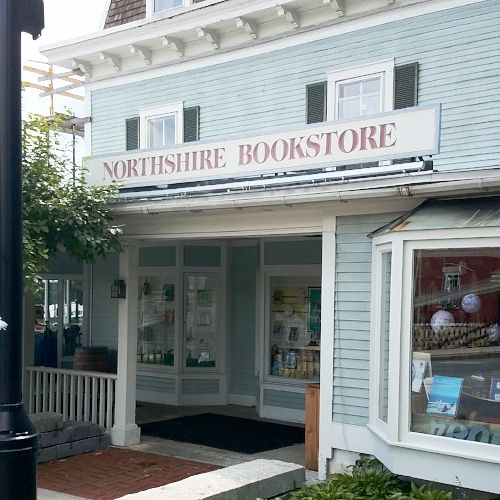 If you drive north from Bennington, you will eventually hit the outlet/shopping village of Manchester, and within you'll find one of the best new and used bookshops in the entire region: Northshire Books. This place is a long-time favorite, a standard bearer for what a great bookshop should be. This branch (they have two) is surrounded by forests, beautiful mountains, long sweeping farm valleys, and outlet shops scattered throughout the area. It's a slight trek from Albany, but it's definitely worth the drive whether you're looking for new or used books, because they have both in abundance.
The topics and genres cover a huge range too, everything from travel and language to political science and sports, outdoors, gardening, crafting, biographies, health and medicine, science and religious (Christian, Zen, so on), New England and regional history, war and presidents, music and film, on and on. The fiction areas were just as fulfilling, with sections for mystery and crime, fantasy and sci-fi, horror, and then a large room with multiple alcoves for poetry, plays, and lots of general fiction, and each section has discounted recent titles as well, many half off. This is always something I look for in a bookshop, and Northshire has it covered.
Upstairs is a whole floor for children's books, toys, gifts, anything you can imagine for a curious child, plus a big area for readings and events. There's a coffee shop on the ground floor too, and multiple areas dedicated to gifts, stickers, clothing, records and movies. The shop really does have it all.
Also along the way north to Manchester is Catamount Books. While the brick-and-mortar store only lasted two years (I failed to visit in that time!), they do have an online store worth browsing, with a selection of hard-to-find and vintage titles.
Further north of Manchester are yet more shops in more towns, but I'll save that for another column.
Wilmington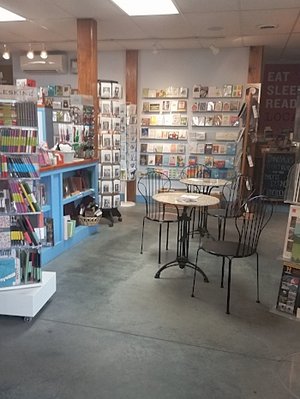 So if you don't turn north toward Manchester and instead keep going east, winding through the Green Mountains, you will soon arrive at Wilmington, a quaint and bustling little town that serves as the gateway to an extensive and popular skiing region. The town has craft stores, galleries, cafes, motels, and of course bookshops!
Bartleby's Books is the town's main purveyor of new books and covers all the necessary bases you'd want in a shop. When you walk in the door you run smack into various displays of the newest titles, gift books, and islands of notable selections. A third of the downstairs is dedicated to children's books, and quite a lot of them, everything from picture books to chapter books and YA titles, a very strong assortment. There's also a variety of fiction, mystery, poetry, history, and a modest amount of discount titles, many of which were uncorrected proofs of novels from the late 1980s, which isn't a bad thing at all.
They have a bright and cozy upstairs, with alcoves and aisles dedicated to all sorts of nonfiction—cooking and food, gardening and crafts, design and architecture, and another discount book section packed with titles from all over the shop, fiction, nonfiction, kids, you name it. All in all, Bartleby's is a fun shop for a great little crossroads town.
Just up the street is West End Used Books. The first room in this shop contains a wide variety of books, records, and kitch of all sorts, with mannequins, advertisements, and stoplights all over, making the shop extremely unique, almost like stepping into something you'd find on the American Pickers TV show. But the book collection is extensive, even if the books often skew toward older editions. This can be a good thing if you're looking for old mysteries and pulps, hard-to-find hardcovers, or rare editions that are no longer in print. It's the sort of shop where a book finds you, not the other way around.
Room by room is stuffed with fiction and nonfiction of almost every stripe, with sci-fi and mystery, poetry and essays, literary classics, history, feminism, pulp, plays, Nancy Drew and the Hardy Boys, adventure and outdoors, gardening and hiking, science and reference, cooking and design, on and on. Exploring the shop is like exploring a house full of books and trinkets, and each room is totally different from the last. There were more rooms upstairs and a yurt in the back with extra stock. Ask and you might get a tour! A very unique shop.
There used to be yet another bookstore on the western edge of town, Austin's Antiquarian Books, but I'm told this one has closed. I'll keep an eye out for any others that pop up.
Brattleboro
At long last, after twisting through more mountains and lakes, we descend into Brattleboro, which has a lively downtown full of stores, cafes, and at least three bookshops (a fourth had closed just before my last visit). Every time I pass through, downtown is full of people walking around, shopping and eating, and it's just a great place to visit on a beautiful afternoon. The biggest shop for new books is the vibrant and progressive Everyone's Books, which is filled with books, gifts, clothing, stickers, signs, and more from floor to ceiling, and they have that energetic, socially-aware vibe that can really make a bookshop feel more like the headquarters of a progressive movement. That's what you get in Everyone's Books. Their motto is "For Social Justice and the Earth," after all.
Beyond the tables and displays of progressive titles they have your usual array of fiction, biography, history, children's, music, theater, poli-sci, and so on. They had some discount tables and some section of books that supported certain causes (with a percentage of the sales going to this or that) so it was great seeing a bookshop take such an active stance in local and world issues.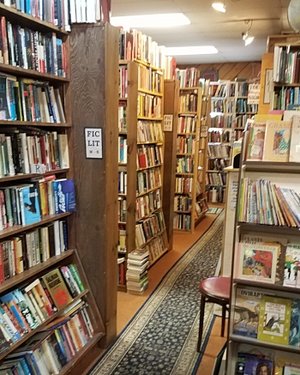 Across the street is Brattleboro Books, which is your best bet for quality secondhand books in town. With its dark-wood exterior, a lamppost, and antique-looking signage, it stands out as a throwback. Right when you step inside you'll hit the discount shelves, towering stacks, and twisting aisles. There are books that have a little more mileage than usual, but for the most part the books were very solid, and ranged from newer releases to older editions of classics, some throwback hardcovers from across the 20th century, and dated tomes I'd never heard of.
There were areas for the classics, general lit/fiction, poetry and plays, and a big children's/YA section. In the rear there were mass markets, crime, mystery, presidential, history, gardening, Vermont/regional, and sci-fi books. There was also a side cove for religion, philosophy, zen, travel, filmmaking, drawing, art, etc. There were a bunch of signs from old bookshops throughout too, which was really cool. It's the kind of shop perfect for looking for those novels you've been meaning to buy but don't want to pay full price for elsewhere.
Around the corner is the aptly named Mystery on Main Street, a smaller shop dedicated to mysteries, crime, noir, and more in that vein. Just to the right inside the door is a shelf entirely of new titles and recent bestsellers. To the left and along many of the rows in the back are the real meat and potatoes of the shop, with plenty of the most notable names in the mystery business. There's also a table with sale titles near the register, and there was a small-ish true crime section too. Near the black and white parquet floor (a nice touch for that throwback feel) there were some couches and chairs for relaxing or for signings. It was a nice space, and while it was quiet when I walked in, the shop filled up quickly as the afternoon wore on. If mysteries, crime, hardboiled, femme fatale, classic Hollywood, cozies, or procedurals are your thing, this shop is for you.
There are other bookstore in nearby Keene, NH, but those are for another adventure. I was pretty wiped out after all that browsing, so I climbed the hill back to my car and headed west again. And yes, I stopped at that "greasy spoon" diner I mentioned earlier before tackling the mountain roads again. While the dinner wasn't the ideal throwback meal I imagined, the conversation there and my ruminating about the full day of bookshop hunting, about how many "best bookshops" are waiting in each little town I passed through, and helped me formulate what I think are the five best traits a great bookshop needs to exhibit.
The first is discounts. Does the shop offer books at discounted prices? Getting two or three books for the price of one is such an amazing feeling, and even new shops that have a small section marked down will help draw those price-conscious readers deep into their store. I'm willing to spend money at a store that is willing to throw readers a bone now and then, so this is a big factor.
The next trait I look for is a solid mix of new and used books. Stores with a mix of new and used, or new and discounted, tend to make for the best adventures, and this mix is duly noted every time.
Another trait is having a present staff. Sounds simple, but I've visit shops with no staff and highly passive-aggressive signage reading, "You're on camera and we're watching you!" and I've been to shops with no staff who left notes welcoming me, offering candy, and informing me they'll be back in just a jiff. The latter shows presence without even being there! I can appreciate that. Some shops have staff who quietly sit alone behind a desk and we never interact. Fair enough! No harm done. But it's nice knowing I have someone to turn to. But the best shops are the ones with smiling, greeting owners or clerks, the shops that make you feel like you're home. Bonus points for that, always.
Being active in the community and online is also a really powerful trait that many shops overlook. Hosting events, contests, and readings, highlighting local author shelves, and having an active Instagram, Twitter, and Facebook account all make a shop that much more likable and interactive. You want to feel like the bookshop is that friend who wants to actually hang out with you instead of that friend you hear from once a year.
Finally, a great bookshop has an angle. Something that sets it apart from all the other local shops. Maybe you have a wine bar in the back. Maybe you also sell art supplies. Maybe your shop has a lot of Beat poet quotes and photos posted all over. Maybe you focus on mystery and crime novels. Maybe your shop looks like something from a Harry Potter-themed village with twisting aisles and tall stacks. Maybe you just have funky lights and handmade shelves. Or maybe you're politically and socially aware and offer a lot of progressive and indie titles readers might not find elsewhere. There's no harm in being a run-of-the-mill, steady and dependable shop, but if you give your shop a twist, an angle, a reason to remember it, people will flock back.
So many shops in southern Vermont offer some or all of these traits, and I highly recommend touring through these villages and towns to discover the best ones for yourself.
James H Duncan is the editor of Hobo Camp Review and author of Vacancy, Nights Without Rain, and We Are All Terminal But This Exit Is Mine, among other books of poetry and fiction. His work has appeared in Writer's Digest, Drunk Monkeys, Up The Staircase Quarterly, Trailer Park Quarterly, Lonesome October Lit, and other numerous other publications. For more, visit www.jameshduncan.com.