Sometimes a bookstore is a reflection of its town. Lyrical Ballad in Saratoga Springs is a good example of that: classy, classic, a quiet little throwback steeped with history that twists beneath the city's otherwise bustling atmosphere. And sometimes, a bookstore is a reflection of its owner. Braveheart Books in Stephentown is that kind of shop. Bright, musical, and brimming with little quirky details that exude owner Louise Hendry's fun, kaleidoscopic personality. She admitted as much when sitting down to talk about her experience owning Braveheart.
"This is my home, not just my business, so when I welcome people into the shop, I'm welcoming them as guests into my life as well."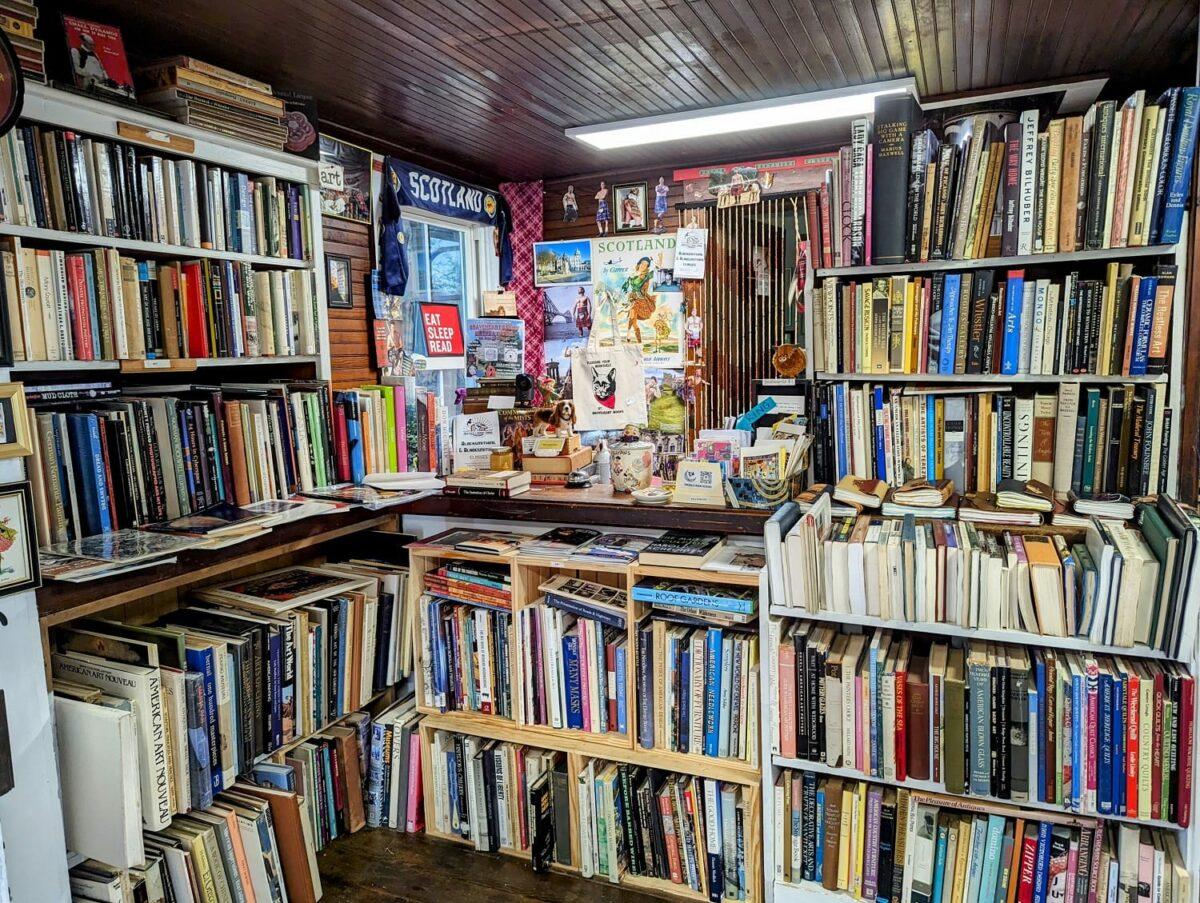 Braveheart Books is as close to a hometown bookstore as I'll ever have. I grew up in rural upstate New York and we had to drive quite a ways to a library, much less a bookstore. I adored my school library—much easier to access, full of all the ghost stories, Choose-Your-Own-Adventure, and fantasy books I could get my hands on. But when we moved to Averill Park when I was in high school, I found there was a bookshop in nearby Stephentown. I didn't go much until I was older and could drive myself, but it had exactly what I was looking for in my teens and twenties.
Down in Denver Books, as it was called then, was a very different bookstore from its current incarnation. A quaint little house painted pale blue with red trimming, it was a subtle shop that didn't draw a lot of attention to itself. It focused on Beat writers but had enough literary and nonfiction offerings to keep most book browsers interested. I was heavily into the Beats back then (not so much these days) and so I didn't mind the shadowy corners, the pictures of Kerouac all over the walls, the calm silence as I shuffled around, save for the creaking of the house that was built in the 1840s. The shop seemed to appeal to a certain type of reader, and I found myself going less and less. I knew what it offered and I started wanting more. And then it closed and I thought that was the end of that.
But it didn't close for long. Louise bought the shop 8 years ago and initially worked hard to just keep the doors open and keep the Down in Denver name alive. It was a struggle. Some days she saw two customers, some days none. But she told me something you often hear from other successful artists, inventors, and business owners—there was no backup plan. This dream was the only dream. Literally. Louise told me she never thought about marriage or having kids when she grew up—she only dreamed of owning her own bookstore. She even used to take photos of her childhood bookshelves with a little film camera long before Instagram and "shelfies" became a thing. And so when a friend told her about a tiny shop out in Stephentown with a "for sale" sign, she jumped at it. Now, she didn't know where Stephentown was. She wasn't even quite sure where Albany was at first. But she flew up from Florida, fell in love, and signed the papers.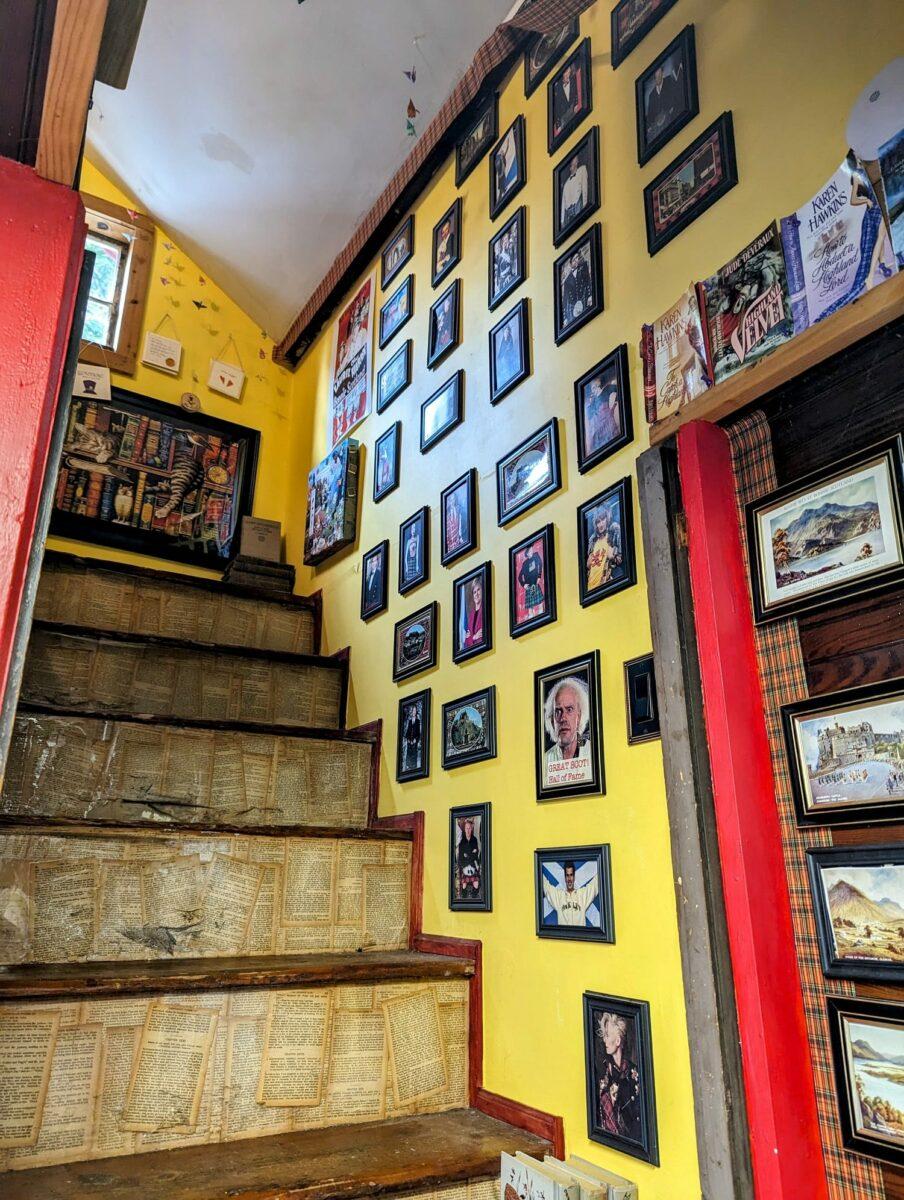 As I said, some bookshops are a reflection of the owner, and Down in Denver did not reflect Louise. She did keep the name for a while, trying to hold on to the goodwill and history of the bookshop in a very small (and in some ways isolated) community. And I don't mean that as a slight. Growing up, whenever I'd mention Stephentown to folks, everyone always said something like, "Oh yeah, I've heard of that. It's waaay out there, right?" And some people moved to Stephentown to, in fact, live waaay out there. But in truth, Stephentown isn't all that far away. People commute to Albany from there. People pass it on their way to ski resorts or the Berkshire Mall. It's tucked away, sure, but it's far from remote.
But after living there for a few years, with her business ebbing along, Louise knew she needed to make the shop truly hers. When I saw the store again after a long time away, I hardly recognized it. Louise had painted the building bright red, completely reorganized the rooms inside, brightened the interior, added an array of free candy and sweets for customers, pumped fun music throughout the shop, and even added a whole "Great Scot! Wall of Fame" with famous Scottish celebrities and writers. Louise is Scottish after all, and you'll discover that immediately when she happily welcomes you into the shop, making her enthusiastic presence known to all who enter. It's all about making book-browsing a fun and comfortable experience in a store full of interesting little details—the people who have signed the walls with their favorite books, the little taxidermy squirrel with a Scottish beret, the selection of local authors who have become friends of the shop. If you take your time, you'll see it's more than just books, it's a community experience.
Which brings me to another point Louise emphasized: while Braveheart may not seem like a reflection of Stephentown, Louise hopes it's a reflection of what the town could be. People are still sometimes hesitant about driving "all the way out there" because for a long time there wasn't a whole lot else in the village that people in Albany, Troy, and cities beyond knew about. But that's starting to change. There's a Mexican restaurant in town, a coffee shop, a stable with horseback riding experiences available. And Louise herself has gone above and beyond to create a destination vibe. In recent summers she has networked, scheduled, and brought out a vast variety of vendors, creators, and performers for incredible outdoor pop-up events. There have been spooky seasonal fall festivals with bakers and tarot readers, author events, painting workshops, trivia nights with food trucks, gatherings with musicians and publishers, blacksmiths and pet-care professionals, folks from wiccan and the queer/trans communities, a carousel of interests and ideas to offer as much as she can to the community.
But also to just have some fun! Owning a bookshop is difficult work! There's hunting down new stock, digging through basements and attic for old books, scouring estate sales, loading and transporting, restocking shelves, mailing books to far away customers, making calls, greeting shoppers, maintaining the house and landscaping, and feeding Orson the bookstore cat. It's an exhausting, round-the-clock lifestyle, and it's pretty much all on Louise. And while she seems supremely built for this life, she has called in others to participate in the experience. Beyond the events, she has opened her doors to other vendors, creating the Braveheart Bazaar next door, a two-room shop with handmade and vintage items from numerous other businesses. The bazaar has vintage jewelry and decor, pins and paintings, clothing and records, kilts and football jerseys (that's soccer to us Americans), and much more. In my first 5 minutes in the bazaar I found three Christmas gifts for friends and I bought myself a gorgeous wooden pen handmade out of walnut.
And as you already know, she changed the shop's name from Down in Denver to Braveheart Books. Yes, as a nod to the legend of Scottish hero William Wallace, but also because, as Louise says, "It takes a brave heart to follow your dreams."
"I love beauty. I love books. There's nothing else in the world I'd rather be doing and I have to throw myself into this every day with everything I have. Because there's nothing else. This is it!"
And she's succeeding, slowly but surely. In my time knowing this bookshop, the closest thing I will ever be able to call my hometown bookstore, it has evolved from a quiet little shop specializing in Beat writers to the literary and culture heart of Stephentown, a vibrant shop where groups of teens will arrive by the carload to hang out and browse (yes, Gen Z loves books!), or older repeat visitors will return to make an afternoon of it, wandering the rooms and sitting outside to read their new purchases in the shade and sun. And there's always new stock coming in. Louise always asks what she can find for me, what she can look for, and there's always a surprise on her shelves when I visit. My hometown bookstore has fully blossomed.
But Louise isn't done yet. There are plots and plans brewing, and she has her 8th anniversary coming up—a full blowout celebration. On Saturday September 23 from noon to 4 pm, the store's birthday bash will feature multiple writing workshops, food vendors, bakers, a book fair by local authors, a pride clothing swap, a DJ pumping music, and much more. You can contact the shop on Facebook, Instagram, all over social media, but better yet, you can contact her in person. She'll greet you at the door, offer you a free lollipop, and she'll be there if you need anything. It's a good feeling knowing a shop like this one exists—and better yet, in my own hometown.