Going bookshop hunting with someone is a very personal experience, a litmus test of sorts. You can end up being out together for a long time, crossing counties, ticking off the hours, an endurance run of literary exploration. I only do so with the closest of friends, and rarely at that. I enjoy solo journeys and I only invite those who can sit in a car together or wander aisles without the need to fill every moment with small talk and chatter so as not to be left in silence. Comfortable silence is another reliable indicator of genuine connection. And, of course, there is music.
There are some songwriters who feel like a secret, a family heirloom under lock and key, just obscure enough to be out of the mainstream, just relevant enough to offer a glimpse of matching musical touchstones with other like-minded fans. One of my most dependable and intimate is Paul Westerberg, and so when I realized she and I shared that same inclination, I knew (and hoped) a bookshop hunting trip would follow, and I made sure to include a smattering of Paul's solo work on the highway playlist, along with the Replacements, Big Star, Bash & Pop, and Alex Chilton—Paul's own kindred spirit.
The highway south from Albany cuts through swaths of farm country and small enclave villages, but before too long the northernmost heights of the Catskill Mountain region reached out to us. Hills and bluffs appeared out of the light fog and intermittent rain. We were safe and dry in the car, darting through traffic while the cold rain skeined across the windshield. Easy quiet miles punctuated by excitable conversation about music, politics, terrible weddings, wonderful weddings, friends with new children and friends fumbling through ill-advised relationships. Her eyes would glint with the morning light as she lost herself in the weavings of her stories, and while doing so, the miles seemed to shorten between exits, the hour to Saugerties condensed to a mere coffee and a smile, an astounding brand of time travel, a happy one, and magical on a cold Saturday morning.
As we pulled off the highway, Paul sang of "Alex Chilton," belting out, "I'm in love, what's that song? I'm in love, with that song" in beat with rattling drums manned by Chris Mars and Tommy Stinson bouncing around the studio on his bass. Comfort upon comfort, happy thrill upon the same. It felt good to be on another bookshop adventure, good to cut through the gray mist with such bright energy reverberating through the speakers.
In our plotting and scheming, Amelia and I decided to combine the bookshops in the town of Saugerties with those in nearby Kingston, which had been the state's first capital in 1777 before the British burned portions to the ground, as they were wont to do at the time. Saugerties was new to me. All I knew of it was what I saw from across the river when I took the train to NYC, the lighthouse on the Hudson, the cluster of homes nestled into the hillside nearby. Driving into it now was a pleasant surprise, especially the quaint downtown full of cafes, boutiques, a movie house, and two bookshops on the same block.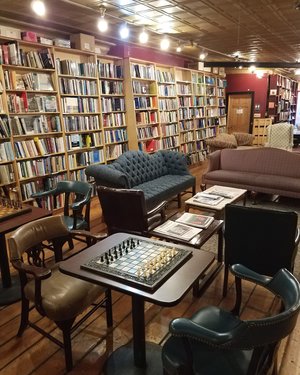 The first, located right on the corner of one of the village's main intersections, was Inquiring Minds Bookstore, one of the most recommended shops among my circle of bookworm and writer friends. The door we entered dropped us right into the heart of the children's section, which extended much further back than I initially expected. I saw picture books, board books, YA, chapter books, educational and entertaining titles, a nice selection of Maurice Sendak collectors items, toys, games, a play/sitting area, all very impressive. Beyond this were more tables and chairs, a section for educational books and test prep, and then all kinds of twisting aisles and rows and displays of fiction, nonfiction, plays, poetry, graphic novels, comics, biographies, philosophy and religious texts, music and jazz, film, art, therapy, really a little bit of everything, so much that I can't read the notes I tried to take on all the little subcategories and genres. There were all manner of mysteries and short story anthologies, mainstream fiction and sci-fi/fantasy, a very solid selection.
The space is large enough to allow for numerous couches, chairs, tables, a perfect place for the events and readings they hold, and that doesn't even include the coffee shop in the back where you can get a hot or cold drink and a bite to eat while you post up with a laptop or book and while away a rainy afternoon, as I saw a handful of people doing. The creaking wooden floors and the serpentine rows created the kind of shop you'd want in your hometown, a place where you can buy something for yourself, your kids, your friends, catch an author passing through, enjoy a coffee, and be among your people—fellow book lovers.
The next shop just down the street was Our Bookshop. When you walk in the front door you'll find a long row of shelves containing art and architecture books to the left, with more piled on the floor and in "New Arrival" carts. Short aisles cut off to the right-hand side, little cubbies with all manner of nonfiction categories, as well as end-caps of records, CDs, sheet music, art prints, maps, graphic novels, comics, and so on. Further along I started seeing some really unique offerings for topics like the circus, etiquette, arctic travel, a large scouting section (both fiction and non), pulp novels, the Beats, and other eclectic sub-categories. Many of the books were much older but in excellent condition, whether lined along the shelves straight as an arrow or contained within glass-paneled hutches.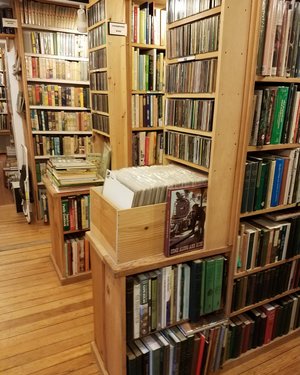 Amelia and I wound through the stacks, taking our time, inspecting one bin or shelf after another, showing off this discovery, whispering about another, then drifting apart again. Further back we found general fiction, sci-fi, fantasy, true crime, drama, mystery, and so on wrapping around corridors and shelved inside bathrooms, kitchens, and the other assorted rooms of a home. It's clear the proprietor lived right on site, which isn't out of the ordinary for shops like this, but it always an interesting and quirky revelation.
We found the same in the rooms upstairs, which contained biographies, books on math, science, the occult, folklore, and so on, including another bathroom with a shower that was piled up with law books, all rooms available for browsing and each stacked from floor to ceiling. Our Bookshop was a fun experience, and I walked away with an excellent copy of Neal Cassady's The First Third and a couple of very inexpensive records (by Tom Petty and Dire Straits), so I was very happy by what Saugerties had to offer.
We piled in the car and drove due south, then west, into the depths of Kingston, a knot of homes from eras spanning America's entire history, from the blocky bland developments near large shopping centers, to mid-century ranches on tree-lined streets, to brick and stone homes reaching back into the 1800s, and finally to the handfuls of Revolutionary-era buildings in the Stockade District, where lively shops and cafes have found a foothold in a new century of growth.
The next spot on our list was a little antiquarian bookshop called Pages Past. We parked in front of the Old Dutch Church, one of the oldest structures in town, and huddled beneath an umbrella as we hopped puddles and sidewalks over to the tiny shop, only to find it wasn't open (by appointment only, it seemed). Deciding against calling them on the spot to see if they would let us browse, we walked back up the street toward a bookshop Amelia had mentioned wanting to go to for quite some time, and it turned out to be the gem of the day.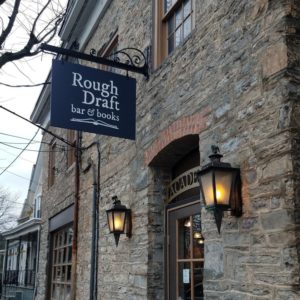 Rough Draft occupies a cozy stone building that feels like someplace old Rip Van Winkle would wander into after a long nap to tuck into a meat pie and a craft brew. Stepping inside we found shelves and displays of new books spread out among tables large and small where groups of people were sitting around eating, drinking, chatting, and reading. It was packed and looked like a great place to meet up with friends and family, and an even better place to hold a reading or event.
As for the books, there was an excellent variety and many new unique titles I hadn't seen elsewhere, with your usual fiction, Children's, and various nonfiction sections that include local history, biography, music, a small but excellent selection on cocktails, baking, and finer culinary arts, and even a book that contains all the essays and letters F. Scott Fitzgerald wrote about booze (his favorite subject). The titles were vibrant and new and called from every corner and table. I ended up with a couple poetry titles and a new release looking at Hunter S Thompson's fight against fascism call Freak Kingdom. Again, the thing I loved best about the selection was that outside of the standard bestsellers there were so many fresh titles I hadn't heard of before. This is a bookseller who can stay ahead of the curve.
We then adjourned to the bar area, where we found a menu full of pies (I selected the breakfast pie, with eggs, bacon, and cheese in a flaky crust), wine, and craft beer, most of it local but with selection from all over the map. The food was excellent and we were able to buy our books from where we sat, no waiting in a long line. The back kitchen also had a "bread lab" where they baked a unique selection of fresh breads and rolls. It was one more "B" in a shop full of beer and books, and I couldn't have been happier. And now we had just one more spot on our list.
It wasn't raining by the time we stepped back outside, but the winter chill was settling in, so we kept close as we maneuvered the narrow sidewalks up to Front Street, where we spotted Half Moon Books just up the block. We also saw a great little record shop, so we popped in there first. Always a sucker for a chance to find something by the Replacements or Tom Petty, we scoured the stacks until I came up with Alex Chilton's Electricity by Candlelight, a live performance of his from 1997 in NYC. Considering our travel playlist and our shared affinity for Big Star and Westerberg, it felt like a sign that I shouldn't leave without that record, and so it joined us at our next and final stop, Half Moon.
Tired as we were getting by this point, this shop still surprised us with their eclectic selection and the deep cuts that lay hidden within. The books were organized in some interesting ways, like the excellent cultural- and science-focused section, "smart, but not exhausting." They really make good use of their space and there's a lot more happening inside than you may expect at first glance.
I had to maneuver around boxes of books and long lines of people waiting to check out and milling around the front counter so I could get to the bulk of the books in the rear. It was pretty packed inside, and I soon realized why. I found one of the largest selections of those classic Little Golden Books that I've ever seen, set among shelves of other children's books and YA novels. There were shelves for women's studies, "new horizons," language and travel, essays and letters, art prints and maps, and more. There are a couple other rooms in the back, moving into fiction categories, sci-fi, fantasy, general, literary, mystery, and a nice poetry section with some first editions. They had a nice mix of new and old, gently worn and like new, bestseller and fringe author, the kind of shop where you can browse for hours if you have the time and stamina.
But ours was running low, so we headed back to our car for the trek home, thoroughly contented and intrigued by an afternoon of discoveries. We sped along on a now dry highway back up through the same hills, bluffs, and flatlands, Alex Chilton and Paul Westerberg in our ears, along with waves of comfortable silence and a knowing contentment that there were so many more excellent bookshops to discover and road trips waiting in the months and seasons ahead. I knew I would take some of those trips alone, but as for the other trips, I had a good feeling about those as well, and a curiosity for what our highway playlists might look like by then.