Western Massachusetts is a rolling landscape of low mountains, jagged ravines, farm country, and outpost villages, many filled with ivy league types, big city transplants, tourists, and working-class families who have lived in the area since colonial times. There's a quiet sort of propriety and ancient mystique that imbues each of these towns, making them feel charming yet somewhat remote from one another. They look quaint by daylight, but Lovecraftian and brooding by night. Or maybe that's just my jacked-up imagination getting the better of me, as usual.
In any case, these far-flung towns have called to me for quite a while, and they're all filled with bookshops. I decided a few weeks back that it was time to go, and my goal for the day was as follows: drive from Albany, NY to Great Barrington, MA, where a small movie theater was playing the new Wes Anderson film, Isle of Dogs. On the way I'd visit as many bookshops as I could, but I discovered that moving from one town to another over the course of a day felt like working through a scavenger hunt with a spinning compass and a clock ticking away too fast for my liking.
I began my bookshop hunt in the small town of Chatham, NY. Chatham always interested me because it sits in the middle of Columbia County, which I have always called my own personal October Country, a land of autumn landscapes, orchards, pumpkin patches, corn fields, farm stands, and little towns perfect for trick-or-treating. Downtown Chatham fits the mold just right. Among the cafes, pizza parlors, brick churches, artisan shops, and even a one-screen movie house, the good ol' Crandall Theater, there sits the Chatham Bookstore, which also doubles as a paint supply outlet for local artists.
Inside were displays and shelves full of bestsellers, and a long wall of literary and fiction titles, where I found the wonderful novel West of Sunset by Stewart O'Nan (about F. Scott Fitzgerald's last days in Hollywood) along with mystery, fantasy, and sci-fi included further along. There were cutouts and nooks with books focusing on crafts, art, music, gardening, travel, sports, and a great section for short stories, letters, and literary nonfiction near the front with chairs here and there for lounging. In the back there was an excellent though small children's room, space for events, and a selection of painting supplies. On previous visits there had been a robust discount section with many big names including Charles Bukowski, Willy Vlautin, Cormac McCarthy, Tana French, Alan Furst, and Geraldine Brooks, among others, though it wasn't there this time. That was too bad.
After waiting for a train to pass through town, I headed due east, and it wasn't long before I spotted a sign for a wayward bookshop called Librarium. You'll find it down a dirt country road, with signs leading you into the driveway for a gray farmhouse with a few outbuildings.
I was the only visitor during my time there, but I appreciated the peaceful quiet as I wandered room to room. The incredibly helpful and friendly staff joined me now and then, showing me around to some of the shop's more notable sections, including a whole bunch of early edition Nancy Drew books (and similar teen detective books of the same era) which I browsed to find a few entries missing from my mother's collection. She loves those old books and I keep an eye out for her, and I found two she still needed.
In another room containing mostly fiction, poetry, and another children's nook I found an absolute gem—a Charles Bukowski "primer" from the early 1980s called All's Normal Here, of which there were very few printed. At almost $50, I was delighted to pay up for such a rare treat. But don't let that one price tag fool you. This shop is full of deals. That same room had a lot of old pulp and sci-fi magazines, mass market paperbacks, a horror nook, and more. Aisles up near the front desk contained first editions and signed books, plus more paperbacks and cookbooks, piles and piles. There were a couple more rooms and I could have stayed for another hour at least, but the clock was ticking with many more miles to go.
But where to go next? There were a few options. The thing about this part of New England is that it may be gorgeous country, but even crows can't fly straight from town to town without meandering through the winding valleys. There is no direct route to anywhere, and many roads were originally farm trails and cow paths, simply the easiest route possible through boulder-strewn lowlands between short, stocky mountains. After a few twists and backtracking turns, I came upon Shaker Mills Books in Stockbridge. The shop really didn't look like much from the outside, but it ended up being one of the best I've found in the region.
Shaker Mill Books has an excellent collection of new titles at discount prices. There were tables and shelves of books, gifts, art, maps, rare editions, and many of the shelves were stacked with discounts. For instance, I found a half-off brand new paperback edition of Helter Skelter, the famous account of the Manson Family murders. I had been meaning to read that for years, so I snagged it. All I can really say about this shop is prepare to go in with high hopes and to leave weighed down by an avalanche of great deals.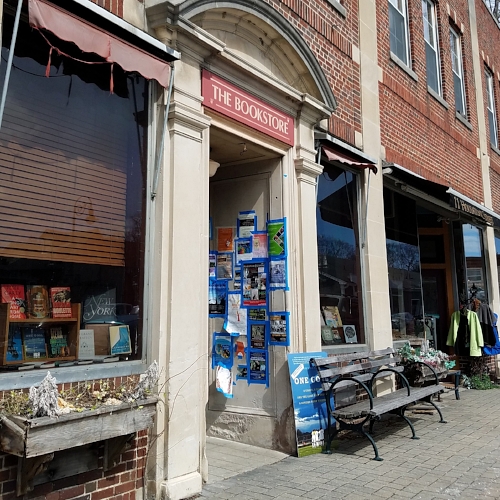 Next on the list was a real interesting hit: The Bookshop & Get Lit Wine Bar. That's right, a combo bookstore/wineshop. Hell yes. This little gem is tucked into Lenox, MA. When you walk into this shop near the center of town, you'll find the clerk's desk to the immediate left, and it was rare to see him sitting alone, as visitor after visitor came in to say hello, sit a spell, and talk about local news or book orders they placed. The shop had a lively feel, like this was where people came to find their tribe and enjoy each other's company. There were plenty of shelves and tables piled with excellent new titles, and in a side room was the wine bar, not huge but with enough space for a half dozen people to sit and sample a selection of reds and whites. There were a lot more books back there too, mystery and crime, sports and outdoors, books about writing and writers, poetry, religion, zen, new age, LGBT titles, and more. If you have the time, this bookshop will help you fill it.
And speaking of time, mine was slipping away. The film start time was getting close and I had two more stops on my list, so I hit the road and headed south, jumping on and off short stretches of straight-a-ways where I could really get up some speed, a nice change of pace from the slow tangled knot of mountain paths from earlier in the day. It wasn't long before I saw more shopping centers and strip malls, and I finally found the next shop in one of those.
Looking at The Bookloft across a supermarket parking lot, I felt a little underwhelmed. Was this going to be worth it?
Answer: Yes.
I should know by now to never judge a bookshop by its location, and this shop drove that lesson home for good. Approaching the front door I saw tables of half-off books and discounted titles, and just inside were bestsellers, new titles, and magazines, as you find in many bookstores. By aesthetic and design, the bookshop struck me as a small-scale Barnes & Noble in all the best ways, with organized displays, shelves full of bright new books, and all manner of nooks, chairs, and aisles for each subsection and category of fiction and nonfiction. It was in the far rear right of the shop where I found the real bonanza of discounted books. This small room, bigger than a closet but not by much, is filled floor to ceiling with half-off fiction and nonfiction across the spectrum, with excellent titles offered at great values. It's definitely a shop worth visiting if you're passing through Great Barrington.
Now Great Barrington itself is an interesting town. As I drove into the downtown area, it began to feel more like a miniature version of Saratoga Springs or a couple square blocks of Greenwich Village in NYC, picked up and dropped in the middle of rural Massachusetts. There was a touristy element, to be sure, and definitely a small town vibe, but there were also Japanese restaurants, art studios, cafes, the movie theater I had in mind, and a bookshop, of course.
Yellow House Books is a used bookshop, and sort of the exact opposite of the one I had just left. Instead of a Barnes & Noble feel, it was more of a small town attic library feel, with creaking wooden floors, piles of old titles, and that wonderful smell only old bookshops have on bright, sunny afternoons. I enjoyed browsing the stacks with the many other book lovers and casual shoppers walking through the rooms. There was an eclectic mix of topics and genres in the front room, from graphic novels, mystery, and sci-fi to gardening and art, lots and lots of art, with many big coffee table books. The majority of the books skewed older, all used and some quite rare.
The back room was the best fit for my tastes, focusing on literary fiction. This room had a few benches and that great old book smell really doing its best job to make me want to stay and browse, and I did for as long as I could. The room included a solid selection of well known fiction classics and gently used bestsellers, all taking up half of this larger space. Like I said, if I had more time, I'm sure I would have found something here missing from my shelves at home, but I was 10 minutes from showtime, so I left empty-handed.
With the sun beginning to set across the brick facades and bustling streets, I walked over to the movieplex and got in line at the ticket booth. It's always a thrilling feeling to walk up to a theater you've never been to before, in a town you only just discovered, seeing a new movie alone. There's a warm, tingling adventure to every small act—handing the ticket to the usher, smelling the popcorn bursting in the machine, the lights of the lobby, the dark hall to the theater, choosing a seat a little too close because that's the way you like it. And the film, as usual, was fascinating, taking us far from our day-to-day lives into a unique and textured world, this time full of stop-motion dogs and Japanese kids (and one ill-fitting American character, which the film took a little heat for later on, and I could understand why). It was a movie of revenge, then redemption, and ultimately love. I can get on board with that any day.
Though I enjoyed the film, it was the first Wes Anderson movie I didn't immediately want to see again, so take that however you like, but the journey it took to get to the Isle of Dogs was well worth every twist and turn and book left behind for future visits. Like the old saying goes, it's the journey, stupid. I think Carson McCullers said that, or Steinbeck after a six-pack of blueberry hefewiezen. I don't know. Who cares? The point is, if your own travels bring you to western Massachusetts, take it from me and get lost in the back roads so you can find yourself in some pretty amazing bookshelves.
(This originally appeared in Five:2:One Magazine.)