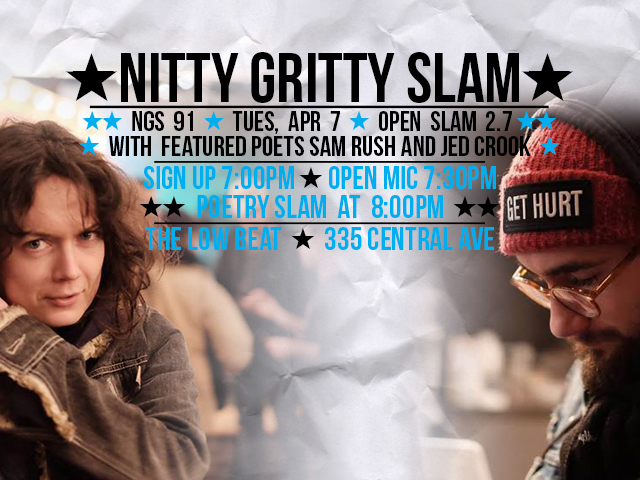 Poetry and spoken word are back at The Low Beat on Tuesday, April 7 with the 91st Nitty Gritty Slam featuring New Hampshire poets Sam Rush and Jed Crook.
Sam Rush was raised in South Florida, but now makes poems and songs in and around New Hampshire. Sam got to writing poems after developing progressive hearing loss as a teenager and noticing how many words each word could be. Sam represented the venue Slam Free or Die in the 2014 National Poetry Slam and the 2014 and 2015 Women of the World Poetry Slams (WOWPS), preforming on finals stage at WOWPS 2015. Sam has work published or forthcoming in Snacks, Drunk in a Midnight Choir and Alight: The Best Loved Poems of WOWPS 2014 and currently works for a non-profit focused on empowering youth from cultures in conflict.
http://www.youtube.com/watch?v=FzHlf7X_wp8
Jed Crook is a New Hampshire native ever since ever. He writes poems and sings songs all over the northeast. He released an album of music in January called "These Means Are My Ends", which was recorded in different locations for each song, live and in one take, with the location having a tie to the song performed there. He is currently taking classes for teaching and working at the Riverwalk Cafe in Nashua, NH.
This edition of NGS is also the last Open Slam before the Team Nitty Gritty Semi-Final #2 as get closer to finding out who will be representing Albany and Nitty Gritty Slam at the National Poetry Slam in Oakland this summer. Who will be joining Kevin, Amani, Samson Dikeman, and Elizag in the Grand Slam? Will any new voices wow the judges and make it to the next round?
Here are the top 9 poet scores going into the next slam: L-Majesty (15), Eliza Ryan (10), Daniel Summerhill (9), ILLiptical (9), Jimmy (6), Poetyc Visionz (5), Stephen Roberts (5), Algorhythm (4), and Nadie (4). Who is going to step up and bump someone out of place? Who wants their spot at the Semi-Final? Find out on Tuesday, April 7 at The Low Beat.
If you're not into competing in the slam, but want to get on stage and share your work, we have an open mic hosted by Kevin Peterson before the slam. Sign up begins at 7:00pm, open mic starts at 7:30, and then Thom Francis starts the slam at 8:00pm. Admission is $5.00 ($3.00 with student ID). This is an 18+ show.
If you can't make it out to the show that night, be sure to follow along on Twitter – #NGS91.
Albany Poets, Urban Guerilla Theatre, and The Frequency North Reading Series have brought slam back to Albany with the Nitty Gritty Slam at The Low Beat (335 Central Ave.) on the 1st and 3rd Tuesday's of each month.
For information on the rules and format of the Nitty Gritty Slam and to meet the team, go to http://nittygrittyslam.com