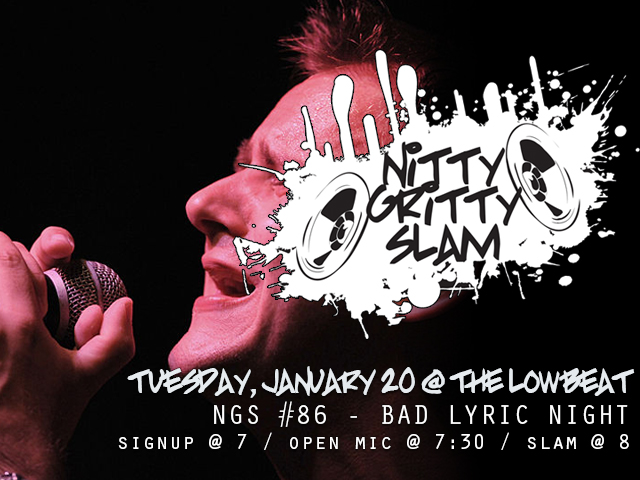 Nitty Gritty Slam storms back to The Low Beat on Tuesday, January 20 for the 86th edition of Albany's only poetry slam series and this time around we are doing something a little different.
For NGS #86 we are bringing back one of the most fun and hilarious themed poetry nights in our history, Bad Lyric Night! We brought the event to Nitty Gritty Slam last year and due to popular demand, it makes it's return to Central Ave.
At this slam there is a twist, the bad lyric performance will be judged! Of course, we will still have an open mic for poetry and spoken word, but the recitation of some of the worst song lyrics of all time will take place under slam rules (except of course the rule about being the original author).
Who will enter the fray this time around and join us for another great night of poetry and spoken word? The road to NPS 2015 in Oakland has begun and there is still time to get on board. The next stop is NGS #86.
If you're not into competing in the slam, but want to get on stage and share your work, we have an open mic hosted by Kevin Peterson before the slam. Sign up begins at 7:00pm, open mic starts at 7:30, and then Thom Francis starts the slam at 8:00pm. Admission is $5.00 ($3.00 with student ID). This is an 18+ show.
If you can't make it out to the show that night, be sure to follow along on Twitter – #NGS86.
Albany Poets, Urban Guerilla Theatre, and The Frequency North Reading Series have brought slam back to Albany with the Nitty Gritty Slam at The Low Beat (335 Central Ave.) on the 1st and 3rd Tuesday's of each month.
For information on the rules and format of the Nitty Gritty Slam and to meet the team, go to http://nittygrittyslam.com