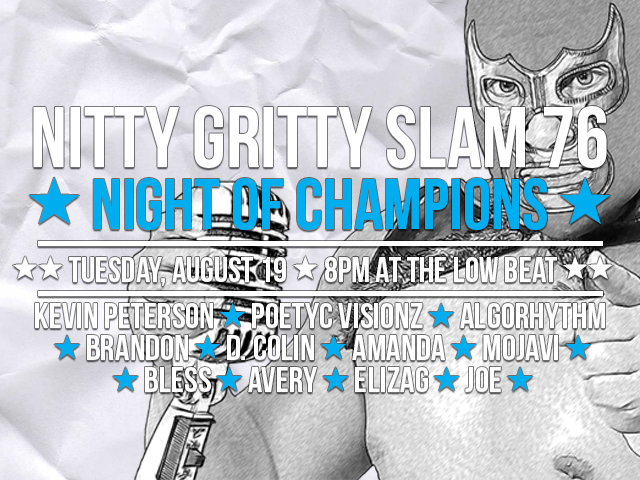 We are back at The Low Beat on Tuesday, August 19 for the 76th edition of Nitty Gritty Slam. And this is not just any slam, it's the Season Three Night of Champions!
One night a year we invite all of the first place winners of our slams from the previous season to come together and compete. This year we have a great lineup of poets who stole the show and took the first place prize at NGS from September 2013 through NGS #75 last week.
This years Night of Champions will see Kevin Peterson, Poetyc Visionz, Bless, Algorhythm, Mojavi, Brandon Williamson, Joe Beck, Amani, Elizag, D. Colin, and Avery all compete for the prize money, the bragging rights, and the belt!
We have had a great year of poetry and what better way to cap it off before kicking off Season Four of NGS in September than a good, old fashioned Battle Royal of Words! These 11 poets represent some of the best Albany has to offer in the world of spoken word right here in Albany, NY.
So far two poets have held the prestigious championship – ILLiptical and Saymo. Who's next?
In the immortal words of our first Champion, Illiptical, "If you smeeellllllll what the poet…. is …. spittin!"
If you're not competing in this special slam, but want to get on stage and share your work, we have an open mic before the slam. Sign up begins at 7:00pm, open mic starts at 7:30, and then Thom Francis starts the slam at 8:00pm. Admission is $5.00 ($3.00 with student ID). This is an 18+ show.
If you can't make it out to the show that night, be sure to follow along on Twitter! We will be live tweeting pictures and results all night at @NittyGrittySlam and #NGS76.
Albany Poets, Urban Guerilla Theatre, and The Frequency North Reading Series have brought slam back to Albany with the Nitty Gritty Slam at The Low Beat (335 Central Ave.) on the 1st and 3rd Tuesday's of each month.
For information on the rules and format of the Nitty Gritty Slam and to meet the team, go to http://nittygrittyslam.com