We are now within two weeks until the 2014 Albany Word Fest, our annual celebration of National Poetry Month and the poetry and spoken word of upstate New York. This year's event will take place on Sunday, April 13 – Saturday, April 19 at six different venues in Albany, NY.
The week will kick-off with the launch of the second edition of Albany Poets' journal, Up The River. The editors went through hundreds of submissions and will debut the the first issue on Sunday, April 13 at McGeary's (4 Clinton Square, Albany). On top of toasting to the launch of Word Fest and the journal, this event at McGeary's, home of our monthly open mic, will also feature performances by some of the poets published.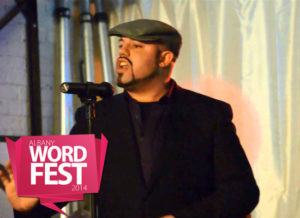 On Tuesday, April 15 the festival continues with the Nitty Gritty Slam at The Low Beat (335 Central Ave., Albany). For the Word Fest edition of NGS we are presenting the return of the Haiku Battle. We had such a great time last year, we had to bring it back to the 2014 Word Fest.  This special edition of NGS have 16 poets in a head-to-head single-elimination tournament.  We are also very happy to have DDE The Slammer as our featured poet for the evening. Admission to NGS is $5.00 / $3.00 with student ID. (18 + / 21 to drink).
For Wednesday night, April 16, the Word Fest heads next door to Pauly's Hotel (337 Central Ave., Albany) for an evening of the finest local and regional poetry, music, and spoken word at Pauly's Hotel featuring Nick Bisanz & Pat Irish, Dan Landa, and Metroland's Best Poets (to be announced on April 10).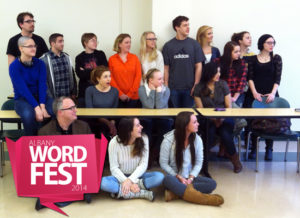 On Thursday night the great Third Thursday Poetry Night series takes place at the Social Justice Center (33 Central Ave., Albany). Dan Wilcox hosts this open mic for poetry and spoken word featuring A reading/performance by "Josie & the Drop-Boxers," students from English Department at The College of Saint Rose in Daniel Nester's Poetry in Performance class.
On Friday night, April 18, the annual Word Fest Open Mic, hosted by Albany Poets' very own and multi-time Metroland Reader's Poll Best Poet Mary Panza, returns to the UAG Gallery (247 Lark St., Albany). This event will take place from 7:00pm – 12:00am with poets from Woodstock to Saratoga and everywhere in between including Mike Jurkovic, Nancy Klepsch, Brian Dorn, Howard J Kogan, Marina Mati, Cheryl A. Rice, L-Majesty, Alan Catlin, Charles Straney, Bob Sharkey, Tess Lecuyer, Jill Crammond, Carolee Bennett, Shannon Shoemaker, Adam Tedesco, Glenn Werner, R.M. Engelhardt, Don Levy, Carol H. Jewell, Matt Galletta, Alan Casline, Karin Maag-Tanchak, Shaun Baxter, Joe Krausman, Casey Fisk, Tim Verhaegen, Steven Minchin, Cecele Kraus, Chad Lowther, Therese Broderick, Frank Robinson, Sylvia Barnard, Avery, Miriam Axel-Lute, Samson Dikeman, Kat SoPoetic, Timothy Lake, Michael Cruz, Mark W. O'Brien, Pamela Twining, Christoph Hanna, Harvey Havel, Kristen Day, Julie Lomoe and many more. Poets who are interested in participating can still sign up here. There will also be limited opportunity to sign up at the event.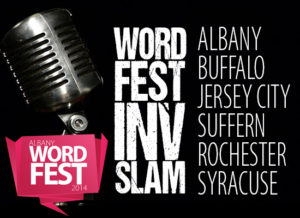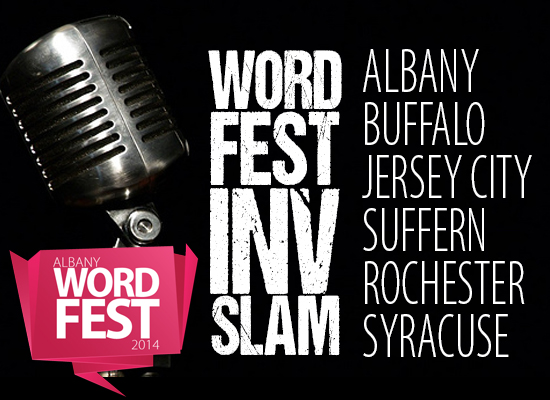 Finally on Saturday, April 19, the Word Fest comes to an end with the Word Fest Invitational Slam at The Linda – WAMC's Performing Arts Studio (339 Central Ave., Albany) starting at 7:00pm. This year, Nitty Gritty Slam (Albany, NY) will be joined by Underground Poetry Spot (Syracuse, NY), Suffern Slam (Suffern, NY), Jersey City Slam (Jersey City, NJ), Pure Ink Slam (Buffalo, NY), and the Roc Bottom Slam Team (Rochester, NY) on one stage to close out the Word Fest and compete for prizes and bragging rights as we get closer to the National Poetry Slam in August.  Admission for this event at The Linda is $10.00 and available now at thelinda.org.
Additionally, all throughout the week, Albany Poets will be publishing local poetry on their website as part of the Word Fest Online Open Mic. Poets who wish to participate are encouraged to send their poems to albanypoets@gmail.com with "Online Open Mic" in the subject line, starting Sunday, April 6.
The 2014 Albany Word Fest is sponsored by Albany Poets, Hudson Valley Writers Guild, Frequency North, Urban Guerrilla Theatre, The Low Beat, McGeary's, Pauly's Hotel, The Linda, Upstate Artists Guild and the very generous donations of supporters of the arts in upstate New York.
For more information on the history of the Word Fest, directions to venues, and a complete schedule of events, go to www.albanywordfest.com.