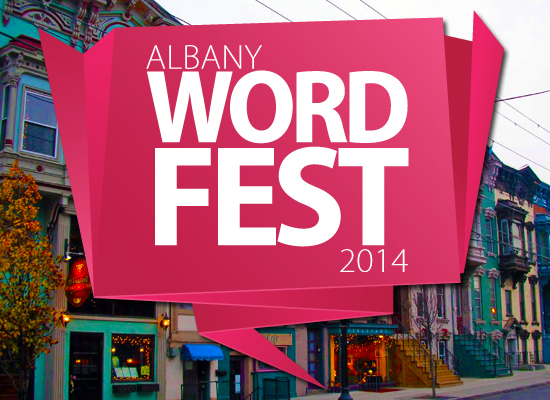 The 2014 Albany Word Fest is just a  couple weeks away and we have some exciting updates to tell you about. Here are a few news updates about this year's festivities including Open Mic sign up, new featured poets, teams participating in the Word Fest Invitational Slam, and how you can help make this event great.
Word Fest Open Mic and Signup
The online signup is live at http://albanywordfest.com/signup. Head over and claim your spot to be a part of the annual Word Fest tradition. The Open Mic will take place at the UAG Gallery (247 Lark Street, Albany) on Friday, April 18 starting at 7:00pm.
So far over 25 poets have signed up including Nancy Klepsch, Alan Catlin, Charles Straney, Da God Ezekiel, Alan Casline, Shaun Baxter, Howard Kogan, Don Levy, Carol H. Jewell, Joe Krausman, Marina Mati, Cecele Kraus, Cheryl A. Rice, Tim Verhaegen, L-Majesty, Glenn Werner, Karin Maag-Tanchak, Mike Jurkovic, Tess Lecuyer, Adam Tedesco, R.M. Engelhardt, Carolee Bennett,Matt Galletta, Bob Sharkey, Jill Crammond, Steven Minchin, Shannon Shoemaker, Casey Fisk, and Brian Dorn.
Featured Performers at The Low Beat and Pauly's
We are very happy to annoucne the featured performers for the Tuesday and Wednesday night shows.
On Tuesday night Albany's poetry slam, Nitty Gritty Slam, continues at The Low Beat with the return of the Haiku Battle with featured poet DDE The Slammer!
DDE The Slammer is a spoken word and slam artist that has been performing since 2007. He has performed in various places throughout the US and Germany. A current native of Indianpolis, IN, DDE is born in Mexico and very proud of his heritage, which is a combination of Mexican and Italian. His poetry topics go from everything to political issues, police corruption, immigration, video games, nickelodeon, song lyrics, and everything in the middle.

DDE has put out 2 CDs and has opened for the likes of Gabrielle Patterson, TruthBTold, and Buddy Wakefield. He travels all over the US performing and bringing messages to any stage, even the ones people don't want to hear. He is challenging, thought provoking, humorous, loving, and as much entertaining as he is educational.
Then at Wednesday night's Poetry, Music, and Spoken Word Showcase right next door at Pauly's Hotel we are welcoming Nick Bisanz & Pat Irish, Dan Landa, and Metroland's Best Poets (to be announced on April 10).
Nick Bisanz and Part Irish met in 1990. Since that fateful meeting they have collaborated on a variety of musical endeavors. In 1992, Bisanz/Irish were part of a group that backed up singer song writer Joe Henry. They were also had featured solos on the Jungle Records album Cellophane by the group Hang Up. Bisanz has played bass and guitar locally for Geo and the Komrad's and is a member of the critically acclaimed punk band The Last Conspirators. In 2011, Irish wrote and performed his rock opera entitled The Front Desk. It was played in its entirety on the much acclaimed Watt from Pedro Show. Both Bisanz and Irish continue to work on their music and art in the hopes of promoting creativity to anyone who will listen.

Dan Landa sings, performs poetry and even some stand-up at cafes, taverns, hotels and small theatrical venues throughout various parts of NY. He made his off-Boadway debut as a cabaret vocalist in 2007. Since then, he has performed at the Duplex Cabaret Theatre, Shutters Cafe, the Iguana Lounge, and even at a couple of theatres in Times Square. Landa has also performed his original poetry across the Hudson Valley.
Teams Competing at the Word Fest Invitational Slam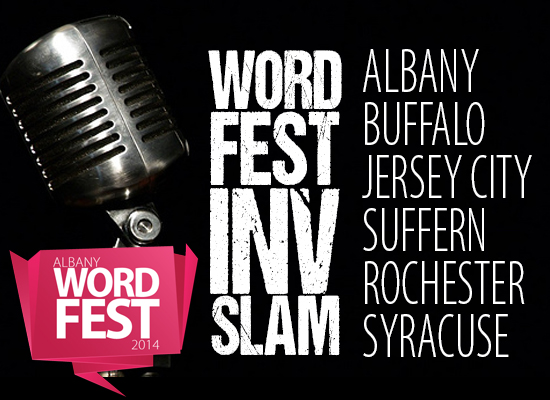 On Saturday, April 19 we will be bringing the 2014 Albany Word Fest to a close at The Linda with the 2nd Annual Word Fest Invitational Slam. We have invited slam teams from all over the Northeast to participate in this event and we can announce that the six teams that will be competing are Nitty Gritty Slam (Albany, NY), Jersey City Slam (New Jersey), Suffern Slam (Suffern, NY), Rochester, Buffalo, and Underground Poetry Spot (Syracuse, NY).
Tickets are just $10.00 and available now at thelinda.org.
How You Can Help Albany Poets and the Albany Word Fest
To make the 2014 event a success, and as free as possible for all attendees, we need financial assistance from the community. Your donation not only helps us put the Word Fest together, but also upcoming projects and events such as Up The River, the Albany Poets website costs, sending Team Nitty Gritty to the National Poetry Slam in Oakland this summer, and keeping poetry and spoken word happening and growing in the area year round.
If you would like to make your donation with your credit card, please click on the DONATE link that will take you to our secure PayPal checkout. If you would rather donate by check you can make your check payable to "Albany Poets" and mail it to 84 South Pine Ave., Albany, NY, 12208.
As a way to say thank you, we have set different levels of rewards for your donation that you can choose from. When we receive your donation (either by PayPal, check, or cash), you will get an email from Albany Poets where you can then choose your thank your gift. For more details, go to the Word Fest support page.
We are also looking for volunteers to help with getting information out on the event (flyering, social media posting) and setting up venues for the individual events. If you are interested, please send us an email at albanypoets@gmail.com and let us know.
A Little Something for You
And to top it all off for this update, we are giving away a prize to a member of the Albany poetry community. Just leave a comment below about what you are looking forward to at the year's Word Fest and we pick a random commentator and send you a prize from the Albany Poets vault.