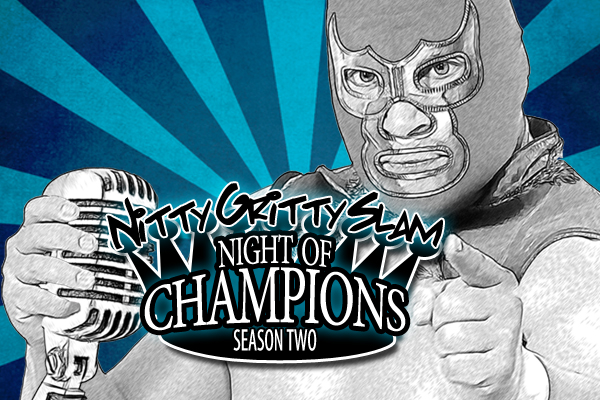 Nitty Gritty Slam is marking the end of its second exciting year on Tuesday, August 20 with The Night of Champions. We have had a great year of poetry and spoken word from some of the best performers in the country taking place right here in Albany. For the Night of Champions we are inviting all of the first place winners from Season Two to come back and compete against each other.
In the past year we have had 15 separate winners at NGS: Mojavi, Alex Sherman-Cross, Poetyc Visionz, Brandon Williamson, Algorhythm, Kevin Peterson, D. Colin, Alyssa Niman, Ben Golden, Christopher The Poet, Tasha Davis, L-Majesty, Christian Phiffer, Daniella Watson, and Melissa Anderson. Some of these winners have come back and won multiple slams like Algorhythm (5), Poetyc Visionz (3), Christopher The Poet (3), Alex Sherman-Cross (2), and Kevin Peterson (2). While others have come into town, taken the win and have never been seen again.
ILLiptical won the belt last year and a spot in the 2013 Grand Slam, who will come out on top this year? Who will get an instant opportunity for the 2014 Grand Slam? Who will take home all of the prizes?
Join us for this special 52nd edition of the slam as we welcome Team Nitty Gritty back from the National Poetry Slam in Boston and we bring an end to the second year of Albany's very own poetry slam by crowning the Season Two Champion of Champions.
If you are not one of the performers in the slam, be sure to get there early to sign up for the open mic to kick the show off for all poets, slammers, and spoken word artists. Everyone is invited to share their work at this celebration event.
Albany Poets, Urban Guerilla Theatre, and The Frequency North Reading Series have brought slam back to Albany with the Nitty Gritty Slam.

NGS takes place at Valentine's (17 New Scotland Ave.) on the 1st and 3rd (and 5th) Tuesday's of each month.

If you're not into slam, but want to get on stage and share your work, we have an open mic before the slam.

Sign up begins at 7:00pm, open mic starts at 7:30, and then Thom Francis starts the slam at 8:00pm.

Admission is $5.00 ($3.00 with student ID). This is an 18+ show.

For information on the rules and format of the Nitty Gritty Slam and to meet the team, go to http://nittygrittyslam.com/.