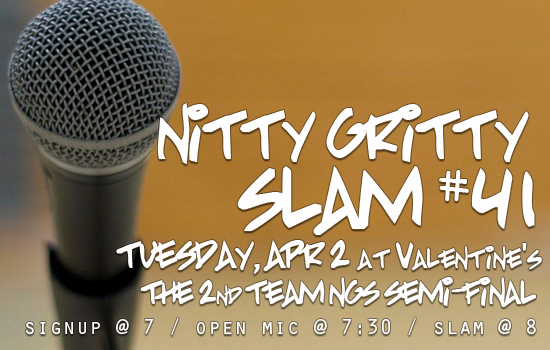 Things are really heating up as we get closer to selecting the team to represent Albany and NGS at the National Poetry Slam in Boston.
This 41st edition of Albany's poetry slam series will be another special slam for the top nine points leaders battling it out in the second semi-final to be part of Team NGS 2013. These points leaders for the second half of the season are Christopher The Poet (13), Algorhythm (12), Alyssa Niman (6), Ben Golden (5), L-Majesty (5), Daniella Watson (4), Shannon Shoemaker (3), Mojavi (3), and Miriam Axel-Lute (3).
For the complete list of Season Two points, go to – https://hvwg.org/nittygrittyslam/points.html
This event and the tournament to choose members for the 2013 slam team, to represent Nitty Gritty Slam at the National Poetry Slam this summer, are part of the big changes that we announced at the beginning of Season Two of NGS. The top three poets at the end of NGS #41 will then move on to the Grand Slam, joining Season 1 Champion of Champions ILLiptical, Semi-Finalists Kevin Peterson, Avery, Poetyc Visionz, and Women of Albany Slam winner Tasha Davis.
Poets who do not make it to the next level of the tournament are invited to participate in the Wild Card Slam on April 30. The winner of that slam will advance to the Grand Slam.
* NOTE – This slam will not be an open slam. Only the top eight poets will be able to slam. The open mic will be for all poets and spoken word artists who want to step up to the mic with a special two poem limit.
Albany Poets, Urban Guerilla Theatre, and The Frequency North Reading Series are bringing slam back to Albany with the Nitty Gritty Slam.

Last year a slam team from Albany, representing Nitty Gritty Slam, went to the National Poetry Slam in Charlotte, NC. This year, a new team will be heading to Boston to show the rest of the country the amazing talent that lives right here in Albany, NY.

NGS takes place at Valentine's (17 New Scotland Ave.) on the 1st and 3rd Tuesday's of each month.

If you're not into slam, but want to get on stage and share your work, we have an open mic before the slam hosted by slam coach Mojavi.

Sign up begins at 7:00pm, open mic starts at 7:30, and then Slam Master Thom Francis starts the slam at 8:00pm.

Admission is $5.00 ($3.00 with student ID). This is an 18+ show.

For information on the rules and format of the Nitty Gritty Slam and to meet the team, go to http://nittygrittyslam.com.