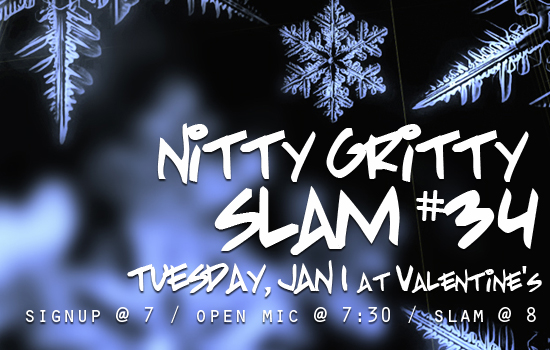 What better way to kick off the new year than a good old fashion poetry slam?
That's right, we will be at Valentine's on January 1 for the first poetry event of 2013! So, shake off the hangover from the night before and start the new year off right.
This will be another Open Slam for everyone who wants to get up on the mic. The stage is ready for your airing of grievances and complaints about your Holiday Season.
This New Year's edition of NGS is the second Open Slam leading to the second semi-final that will be coming up in a couple of months. This is a very exciting time to be a part of the upstate poetry, spoken word, and slam scene as we are winding down to find out who will be representing us at the National Poetry Slam in the summer in Boston.
Albany Poets, Urban Guerilla Theatre, and The Frequency North Reading Series are bringing slam back to Albany with the NITTY GRITTY SLAM.

NGS takes place at Valentine's (17 New Scotland Ave.) on the 1st and 3rd Tuesday's of each month.

If you're not into slam, but want to get on stage and share your work, we have an open mic before the slam.

Sign up begins at 7PM, open mic starts at 7:30, and the slam starts at 8PM.

Admission is $5.00 ($3.00 with student ID). This is an 18+ show.

For information on the rules and format of the Nitty Gritty Slam and to meet the team, go to nittygrittyslam.com.