Local poet, activist, photographer, and poetry host Dan Wilcox is included in a new anthology from FutureCycle Press entitled American Society: What Poets See.
American Society: What Poets See is a selection of poems from authors nationwide describing American society from a personal point of view. Collectively, the book adds up to a critical look at the way things are, expressed in poems whose fine quality makes them deserving of attention.
Dan will have copies with him at local readings, but if you are not able to make it to one of the many readings that Dan attends and want to order online, the book is now available for sale through FutureCycle Press' Amazon site. You can read Dan's poems on the publishers website.
FutureCycle Press is dedicated to publishing lasting poetry and flash fiction in both print (on demand) and ebook formats. Founded by long-time independent editor/publishers and partners Diane Kistner and Robert S. King, the press incorporated as a nonprofit in 2012. All of our editors, some of them distinguished poets and authors in their own right, volunteer their time to the press.

We are a small press determined to look like a big one.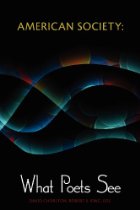 Dan's poems are included in this book along side poets from all over the country including Austin Alexis, Gilbert Allen, Jennifer Arin, Kate Bernadette Benedict, Nina Bennett, Kevin Brown, Melissa Carl, David Chorlton, Alex Cigale, James Cihlar, Jim Clark, Kelly Clayton, Chella Courington, Barbara Crooker, J. P. Dancing Bear, Erica Dawson, Diane Elayne Dees, Anthony DiMatteo, David Ebenbach, Alan Elyshevitz, Margot Farrington, Rupert Fike, Alissa Fleck, Barbara Gabriel, Bill Glose, Les Gottesman, Michael Gregory, Lois Marie Harrod, Michelle Hartman, M. Ayodele Heath, Kathleen Hellen, Terry Hensel, Graham Hillard, H. Edgar Hix, Karen Paul Holmes, Paul Hostovsky, Joseph Hutchison, Jason Irwin, Roshanda Johnson, Lawrence Kessenich, Alan King, Robert S. King, John Laue, Sean Lause, Brenda Kay Ledford, Laura LeHew, Jean Thurston Liebert, Andrew Shattuck McBride, Jim McGarrah, Deborah Mashibini, Nancy Carol Moody, Janell Moon, George Northrup, Scott Owens, Judith Pacht, Christina Pacosz, Lee Passarella, Garth Pavell, Joel Peckham, Diana Pinckney, Kenneth Pobo, David Radavich, M. S. Rooney, Linwood Rumney, Tina Schumann, Eric Paul Shaffer, Marian Kaplun Shapiro, Michael Shorb, Nancy Simpson, Ron Singer, J. D. Smith, M. R. Smith, Laura L. Snyder, The Poet Spiel, Scott T. Starbuck, Carol Steinhagen, Susan K. Stewart, Julie Stuckey, Wally Swist, Judith Terzi, Mark Thalman, Charles Thielman, Alice Toporoff Wallace, Connie Walle, Ed Werstein, Christopher Woods, Marianne Worthington, Andrena Zawinski