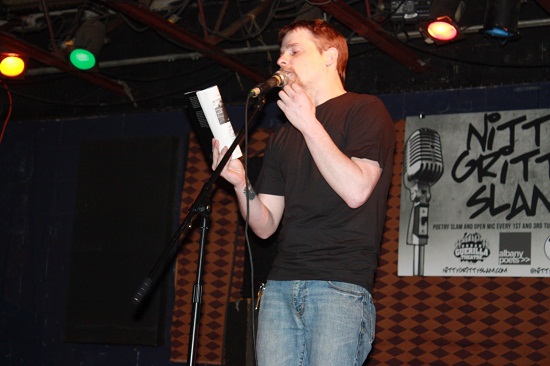 What an incredible night of poetry in the not too hot and suprisingly haze-free second floor of Valentine's. We even had almost enough seating for everyone who came in for the show. Not only were there chairs everywhere, we also had more laptops and technology involved than usual as we broadcast the slam live on the Albany Poets website. The video is still available for anyone who missed the show.
We kicked things off with the open mic with special guest host Daniel Nester because Mojavi was "on his way" from NYC. Poets who came up to the open mic included myself, Dan Wilcox, Jessica Layton, and a returning Carri LaCroix Pan.
Team Nitty Gritty's D. Colin and Elizag were up next with one their brand new group pieces as a sneak preview of what the rest of the country caxn expect to hear at the National Poetry Slam next month.
Once we began the 21st installment of NGS, we knew it was going to be a close and exciting night. Every poet who stepped up to the mic was on point with there performances and everyone was hungry for a win. In the first round, strangly enough, the two new slammers, Geoff and Naomi tied, but it was not enough to make it to the second round.
Round Two saw the familiar faces of ILLiptical (Albany Poets' Featured Poet for July), Shannon Shoemaker, Elizag, and Poetyc Visionz all battle it out.
After a very close final round Elizag came out on top to win the slam for the 5th time. Shannon came in 2nd place for the 5th time and PV pulled in third for the 4th time since he began performing at the Nitty Gritty Slam.
Here is how all of the scoring worked out:
Round One:
Elizag – 26.4
Naomi – 25.3
Shannon Shoemaker – 28
Geoff – 25.3
Poetyc Visionz – 26.3
ILLiptical – 26.5
Round Two:
ILLiptical – 25.3 (Combined 51.8)
Poetyc Visionz – 26.7 (Combined 53.0)
Shannon Shoemaker – 27.8 (Combined 55.8)
Elizag – 27.3 (Combined 53.7)
Round Three:
Elizag – 28.4
Shannon Shoemaker – 28.2
Join us on Tuesday, July 17th for NGS #22 at Valentine's. This will be the last Nitty Gritty Slam before the team heads down to Charlotte for the National Poetry Slam.
Remember, we still need your help to send the team down south. If you can help in anyway, please head on over to our support page to make your donation.