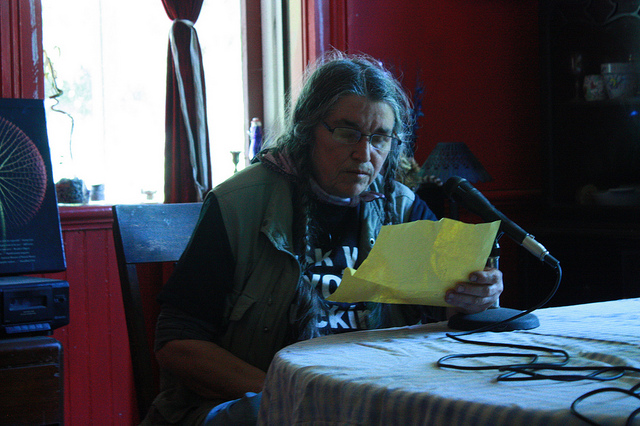 On Sunday, June 24, the Sunday Four Poetry Open Mic series will be closing its season with a very special performance from featured poet Bernadette Mayer.
Great news!

BERNADETTE MAYER is coming to Sunday Four Poetry Open Mic on the 24th of June at Old Songs.

She is our clean-up hitter to finish our Fourth Season!!!

Mark your calendars now!! Her new book on all the Helens of Troy, NY is in press [New Directions]. She will read from that as well as scores of her other works.

Not to be missed. Come experience her unique take on life with and without the Muses!

She does not read much in the area so take advantage of this opportunity. She is one of the greats.
Bernadette is truly one of the great American poets who has been publishing her work since the 1960's. In that time she has been a writer, editor, teacher, and director of the legendary Poetry Project in New York City.
From the Academey of American Poets:
Bernadette Mayer was born in 1945 in Brooklyn, New York. She received her B.A. from the New School for Social Research in 1967.

She is the author of numerous books of poetry and prose, including: Poetry State Forest (New Directions, 2008), Scarlet Tanager (2005), Two Haloed Mourners: Poems (1998), Proper Name and Other Stories (1996), The Desires of Mothers to Please Others in Letters (1994), The Bernadette Mayer Reader (1992), Sonnets (1989), Midwinter Day (1982), The Golden Book of Words (1978), and Ceremony Latin (1964).

From 1972 to 1974, Mayer and conceptual artist Vito Acconci edited the journal 0 TO 9. With her husband, writer and publisher Lewis Warsh, she edited United Artists Press. She has taught writing workshops at The Poetry Project at St. Mark's Church in New York City for many years and she served as the Poetry Project's director during the 1980s. Bernadette Mayer lives in East Nassau, New York.
The Sunday Four Poetry Open Mic takes place the at the Old Songs Community Center, 37 South Main Street, Voorheesville ans starting at 3:00pm. This wonderful, cozy reading series is hosted by local poets by Dennis Sullivan, Mike Burke, and Edie Abrams.
Here is a video of Bernadette reading "Eve of Easter" on Public Access Poetry in 1978