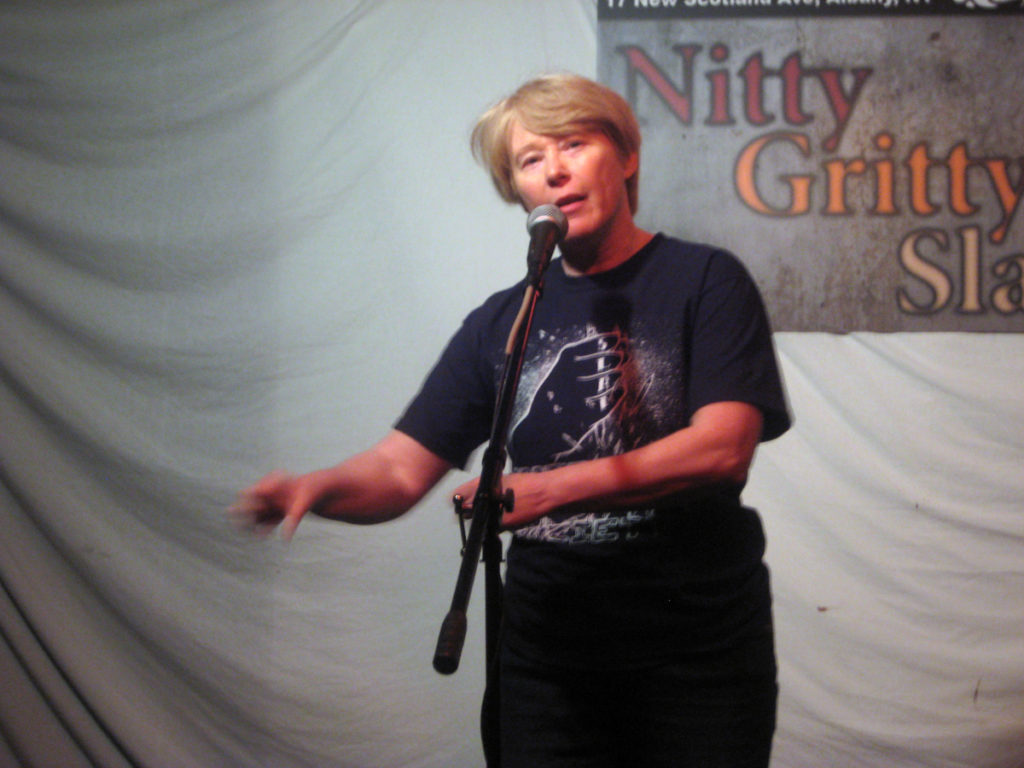 Another great night for poetry and spoken word at Valentine's on Tuesday, May 15 as we huddled together for the 18th edition of Nitty Gritty Slam. We had a few poets running late and some more out of town for this night, but we still had a great evening with a couple of new slammers and open  mic poets taking the stage.
The open mic portion of NGS #18 featured a very stirring poem by "Brammage Jr." Dustin Walker, followed by great performances from Leslie Michelle, Tasha, Carolee Sherwood, and Daniel Nester.
After the open mic, Dain Brammage took over and welcomed us to the show. This time there were only five poets signed up for the first round, but that was not going to stop the energy in the room. Jess ListenToMyWords decided to give slam a try and made it to the second round, leaving Dan Wilcox as the only one in this "5-4-3" installment of the newly certified slam event to stay behind.
When the dust cleared Elizag took first place for NGS #18 with Shannon Shoemaker and Thom Francis (very surprised) tying for second.
Round One:
Dan Wilcox – 23.9
Shannon Shoemaker – 26.9
Elizag – 27.7
Jess ListenToMyWords – 27.1
Thom Francis – 27.5
Round Two:
Thom Francis – 28.1 (Combined 55.6)
Jess ListenToMyWords – 26.9 (Combined 54.0)
Elizag – 27.4 (Combined 55.1)
Shannon Shoemaker – 28.2 (Combined 55.1)
Round Three:
Thom Francis – 27.3
Shannon Shoemaker – 27.3
Elizag – 29.5
Dan Wilcox also has a post about what went on during the show that you can read here.
We are back at Valentine's next Tuesday, June 5 for Nitty Gritty Slam #19.
And remember, we have a couple of days left to register NGS for the National Poetry Slam. We are almost to our goal of $400. If you can help, please click "donate" on the top of the page. Every dollar helps send the great talent of upstate New York to North Carolina in August to let the world know that "Poetry Lives in Albany".
[pwaplusphp album=NittyGrittySlam18May152012]