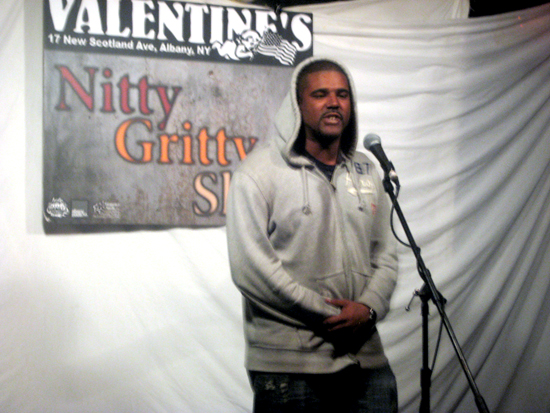 We kicked off the month of May with Nitty Gritty Slam #17 at Valentine's and in the process crowned a new champ. We also had some new faces step up and take the other two top spots.
But, before the slam, Mojavi hosted the open mic and welcomed some local poets who have yet to take part in the NGS series, Don Levy and Julie Lomoe, open mic regulars, Jessica Layton and Daniel Nester, and the returning Emily Gonzalez. There must have been something in the air that night, because the themes of sex, love, and fantasy were woven through  must of the pieces performed.
Dan Brammage then took over and mastered the slammage with Elizag, Tenesha Smith, Kat SoPoetic, Kevin Peterson, and Algorhythm all battling it out with some great new poetry. The second round we learned a lesson on memorization and the alphabet from Algorhythm. In the end, Kevin Peterson was shirtless, Tenesha Smith reminded us what the situation was, Kat was still wearing slippers, and Algorhythm took home the big money cash prize for coming in first.
Round One:
Elizag – 27
Tenesha Smith – 27.3
Kat SoPoetic – 28.5
Kevin Peterson – 27.8
Algorhythm – 29.2
Round Two:
Algorhythm – 29.3 58.5
Kevin Peterson – 14.3 42.1
Kat SoPoetic – 28.4 56.9
Tenesha Smith – 27.3 54.6
Round Three:
Kat SoPoetic – 27.9
Algorhythm – 28.4
[pwaplusphp album="NittyGrittySlam17May12012″]
Join us next week, Tuesday, May 15 for Nitty Gritty Slam #18 and see who will climb to the top of the mountain and become the next NGS Champ.