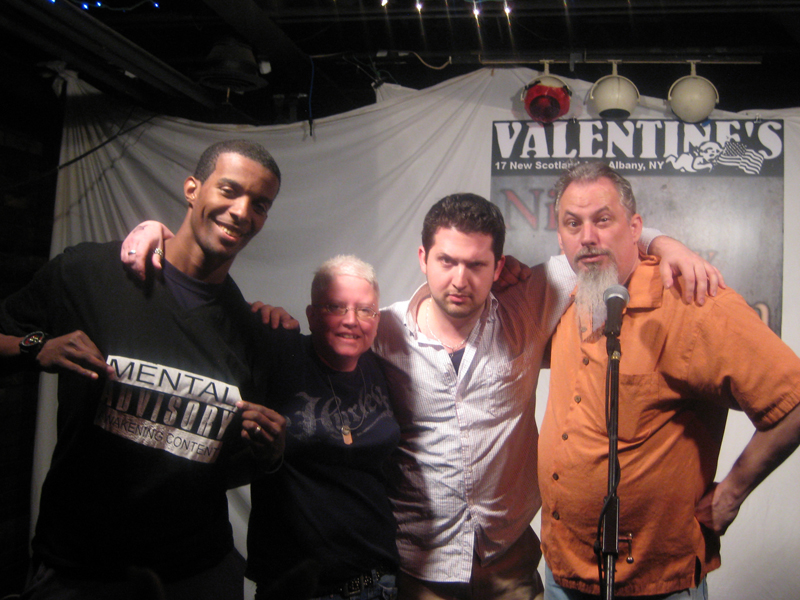 This was a night of pseudonyms as there were more folks on stage with alternate names than their given names. Actually there were a couple of poets who had a stage name for their stage name. Very confusing, but a good time all around for the 15th edition of Nitty Gritty Slam.
First we had an open mic. I, Thom Francis (Thom Job), began with one of my own pieces and "I Know You" from Henry Rollins before Mojavi (Keith Wright) took the stage for to host the rest of the open mic session that saw the debut of Nervous Cow (Dustin Walker aka Dusty Wisdom) and Jess Listen To My Words (Jessica Layton) return to the stage with a serious poem.
Slammaster Dain Brammage (Dale Walker) took over the hosting duties after the open mic. The slam tonight had a respectable list of poets participating. Round one only had five slammers involved but it certianly did not lack any talent. Brock Wizard (Michael Sloman aka ILLiptical), Dan Wilcox (one of only two poets without an alternate name, Ghost Writer (Darian Gooden aka Poetyc Visionz), Shannon Shoemaker (the other poet without a stage name), and Elizag (Elizabeth Gordon) all
Round One:
Brock Wizard – 27.2
Dan Wilcox – 26
Ghost Writer – 28.9
Shannon Shoemaker – 28.3
Elizag – 29.2
Round Two:
Elizag – 25.5 (Combined 54.7)
Shannon Shoemaker – 28.9 (Combined 57.2)
Ghost Writer – 28 (Combined 56.9)
Brock Wizard – 28.2 (Combined 55.4)
Ghost Writer – 28.7
Shannon Shoemaker- 28.9
Round Three:
Ghost Writer – 28.7
Shannon Shoemaker – 28.9
In a very close final round, Shannon "In The Money" Shoemaker came out on top as the NGS #15 champ. Dan Wilcox took some notes during the show and posted them here.
[pwaplusphp album=NittyGrittySlam15April32012]
Join us next week, Tuesday, April 17 at Valentine's for the next Nitty Gritty Slam, right in the middle of the 2012 Albany Word Fest.