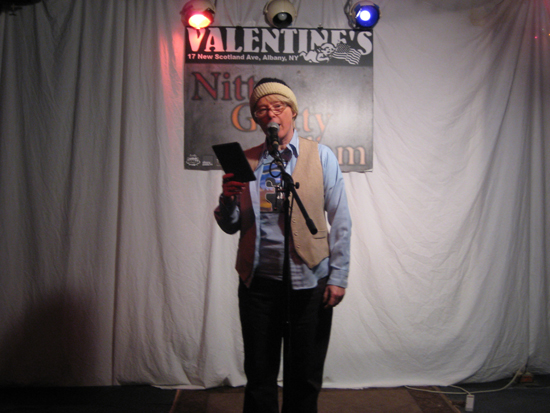 How does an Albany-based slam poet fare against the nation? Elizag, one of the Nitty Gritty Slam's stars, participated as a storm poet at the Women of the World Poetry Slam (WOWps) in Denver this year.
WOWps is an annual National Competition orchestrated by Poetry Slam, Inc. (PSi) in a different city every year. Poets who live their lives as women and are members of PSi are eligible to sign up to compete at the event. This event has 75 competitors signed up and ready to slam. If something happens to one of them, there are several poets on the waiting list eagerly wanting take their place. A storm poet is a performer that is not attached to a certified slam venue.
Elizag started Slamming in September of 2011 at the second Nitty Gritty Slam. I think she was a judge at the first one. She wanted to see what a poetry slam was all about before she jumped in. But since that second slam, her first win, she has chalked up a few more wins, a few seconds and a few thirds at the Nitty Gritty Slam.
Her scores at WOWps started with a 25.7 and a 26.4 in her first bout, a 29.2 and a 27.6 in her second, each out of a possible score of 30. I am very impressed that Elizag scored a 29.2 in a National Poetry Slam. That is no small feat, because the level of completion at these National events is very steep. But Elizag had already proved herself when she took third place at the 2012 Brenda Moossy Video Slam, a qualifier where the winner was guaranteed a spot at the WOWps.
All of us at the Nitty Gritty Slam are very proud of her for taking the giant leap from a local slammer to a National competitor. And we all think you should come to the Nitty Gritty Slam and see Elizag and all of our stars compete for notoriety and small amount of cash on the first and third Tuesdays of every month at Valentine's in Albany New York.