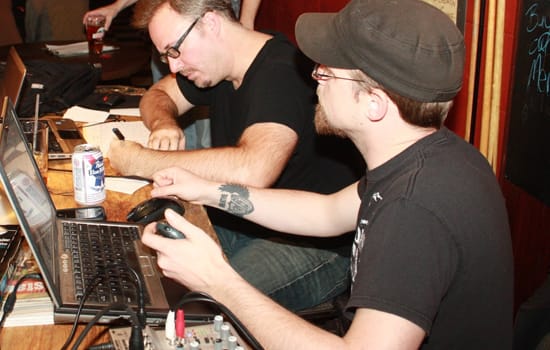 Tonight is the night for Nitty Gritty Slam #4. Two weeks ago we had Rain Dan take first place with Victorio Reyes in second and Shannon Shoemaker in third. What will happen tonight when we go back upstairs at Valentines?
Dan Wilcox posted a rundown of NGS #3 on his blog a couple of days ago to bring you up to speed on what the Nitty Gritty Slam is all about.
This is probably the best documented poetry event in Albany, if not in the wide world of poetry. It is live-streamed & pod-cast & photographed & tweeted & Blogged. So what am I doing? Once upon a time, in a galaxy far, far away (or at least in a punk club across the Park) I was the only guy with a camera & a pocket notebook, recording the images of the poets on film & the titles of the poems they read with a pen. Now I am just another redundant recorder of digital data. It has posed to me a dilemma — what to record that isn't available in the links I provide?
Dan has posts about NGS #1 and #2.
NITTY GRITTY SLAM takes place at Valentines (17 New Scotland Ave.) on the first and third Tuesday's of each and every month. Sign up begins at 7:00PM, open mic starts at 7:30PM, and the slam starts at 8:00PM. Admission is $5.00 ($3.00 with student ID).