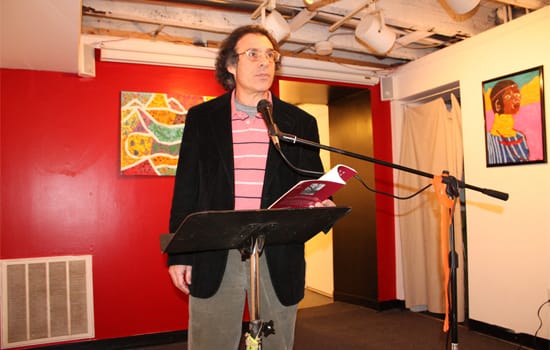 This months Poets Speak Loud open mic will be a week early because of Halloween falling on the last Monday.We will be gathering at McGeary's on Monday, October 24 for this special edition of Poets Speak Loud with Anthony Bernini as the featured poet who will be signing his copies of the brand new book, Immediate Words.
Here is more information from host Mary Panza.
DATE CHANGE AND SPECIAL EVENT FOR OCTOBER'S EDITION OF POETS SPEAK LOUD!!!!

Due to the Halloween holiday we will be having POETS SPEAK LOUD on Monday, October 24th.  In addition to our regular open mic, Anthony Bernini will be our feature and selling and signing copies of his new book IMMEDIATE WORLDS.   It will be a special night and one you won't want to miss.

Sign-up is at 7pm and we begin at 8.
Poets Speak Loud is a monthly open mic for poetry and spoken word with a featured poet hosted by local poetry diva and fashion icon Mary Panza.
Previous featured poets include: Emily Gonzalez, The Poet Essence, Cheryl A. Rice, Michael Eck, Mother Judge, Rich Tomasulo, Alan Catlin, A.C. Everson, Jil Hanifan, Nicole Peyrafitte, R.M. Engelhardt, Dain Brammage, Amanda Rose, Josh McIntyre, Philip Levine, Rachael Zitomer, Pierre Joris, Will Nixon, Robert Milby, John Weiler, and Carol Graser. Every year, in January, Poets Speak Loud holds the annual Tom Nattell Tribute / Anniversary Open Mic / Beret Toss with special guest host Dan Wilcox.
Poets Speak Loud is held on the last Monday of each month (except for this month) at McGeary's (4 Clinton Square, Albany). Sign-up for the open mic is 7:00pm, start time is 7:30pm.
Here is a video of Anthony performing at the UAG Gallery for the 2009 Albany Word Fest: