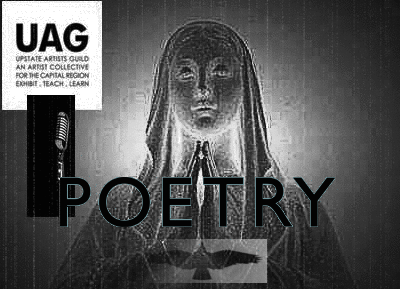 The next edition of the Saint Poem Reading Series hosted by R.M. Engelhardt will be taking place on Monday, September 19 at the UAG Gallery (247 Lark Street, Albany). This new series has been going strong for a couple of months now with some great featured poets including Todd Fabozzi and Avery and this month's feature is just as great as Dain Brammage will be taking the stage. Dain has been heavily involved in the local poetry scene for a decade and is now the Slam Master for the brand new Nitty Gritty Slam.
And, this month's Saint Poem happens to be on the host's birthday. A cake may be in order. Here is the info from Rob.
THE SAINT POEM READING SERIES
AN OPEN MIC FOR POETS, POETRY & THE SPOKEN WORD
MONDAY, SEPTEMBER 19th At The UAG
With Our Featured Poet-Performer : Dain Brammage
__________________

The Upstate Artists Guild
247 Lark Street
Albany, NY

7.30pm Sign Up
8pm Start
$4.00 Donation Requested
__________________

Poetry…Poets & Experimental Writing. Featured Poets & Their Work As Well As Themes. These Are The Things That Have Made Poetry Open Mics Interesting Over The Years & That Have Kept The Voices Returning. SAINT POEM Is A New Reading Series Which Will Encourage New Poets & Writers And Change In The Albany,NY Poetry-And Open Mic Scene. This Reading Is All About The Work…And Most Importantly, The Words! Sponsored By The UAG & MythicAlbany & Hosted By Veteran Albany Poet R.M. Engelhardt.