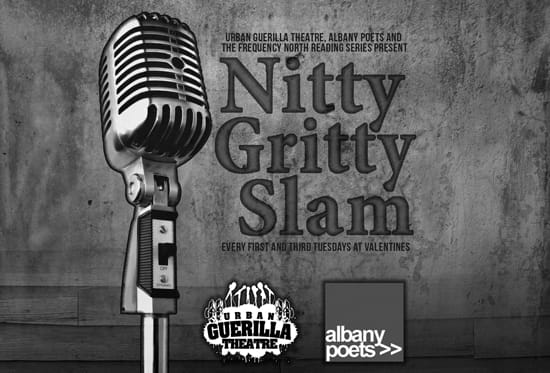 Poetry slam is coming back to the Capital Region.
For the first time in more over 10 years, the Albany region will have its own poetry slam venue. Called the NITTY GRITTY SLAM and hosted by poets Dain Brammage and Mojavi, the first slam will take place on Tuesday, September 6, at 8pm at Valentines (17 New Scotland Ave.). Slams will be held the first and third Tuesdays of the month after that.
Admission is $5.00 ($3.00 with student ID).
Who can attend or perform? Anyone and everyone. The doors open at 7pm, and that's when the sign-up sheet to slam is put out on the bar. There will be a short open mic at 7:30pm, the slammer line-up is announced and the slam begins at 8pm..
What's a poetry slam, you ask? It's been awhile around these parts, so here goes.
Each slam, judges are randomly selected from the audience who score poets who perform for up to three minutes and use nothing but words, their body and a microphone. The judges give each poet a score on a scale of 0.0 to 10.0. The scores are added up, and the poets with the higher numbers advance until two poets are left in the final round. At the end of the three rounds, the highest-scoring poet is awarded a prize—bragging rights to start, on up to a chance to join the slam team we're sending to the National Poetry Slam!
NITTY GRITTY SLAM is presented by Albany Poets, Urban Guerilla Theatre, Frequency North Reading Series, and others in the Albany literary communities. We have begin the process with PSI (Poetry Slam Inc.) .
For more information, contact NITTYGRITTYSLAM@gmail.com.
More information about poetry slam:
Started in Chicago in the 1980s at the Green Mill Jazz Club, the poetry slam was invented by Marc Smith, a construction worker and poet who wanted to liven up poetry readings. Poetry slams spread rapidly around the country: from the Nuyorican Poets Cafe in the East Village to MTV and HBO's Def Poetry Jam to The White House to venues around the world. Each year, the five-day National Poetry Slam is held in a different city, packing 3,000-seat venues and 80 certified teams each year.
A poetry slam is all about the audience. Audience members are encouraged to cheer and jeer both the poets and judges. The audience's job at the Nitty Gritty Slam, as in every slam, is to try to influence the judges, and express their approval or disapproval for the poets or scores they love or hate.
A poetry slam is rock and roll, a Broadway show, hip-hop, dance, stand-up comedy, and poetry wrapped into a tight, three-minute set.