A | B | C | D | E | F | G | H | I | J | K | L | M | N| O | P | Q | R | S | T | U | V | W | X | Y | Z
Featured Poet: Brian Dorn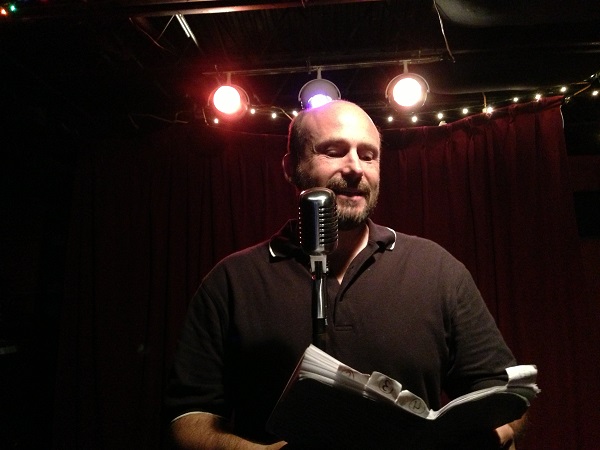 From the time-honored village of Ballston Spa, NY, Brian Dorn has been publishing rhyming-poetry on the internet for several years.  A graduate of The University of Albany and SUNY Adirondack, Brian has effectively leveraged cyberspace to circulate his clever wordplay throughout an increasingly paperless world.  Thanks to the web, Brian Dorn's poetry has reached an audience far beyond upstate NY.  Brian has authored hundreds of poems, many of which can be found in his two-volume collection, From My Poems To Yours.  Read More…
A
John Allen
My name is John Thomas Allen. I am 23 years old, having lived here in Albany for the majority of my life apart from some traveling here and there. As a result, my imagination is definitely informed by the urban. I've been interested in poetry and anything related to it since I was about 14.
Marcus Anderson
Marcus Anderson is a poet/visual artist who was born in Kingston Jamaica. He has lived in the Capital Region since the age of 2, and has been involved in some form of the arts for as long as he can remember.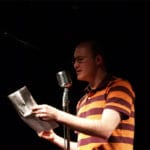 Avery
Hailing originally from the Helderberg Mountains Avery has been in and out of the poetry scene for over a decade. His college days saw him venture deeply into the wilds of poetry and he has been lost there ever since, escaping from time to time to perform in front of audiences and then vanishing back into the nether realms of run on sentences, flowery metaphors and convoluted analogies.
B
Celia Bland
I have a collection of poetry published by Cavan Kerry Press called Soft Box and profile of Jean Valentine upcoming in Poets & Writers.
Dain Brammage
Dain started writing poetry in his teens and took some ten plus years off to live life. During which time he tried and failed to moonlight as a graphic designer. Not due to a lack of talent, rather the lack of marketing savvy needed to attract clients.
Danielle Brignola
Danielle Brignola switched from an English major to a Russian studies major under the delusion that she would one day read Dostoevsky in the original Russian. Now a senior at SUNY Albany, she has neither the drive nor the ability to fulfill that goal, and through the genius of Moby Dick she discovered that the English language has a few gems of its own.
Therese L. Broderick
Therese L. Broderick teaches a weekly writing class to men in recovery. She has won local and national poetry awards and has been published locally and nationally. She lives in Albany with her husband and daughter.
Debora Bump
I would like to gratefully acknowledge Henry Rollins for not kicking me off his stage in Johnson City, N.Y. last August. Most recently, i 'kerplunked' this very same beloved Konica Fs-1 into my dog's water dish. I'm not sure who was more surprised–my dog, myself, or the camera, which neither forgave or survived my attempts at rescue.
C
Alan Catlin
Alan Catlin has been publishing in the "littles" and the not so "littles" since the middle 70's. To date he has over forty-five chapbooks of prose and poetry to his credit and he expects a selected poems, Drunk and Disorderly, from Pavement Saw Press in Spring of 2003. He also expects a book of short fiction, Death Angels, from Four-Sep Press by mid-2003 and has the fifth book of his Killer Drink Series, Screaming Mimis, on tap from Butcher Shoppe. He is at work on the sixth book, The Black Hole Martini among several other things.
Teresa Marta Costa
I have been writing poetry quite steadily since 1973, after being turned on to Captain Beefhart and Alice Cooper ( a somewhat strange combo). I have been featured extensively through-out the Hudson Valley, and have read in NYC, Venice, California and Albany, NY.
Jason Crane
Jason Crane is an interviewer and poet. He was born in Lenox, Massachusetts. Jason is the host of The Jason Crane Show, a weekly hour of conversation about the arts and culture. The show airs at 10 a.m. CT / 11 a.m. ET at craneshow.com and on WEGL 91.1 in Auburn, Alabama. He works as the assistant director of The Gnu's Room, a nonprofit bookstore and arts space in Auburn. Jason also works as the online storyteller for the College of Human Sciences at Auburn University. Jason's first collection of poems, Unexpected Sunlight (FootHills Publishing), was published in 2010 and is available here. His new book of poetry, All The Noise, will be available in early 2013. His work has been published in Blue Collar Review, qarrtsiluni , Meat For Tea, State of Emergency: Chicago Poets Address The Gulf Crisis, and Poets For Living Waters.
Jim Cuozzo
My favorite poets are Dylan Thomas, Pablo Neruda, Joe Bolton, Charles Bukowski. I like many poets traditional and new. I was fortunate enough to go to a two week poetry class with poet Carolyn Forche at the NYS Summer Writers Institute at Skidmore College in 2003. I currently work as a freelance writer for Spotlight Newspaper in Delmar, Legislative Gazette, and others. I have spent many years as a broadcast journalist, news director and talk show host. I have enjoyed reading and writing my whole life and even compose music when I get the chance.
D
Kristen Day
Kristen Day is an artist/writer living in Albany, NY. In the visual arts she enjoys painting, drawing, photography and particularly using all these mediums in collage. She has been attending various writing workshops affiliated with International Women's Writing Guild for some time, and, more recently, has been attending many local poetry readings/open mics with much delight in the ingenuity and artistry she has encountered there.
E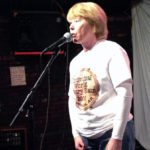 Elizag
Elizabeth K Gordon (aka elizag) is a writer who was born in Queens, NY and grew up upstate and then in Broward County Florida. Her non-fiction narrative Triplet Boys, their Teen Parents and Two White Women who Tagged Along (CDD Books 2007) won an Indie Book Award. She lives in a mill house apartment in Cohoes and works as an adjunct writing teacher at Northampton Community College (on-line) and RPI (incarnate). She recently discovered and fell in love with and was knocked-up by slam poetry, of the nitty gritty variety.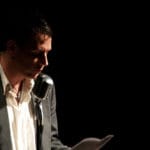 R.M. Engelhardt
R.M. Engelhardt is a veteran poet & writer who lives in upstate NYwhose work over the years has appeared in many journals & magazines both in print and on the net including in Retort, Rusty Truck, Sure! The Charles Bukowski Newsletter, Thunder Sandwich, The Boston Literary Review, Full of Crow, Fashion For Collapse, 2nd Avenue Poetry, The Outlaw Poetry Network & in many others. "The Resurrection Waltz" is his 13th book of poetry and is published by Infinity Publishing. His previous books include "THE LAST CIGARETTE, THE COLLECTED POEMS OF R.M. ENGELHARDT 1986~2006, as well as many chapbooks which are still available in print. He is the original founder of the group Albany Poets as well as the host of the long running poetry open mic series "The School Of Night" as well as the editor of "The Literary Rogue"
The Poet Essence
I have performed in the following places: ShowTime at the Apollo, Harlem ,NY performed about 7x within the last 2 years taking first place on October 5,2002, November 13, 2002, and returning for the showdown winning third place December 20, 2003. Most recently performed on April 28, 2004. Open mike spots includes:Featured Poet at Chingy's (Phila. Pa), Blue Note (NY, NY), New Age Cabaret (Albany, NY) June 15, 2004 at Bayou Cafe Albany, NY Performed at Valentine's open mike, Fuze box, Lark Tavern, Soul Kitchen, etc.,African American Blackfest (2 years in the row), Local Block parties etc., Mother's Earth cafe ( Albany, NY).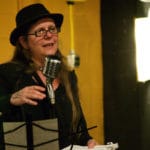 A.C. Everson
A.C. Everson is a local, homegrown poet, sculptor and performance artist. I attempt to shed a new light on the many uses of pinatas (that I make) as an art form, and as the main feature in my various Breaking My Art performances which I have done coast to coast, along with reading my poetry in three countries (including this one) I have three chap books entitled Soap Box and My Two Cents , Love AC Style and And Then Some that I print myself and are available upon request. I also have recorded two CD's "Words With" and "Idi Annine and the Mama's" with Albie, Mitch Elrod, Steve Candlen, Tony Parino, Bill Rella and Mother Judge to name a few of the area's most excellent musicians backing me up. They are available upon request. Meaning I burn them myself.
F
Thom Francis
Since Thom has been involved in the Albany area poety scene he has been featured at such open mics and events as The School of Night (Valentines), Vox (Albany Center Galleries), Web of Consciousness (C@fe Web), Live from the Living Room (Capital District Gay and Lesbian Community Center), Open Spoken (Colony Cafe, Woodstock), Kill Your TV, Feed Your Ears (Lark Street Bookshop), Third Thursday Poetry Open Mic (Lark Street Bookshop), Poets in the Park (Washington Park), the Albany Word Fest 2001, 2002 (Thacher Park), 2003 (Valentines), 2006 (UAG Gallery), and 2007 (Tess' Lark Tavern), and LARKfest 2006.
G
Carlos Garcia
Carlos was introduced to spoken word during his undergrad tenure at Northeastern University in Boston, MA. After helping to organize a spoken word/poetry show called Beatless, Carlos fell in love with the art of spoken word and befriended a young poet named Sofia Snow, who through the Critical Breakdown program, immersed Carlos into the world of spoken word.
Sara Germano
Sara Germano is a 2006 graduate of Albany High School and winner of the Tom Natell Peace Poetry Prize. She is now a freshman English major at Fordham University in The Bronx, where she is a member of The Ampersand literary forum. She is quite enamoured of East Fordham Road and Arthur Avenue, but they're no Lark Street.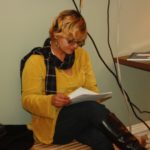 Emily Gonzalez
Emily Gonzalez was host of The Poet's Say, a monthly poetry open mic in Albany that began as a small poetry discussion group at Borders Books and Music and has been a featured poet at The School of Night, Live in the Living Room, Changing Spaces and The Lark Street Book Shop open mic poetry readings as well as being featured on The Albany Poets website. She's had three poems published in the Metroland, wrote a monthly article for Suite101.com and has been reading and writing poetry since the age of ten.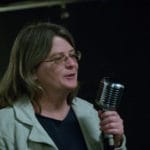 Carol Graser
Carol Graser has read her poetry at many community events including fund-raisers, anti-war rallies and as a featured reader at several poetry open mics. She has also worked with an accomplished jazz composer and a percussionist, creating performance pieces that blend music and poetry. She has initiated and hosts a new monthly poetry reading series at Saratoga's historic Caffe Lena that happens on the first Wednesday of every month. Her poetry has been published in regional journals such as Screed, Salvage and Metroland as well as in numerous national publications like Lullwater Review, Berkeley Poetry Review, The Worcester Review, The MacGuffin and Eureka Literary Magazine.
H
Jil Hanifan
jil hanifan has been a contributor to the arts and poetry scene in Albany for two decades. A regular member of the "EveryOtherTuesday" poetry workshop, she has read locally at such events as "Readings Against the End of the World," "Poets Action Against Aids," and more recently, "Fire and Ice" and "Voices and Bells." Her simultenaity, "Hangar Round" was part of the group installation "Words in Transit" on display at the Albany International Airport, and a chapbook, "weathergirl: the wind rose" was published by TA'wil Press in Albany. She is currently the Director of the Writing Center at SUNY at Albany.
Rick Harrienger
Rick Harrienger , currently a Schenectady resident , began writing poetry as a way to 'purge the demons of war' but continued, at the persistence of a muse to include his recovery from the results of "better living thru chemIstry " and a indefatigable love of nature. With the exception of obscure publications, he is content to pursue what his Skidmore professor,Larry Peterson helped develop, which combines his photography,stained glass,and poetry, which is closest to what is known as photo journalism.
D. Alexander Holiday
Holiday has published in various publications, among them The Amherst Society and A & U Magazine. He has four chap books of poetry, Notes to Porshe, Tales From This Black Heart, a collaborative work, The Voices in My Head, with fifteen area poets and I Use To Fall Down. He has published essays on ERIC,the research database. He has read on radio, for Crystal Brown's "Reading for the Blind" program, has been on radio for Kym Fleming's RPI program, and has done a television appearance for Public Television. He is the author of Letters to Osama: Old and New Musings on Foreign and Domestic Terrorism…and Other Matters and I Use To Fall Down: 50 + 25 + 25 Selected Poems.
I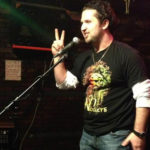 ILLiptical
Michael Sloman, otherwise known by his stage name as ILLiptical, The WizARd of MARS, is a Spoken Word Poet/Hip Hoppin' MC with an inspiring passion to speak his thoughts and express his creativity for crowds of various ages and cultures at any given moment as the opportunity arises. He holds a Masters in Writing from the College of Saint Rose and has been an active performer in Albany since his junior year at Albany High in 2001.
K
Nancy Klepsch
Klepsch is the co-host, with Dan Wilcox, of the Second Sundays @ 2 poetry and prose open mic at the Arts Center and is a teacher of English and special education at Averill Park High School.  She has a master's degree in education and a bachelor's degree in English, is married to Lauren, and loves Jethro and Stella, their dogs.
L
Tess Lecuyer
Tess Lecuyer is an Albany area native who fled screaming from Clifton Park, NY at the age of 17.  After 4 years of undergrad work in Buffalo, she discovered the fabulous urban life offered by downtown Albany and has been living there in various apartments ever since.  In Buffalo, she started doing poetry open mics and wrote and published some stunningly bad poetry.  Grad school at SUNY Albany was next, resulting in better poetry and regular attendance at the QE2 open mics, some of which she does not remember.
Leo
Leo hosted Mad Dog Midnight Open Mic, an impromptu BYOB poetry night at the now defunct Changing Spaces Art Gallery in downtown Albany, and has been featured at several readings in the surrounding area. His self-publishing efforts have yielded three chapbooks and three "mini-chaps" and, most recently, production/composition credits for the Albany Poets CD "Didn't I Hear You Read?"
Bone Leonard
Bone has lived in Albany for 13 years. He is an avid hiker and wilderness guide, sculptor (reforming what has been broken) and writer (current articles and books focus on America's violent traditions, wild edible plants, and dehydrating food for camping). His work has been published in New Author's Journal, Smorgasbord, and Homicide Studies.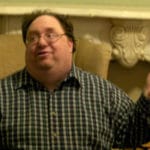 Don Levy
Don Levy has been published in Tenzone, Smashing Icons, and Think 3 and has read in such venues as The Albany Public Library, The Poets in the Park Series, Arthur's Market, The Albany Art Gallery, Cafe Web, and The Woodstock Poetry Society. His work as also been featured on the Hidden City web site as well as Volume, a CD of 27 Albany area poets. He was one of the editors of Open Mic: The Albany Anthology and was the coordinator of the Gallery Poetry Society reading series at the Albany Art Gallery.
L-Majesty
L-Majesty is a clever construct, a moniker, a stage name used during open mic performances to express a supreme love for words and a sincere desire to master metaphors, harmonize similes and breathe new life into personification pieces. My real name is Luis Pabon. I am many things. I am an: Individual, Son, Brother, Uncle, Poet, Writer, Social Worker, Artist, Singer, Songwriter just to name a few of the roles I occupy. I am of Black and Puerto Rican descent and was born and raised in Bronx, NY. I lived in the Bronx for over twenty years before migrating to Albany in 2003. I moved to Albany for three reasons: to finish my graduate studies, locate affordable housing and escape the oppressive clutches of gentrification.
M
Josh McIntyre
Josh grew up in and all around the Capital District, and currently resides in Ballston Spa. He has been writing poetry for nearly a decade now. He writes poetry because he cannot sing. Also, he thought it would help him escape the rigors of grammar he associated with prose writing. He was wrong. But he still cannot sing, so he has worked to improve his craft, taken up reading poetry where he can, and sought out what publishing might be available to him. Josh's work has been published in Metroland, Screed, and Modern Drunkard Magazine.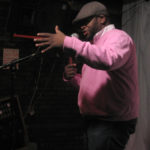 Mojavi
A well traveled poet, he has performed and featured Poetical Havens at the Nuyorican Poets Cafe, the Sugar Shack, AS220 in Rhode Island and Mango's in Washington D.C.. He has published a chapbook called Verbal Hieroglyphics vol.1 and the forthcoming Vol.2 due out in October. He is also going to release his third book KOLLAGE:words, thought, images.
Marty Mulenex
Marty Mulenex, who has been coming around the scene for a while now and we have just added his work to the site. Be on the look out for more from Marty as he will be featuring at Poets Speak Loud in July at Tess' Lark Tavern and he is hosting a brand new open mic at the Moon and River Cafe in Schenectady.
Joseph Mulligan
Joseph Mulligan's concentrations include poetry, translations, workings and essays. His poetry has been influenced by his translation and study of "Trilce" by Cesar Vallejo and the sonnets of Sor Juana de la Cruz. His work has appeared in LongShot 22 (Hoboken), Magazino 2 (Pittsburgh). His chapbook Drumblood was published in 2001 by Speed and Brisco (Pittsburgh). He self-published a second chapbook Eleven Minutes in 2002.
N
Tom Nattell
Tom was an active participant in many local groups including the Hudson Valley Writers' Guild, Save the Pine Bush and the Honest Weight Food Coop. He was a founding member of the Albany Peace and Energy Council for which he organized and hosted the 24 hour Readings Against the End of the World every year for ten years. In 1988, Tom started Albany's first regular poets' open mic which was held on the last Monday of every month at the QE2. Tom worked closely with the Bread and Puppet performance group and performed regularly as one of the Three Guys from Albany. He was also responsible for Poets in the Park and a column entitled "The Simple Life" that appeared regularly in Metroland.
Lisa Nolan
I have Ph.D. in Spanish literature. My dissertation focused on Federico Garcia Lorca, a twentieth century poet and playwright from Spain. I have been deeply influenced by Garcia Lorca's humor, passion and pain. I am also influenced by literary theory and find that poetry enables connections that I would otherwise not recognize if I only concentrated on writing academic articles. I have elected Albany to be my home after many years of wandering.
O
Alicia Ortiz
Alicia "Vida" Ortiz is a local activist and musician. Her primary instrument is voice and she has performed throughout the Capital Region since 2009 as the secondary vocalist of latin-fusion band "Taina Asili y La Banda Rebelde." Alicia began performing original poetry and songs at Albany's monthly Urban Guerilla Theatre and other open mic events in 2010. Her voice carries over into social activism efforts where Alicia has sung as labor rallies and most recently, the Empire State Pride Agenda's 2012 "Equality & Justice" advocacy day. Her career background is in grassroots political and community organizing. Currently she is focused on improving her piano and songwriting skills. She invites you to join her on her journey as she continues to develop her creative self.
P
Mary Panza
Mary Panza, Vice President of Albany Poets is Albany's poetry diva. She originated and hosted the poetry open mic at Border's and has been a driving force in the poetry community for a number of years. Mary has also been active in promoting, hosting, and participating in many arts events through out Upstate New York.
Nicole Peyrafitte
Multimedia performance artist Nicole Peyrafitte was born in Luchon (French Pyrenees). As an autodidact, she considers each step of her work an attempt to fulfill her compulsion to learn through a process of immersion that generates performances incorporating voice, paintings, videos, writing and often cooking. Peyrafitte performs locally, nationally and in Europe.
R
Cheryl A. Rice
I am a Long Islander by birth, although I have made New York's Hudson Valley my home for more than twenty years. I am a member of Voices of the Valley, a poetry performance troupe, the Poetry Society of Woodstock, the Academy of American Poets, and the International Brotherhood of Electrical Worker. I have been featured at or organized open poetry mics from Albany to Middletown. I am the founder and host of the "Sylvia Plath Bake-Off", held each year in Kingston, NY, perhaps the world's only combination open mic/baked goods competition. I was honored to be one of the many local poets featured at the first annual Woodstock Poetry Festival in August of 2001, and hosted an open mic during the 2002 edition.
Michael Rivet
I am Michael Rivet, assistant manager of Blackwidow's Web of Poetry and have been published in a few small press, student journals, and eZines. I am a founding member of an as yet unnamed poet's group meeting at Russell Sage. I live in cohoes with my wife and two children, 2 dogs and (most importantly) 3 cats (to them anyway).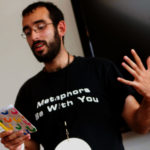 Bryan Roessel
Bryan Roessel is a poet/science teacher with the most attractive beard you've ever seen. In addition to hosting a monthly poetry slam in Suffern, NY, he competed at the 2012 National Poetry Slam on the White Plains team. His poetry is mostly about girls, sadness, and rocks.
Amanda Rose
Amanda is the quintessential Gemini, floating in and out of the Albany poetry scene since 1998. A passionate woman, an unabashed workaholic and an insomniac, she previously hosted "Alchemy of the Word" open mic at the old LionHeart and has been featured at Mother Earth's, Changing Spaces, Valentine's & Poets Speak Loud at the Lark Tavern. After 10 years of writing mostly about the chaos of love (be it romantic, sexually deviant, platonic, spiritual or familial), she realizes that she still has a lot of learning & living yet to do…and a lot of tales left to write.
S
James Schlett
James Schlett has been called "the last living romantic poet of Albany." He is a north Jersey native who has been an intermittent resident of the Capital Region for the past decade, most recently being called back to the area to work as a business reporter for a local daily newspaper. His poems and prose have een published in Songs of Innocence, The Mid-Atlantic Almanac and AlbanyPoets.com. James has also been a feature reader at the "School of Night" and "In the Living Room" open mic series in Albany and "A Community of Writers" in Schenectady.
Rebecca Schumejda
Rebecca Schumejda is the author of Falling Forward, a full-length collection of poems (sunnyoutside, 2009); From Seed to Sin (Bottle of Smoke Press, 2011), The Map of Our Garden (verve bath, 2009); Dream Big Work Harder (sunnyoutside press 2006); The Tear Duct of the Storm(Green Bean Press, 2001); and the poem "Logic" on a postcard (sunnyoutside).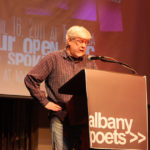 Bob Sharkey
Bob Sharkey resumed writing poetry after a pilgrimage to San Francisco's City Lights bookstore in 1995. His poems have appeared in several unsubsidized small press zines and publications. His work has also appeared locally in Metroland, Screed and Salvage. He is a frequent reader at capital region open mics and has been the featured reader a number of times recently. He is working (in his mind) on a number of projects and chapbooks. However, his immediate attention is devoted to dealing with the new poems that come to him daily and to supporting the local poetry and arts scene as much as possible.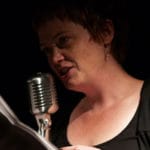 Carolee Sherwood
Carolee Sherwood is a painter, mixed-media artist and poet. Her poetry has been published or is forthcoming in Pirene's Fountain, Awakenings Review, Wicked Alice, Scythe, Qarrtsiluni, Literary Mama, Juicebox: a Journal of the Ordinary, Glass: A Journal of Poetry, Tipton Poetry Journal and Ballard Street Poetry Journal (which nominated her poem "How to Let Wild Birds Out" for a Pushcart Prize in 2008). She co-edits Ouroboros Review, manages the online poetry project "Big Tent Poetry" and writes reviews for Poets' Quarterly. She is co-president of the Hudson Valley Writers Guild.
J. Eric Smith
J. Eric Smith is a Low Country South Carolina native who has made his home in New York's Capital Region since 1993. He is a graduate of the United States Naval Academy in Annapolis, a long-time Metroland music critic and former host of Time Warner Cable's "Sounding Board." Since 2002, he has been Director of the Chapel + Cultural Center at Rensselaer in Troy.
Matina L. Stamatakis
Matina L. Stamatakis lives in upstate New York. She has had works published in various experimental magazines like Eratio and Zafusy, and is an editor of an e-poetry collective: Venereal Kittens. When she's not engaged in writing, Matina likes to spend time with her son and travel.
T
K.A. Thayer
K. A. Thayer is traveling-sacred through word-tracing dynamogenesis.
Rich Tomasulo
Rich Tomasulo moved to Albany in 1995, and he's been active in the poetry open mic scene for the last three years. He occasionally ventures into prose. Most of his writing occurs in restaurants.
W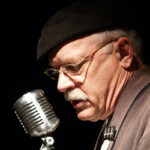 Dan Wilcox
Poet, Peace Activist – Host of the third Thursday open mic for poets at the Social Justice Center, member of 3 Guys from Albany, and photographer who has "the world's largest collection of photos of unknown poets." Member of Veterans for Peace.
Hollice Danielle Wiles
To be honest, I prefer scribbling in the sidelines of my class notes and in the margins or my work…than standing in the a spot light. I don't think of myself walking around with 'Poet' stamped on my forehead or sewn to my sleeve. It's just more like something that seems so ingrained in my nature that I cannot help but keep writing.