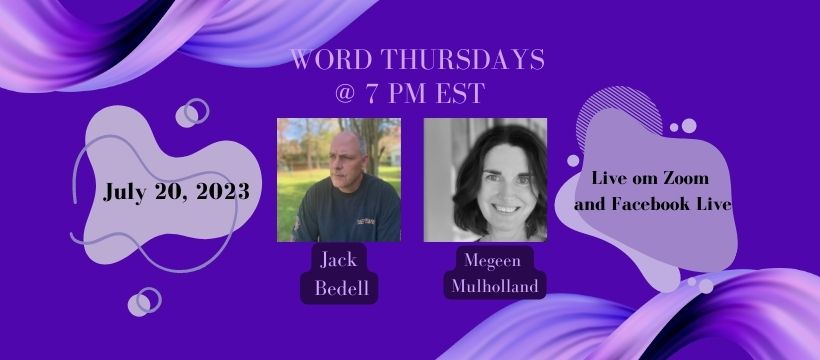 Online Summer Poetry Reading
Word Thursdays Online featuring Jack Bedell and Megeen Mulholland will broadcast live on Thursday, July 20 at 7 PM EST.
Suggested donation is $3, and free to students. Donations to Bright Hill are gratefully accepted via Paypal by visiting this link, 
https://paypal.me/brighthillpress
, by check made out to Bright Hill Press Inc, and mailed to 94 Church Street, Treadwell, NY 13846, or by credit card by personal appointment by emailing info@brighthillpress.org.
​Jack B. Bedell is Professor of English and Coordinator of Creative Writing at Southeastern Louisiana University where he also edits ​​​Louisiana Literature and directs the Louisiana Literature Press. His latest collections are Against the Woods' Dark Trunks (Mercer University Press, 2022), Color All Maps New (Mercer University Press, 2021), Rock Garden (Daily Drunk Press, 2021), and No Brother, This Storm (Mercer University Press, 2018). His work has appeared in the Southern Review, HAD, Radar Poetry, The Fourth River, 
Terrain.org
, Construction, Grist, Sugar House, Shenandoah, Pidgeonholes, Cotton Xenomorph and other journals. Bedell is the recipient of the Louisiana Endowment for the Humanities Individual Achievement in the Humanities Award and the Governor's Award for Artistic Achievement. He was appointed by Governor John Bel Edwards to serve as Louisiana Poet Laureate, 2017-2019.
Megeen R. Mulholland received her Ph.D. from the University at Albany, and is a graduate of the Master of Arts program in English and Creative Writing at Binghamton University. She is an English Professor at Hudson Valley Community College where she teaches literature and writing and serves on the Visiting Writers Committee and the Campus Poetry Project. Her work has been accepted for publication in numerous literary journals and anthologies such as Modern Language Studies; Adanna Literary Journal; Plath Profiles: An Interdisciplinary Journal for Sylvia Plath Studies; James Joyce Quarterly; Journal of Poetry Therapy; Roots and Flowers: Poets Write about Their Families; and Literary Mama: Reading for the Maternally Inclined. Her first volume of poetry, titled Orbit, has been called an "epiphany of parenthood." Her second volume of poetry, titled Crossing the Divide, has been deemed "a fascinating arrangement of text and image." Both volumes are available from Finishing Line Press and all booksellers.